I love The Mitten adapted and illustrated by Jan Brett! It isn't a Montessori-style book, but it's a beautiful, classic children's story. I used free printables to prepare Montessori-inspired activities to go with the book … perfect for winter or a woodland animal theme.
Disclosure: This post contains some affiliate links (at no cost to you).
Free Mitten Printables and Activities for Preschoolers-First Graders
The Mitten is one of my favorite children's books for winter. Jan Brett's version of the story is a beautifully illustrated, Ukrainian tale that's perfect for themed activities!
The Mitten Lacing, Sequencing Cards, and Putting Animals in the Mitten

For this activity, I used the Put the Animals in the Mitten (mittens PDFs) from Jan Brett and the sequencing cards from The Mitten Printables (kindergarten add-on) from Homeschool Creations. This would be perfect for a table featuring a few activities for The Mitten.
I put two activities on a large plastic tray from Montessori Services. The mitten printables could be used to create a lacing activity with the mitten left open at the top to put the animals in the mitten.
Before putting the animals in the mitten, the child could place the sequencing cards on a rug in the order from the story. I put the layout on a large hemmed work rug from Montessori Services.
After the sequencing cards are placed in the proper order, the child could put each of the animals in the mitten.
The Mitten Roll and Graph Game

Preparing the Mitten Roll and Graph Game
This activity uses water beads, which are fun for many ages. The Mitten Roll and Graph Game uses The Mitten Printables from 1+1+1=1. For roll and graph games, children can roll the dice and color in the graph, but you can also create a fun hands-on game that's perfect for fine-motor coordination. The Mitten Roll and Graph Game has a 1-5 version and a 1-10 version.
To make the cube, I printed out the cube on cardstock, cut it out, and put it together with glue before adding clear packing tape as a laminate and a way to seal the cube.
Water beads are wonderful for the pincer grasp. I wouldn't recommend using water beads for this particular activity for a child who has difficulty with fine-motor coordination and becomes frustrated easily, though. The water beads require fairly good fine-motor coordination skills and tend to move around easily. For children who have quite good coordination and would enjoy a challenge, I think the water beads are a fun addition.
I've read that it's good to keep the water beads completely covered in water so they don't get moldy. I added a bowl of water beads covered with water to the activity. If you have the cardstock graph laminated and leave a laminate edge, it's fine for it to get wet from the water beads.
Ideas for Playing the Mitten Role and Graph Game
This could be made into a cooperative game where each child takes a turn rolling the dice and placing a water bead on the graph for the appropriate animal. I like the cooperative aspect of having the children work together to add water beads to the graph until one of the animals in The Mitten reaches 10.
Even though the game is cooperative, you can still use it to teach sportsmanship. At the end of the game, the children could shake hands with each other and say, "Good game!"
It's helpful for children to learn the social etiquette for games without the emotions involved in winning and losing. Hopefully, that will make it easier for them to remember to show good sportsmanship during an actual competitive game.
You'll find more ideas on creating cooperative games here: How to Use Cooperative Games to Teach Sportsmanship.
"Where Is the Mitten?" Book-Making Tray

This activity uses a printable from The Mitten Printables (kindergarten add-on) from Homeschool Creations. I didn't add glue to the tray, although you would need to add glue if you don't keep your glue in a central location. It's a great cutting activity, gluing activity, simple reader, and activity focusing on positional words. It's easily adapted for children at various levels.
Animals in The Mitten Book-Making Tray
For this tray, I used The Mitten Unit and Lapbook Printables by Kelly Cooper and Ami on Homeschool Share. This is a fun cutting and gluing activity as well as a way to learn more about the animals in The Mitten.
More Woodland Animal Printables and Activities
You'll find lots and lots of free woodland animal printables and Montessori-inspired woodland animal activities here.
Free Mitten Printables (of all kinds) for Preschoolers-First Graders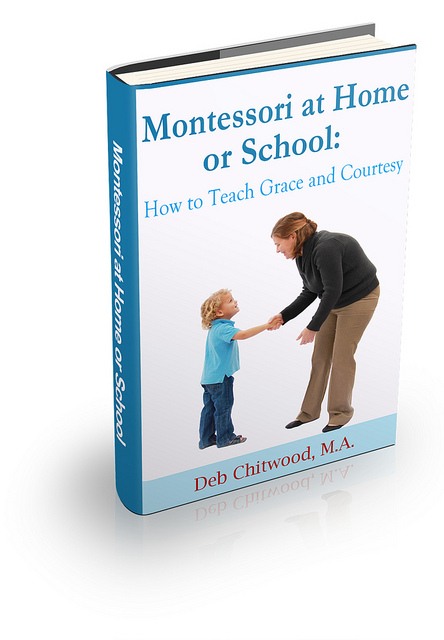 At PreK + K Sharing, I have lots of themed activities and presentation ideas. Please join me at PreK + K Sharing to see all my posts there over the years: Deb Chitwood at PreK + K Sharing.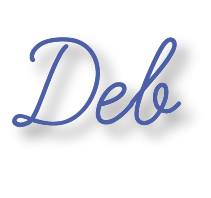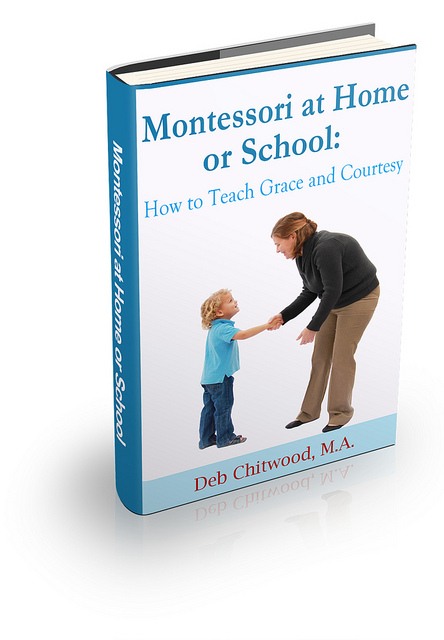 Learn more about my eBook Montessori at Home or School: How to. Teach Grace and Courtesy!
The Montessori at Home! eBook and Montessori at Home! eBook and Materials Bundle are AMAZING resources! You can learn more about them here. Buy them in the Living Montessori Now shop.
If this is your first time visiting Living Montessori Now, welcome! If you haven't already, please join us on our Living Montessori Now Facebook page where you'll find a Free Printable of the Day and lots of inspiration and ideas for parenting and teaching! And please follow me on Pinterest (lots of Montessori-, holiday-, and theme-related boards), and Twitter (blog posts by me and others along with the Parent/Teacher Daily and other interesting information). You can find me on bloglovin', Instagram, and YouTube, too.
And don't forget one of the best ways to follow me by signing up for my weekly newsletter. You'll receive some awesome freebies in the process!