I've published a few different units featuring specific woodland animals, such as a bear, raccoon, and owl unit. This month, I'm bringing together a variety of woodland animals for a Montessori-inspired woodland animal unit! This is a great unit for the fall or for winter if you're featuring animal tracks. Although it's still fall, many places have snow now. So our woodland animal unit will include activities related to woodland animal tracks and animals adapting to winter.
I've added lots of Montessori activities using free printables along with a new Montessori-inspired woodland animal pack for our newsletter subscribers' resource library!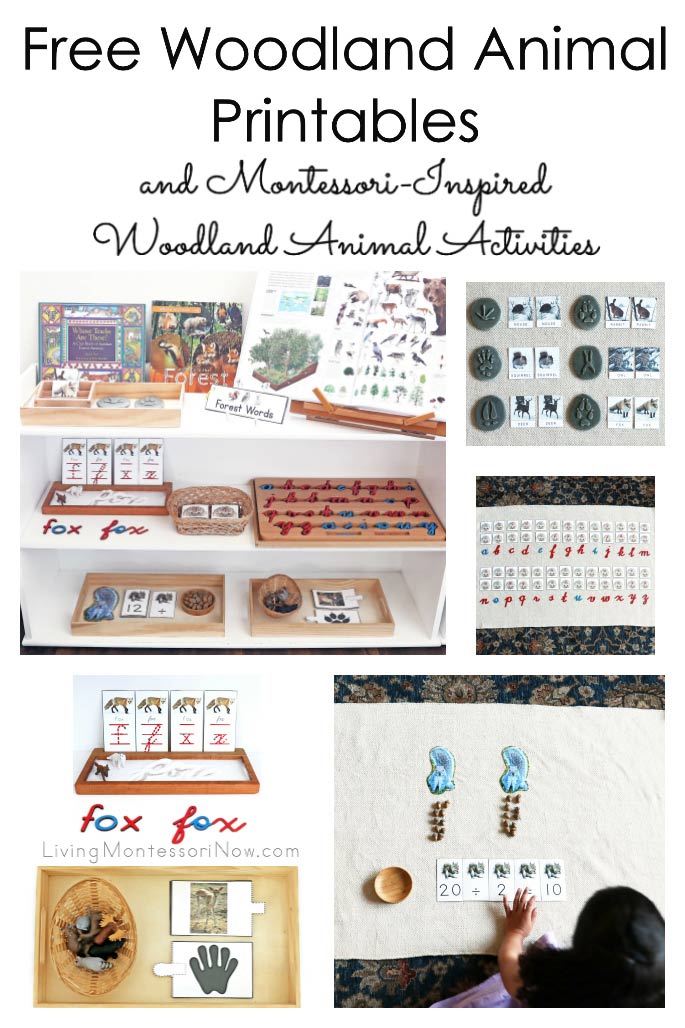 Disclosure: This post contains affiliate links (at no cost to you).
Montessori Shelves with Woodland Animal Themed Activities
You'll find Montessori-inspired woodland animal numbers, letters, and and more (part of my subscriber freebie pack, so just sign up for my email to get the link and password … or check the bottom of your latest newsletter if you're already a subscriber)
I always have related books available throughout a unit. On the top shelf, Whose Tracks Are These? A Clue Book of Familiar Forest Animals for some animal track inspiration and Animals in the Forest (Where Animals Live) for basic information about forest animals. I have many more woodland animal books in book baskets. I'll share my favorites in a later post.
On the right side of the shelf ( book on a wooden cookbook holder), I have DK Smithsonian Picturepedia (beautiful photos and a fabulous reference book I use for many, many units!).
You could mix your woodland animal themed activities among your shelves according to curriculum area. Or you could have a special woodland animal themed area something like the one pictured. My shelves at the beginning of our unit have a mixture of skill levels mainly from preschooler through early elementary. Many of the activities can be adapted for a variety of levels. If you're a homeschooler, just choose the activities that work for your child's interests and ability levels. If you don't have room for all the activities you'd like to do, simply rotate them.
Whose Tracks Are These? Book with Woodland Animal Track Stones and Animal 3-Part Cards
Free Printable: Winter Adaptation 3-Part Cards from The Silvan Reverie
There are 8 double-sided stones in the Let's Investigate Woodland Footprints set. To start our unit, I just put out 6 of the stones along with the matching 3-part cards. I display them simply on a Multicraft tray with the added Montessori cards display box (which I love and typically use for all my 3-part cards now).
Later on, we'll be using homemade playdough (this recipe minus any food coloring) to make footprints with the stones. I also plan to use the Silvan Reverie free animal tracks memory game printable to make an animal tracks memory game with wooden circles.
Forest Words Booklet
Free Printable: Forest Words Booklet (Forest Picture-Word Cards) from PreKinders
This is next to the open Picturepedia book on the top shelf. It's so easy to prepare! Just print and cut it out. The printable even has places to punch holes to make a booklet using a binder ring.
Salt Writing Tray with Fox f and x Font Cards and Safari Ltd. Fox Figures
Free Printables: Fox letters f and x for salt writing tray (part of my subscriber freebie pack, so just sign up for my email to get the link and password … or check the bottom of your latest newsletter if you're already a subscriber)
You'll see a variety of simple letter writing trays in my previous unit study posts. I often used the wooden tray from the Melissa & Doug Lace and Trace Shapes. You can use whatever tray or container work best for you, though.
I recently purchased this lovely spelling/alphabet tray from FamilyTreeWW on Etsy. Zoey recently turned 6 and is focusing on spelling a lot. She needs more room for writing longer words. We're also working on cursive. So I'm showing an example of how you can use the font cards (I included both f for the beginning sound of fox and x for the final sound of fox). for letters or words. To add interest, I included Safari Ltd. red fox and Arctic fox figures.
If you would like help with introducing phonetic sounds, introducing objects with sounds, or beginning phonics in general, check out my DIY Beginning Montessori Phonics with Preschoolers.
Matching Manuscript and Cursive Hedgehog Letters with Cursive Movable Alphabet
Free Printable: Hedgehog movable alphabet cards in manuscript and cursive (part of my subscriber freebie pack, so just sign up for my email to get the link and password … or check the bottom of your latest newsletter if you're already a subscriber)
Zoey really enjoys this activity. I used it originally with a cursive tracing board. I got the 2-sided version (with capital letters on one side and lowercase on the other), since capital cursive letters aren't commonly seen on written materials.
After tracing the letters on the tracing board, Zoey places the manuscript letters in alphabetical order. Then she matches each of the cursive letters to the manuscript letters. Now we've added the wooden cursive movable alphabet letters as well.
We've been using a traditional small wooden manuscript movable alphabet, although we're now working with the cursive wooden movable alphabet. There are a number of price ranges available. You can find more movable alphabet resources in my "Inexpensive and DIY Movable Alphabets" post.
Squirrel and Acorn Division Activity
Free Printable: Squirrel Numbers and Division Equation Symbols (part of my subscriber freebie pack, so just sign up for my email to get the link and password … or check the bottom of your latest newsletter if you're already a subscriber). I also printed out 10 squirrels. (You could print out whichever squirrel you prefer.)
When we lived in Colorado, our yard and neighborhood was filled with scrub oak. I saved a bag of the acorns and used 20 for this activity.
I asked Zoey to divide 20 acorns between 2 squirrels, saying "1 for you, 1 for you…." until they were all divided equally. After completing that equation as shown above, she worked out the equation for 20 divided by 10 using 10 squirrel pictures. It was a great visual of the differences in equations.
Matching Safari Ltd Animal Figures with Woodland Animal Footprint Puzzles
Free Printable: Animal Tracks Puzzles by Tara from Embark on the Journey for Free Homeschool Deals
I just used 7 of the puzzles (7 woodland animals) for this activity along with Safari Ltd. figures. I used figures for the activities here from the Safari Ltd. North American Wildlife TOOB and Nature TOOB.
Free Woodland Animal Printables for Preschoolers Through First Graders

Montessori-Inspired Woodland Animal Pack for DIY Cards and Counters, Number or Letter Matching, Number or Letter Basket, Bead Bar Work, Hands-on Math Operations, Number or Letter Salt/Sand Writing Tray, Letter Tracing, DIY Movable Alphabet, and Creative Writing (subscriber freebie, so just sign up for my email to get the link and password – or check your inbox if you're already a subscriber).
Although there's actually a differentiation between woodland and forest, I'm generally using them interchangeably here. For older children, you might want to talk about the differences. I'm sharing free woodland animal printables designated as either woodland or forest. (Note: You can often find woodland animals in 3-part card sets for mammals, etc., although you'll have to separate the woodland animals from the others.) The first three posts have some of my main woodland animal units with lots of free printables.
Montessori-Inspired Owl Unit with Free Printables and Activities
Free Raccoon Printables and Montessori-Inspired Raccoon Activities
Free Bear Printables and Montessori-Inspired Bear Activities
Free Mitten Printables and Montessori-Inspired Mitten Activities (The Mitten book features woodland animals.)
Free Animal Tracks Printables (Sometimes you'll have to sort out the woodland animals from others in the printable.)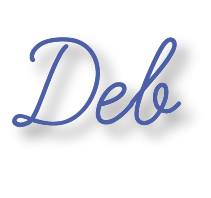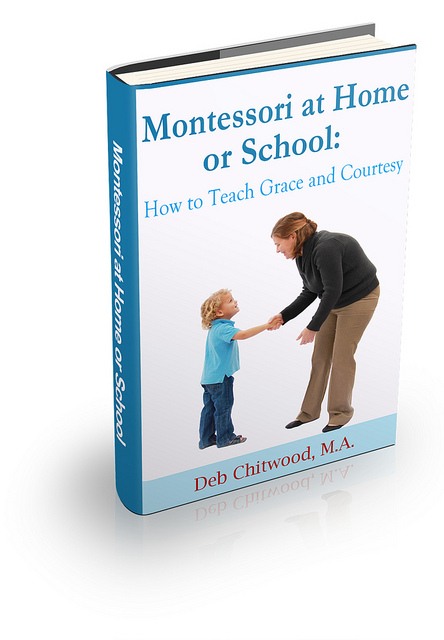 Learn more about my eBook Montessori at Home or School: How to. Teach Grace and Courtesy!
The Montessori at Home! eBook and Montessori at Home! eBook and Materials Bundle are AMAZING resources! You can learn more about them here. Buy them in the Living Montessori Now shop.
If this is your first time visiting Living Montessori Now, welcome! If you haven't already, please join us on our Living Montessori Now Facebook page where you'll find a Free Printable of the Day and lots of inspiration and ideas for parenting and teaching! And please follow me on Pinterest (lots of Montessori-, holiday-, and theme-related boards), Instagram, and YouTube. You can find me on bloglovin' and Twitter, too.
And don't forget one of the best ways to follow me by signing up for my weekly newsletter. You'll receive some awesome freebies in the process!