I'm a real fan of vehicle activities after watching my now-adult son's love of them when he was little. For all the current preschool through first grade vehicle lovers, I've created some transportation activities using free printables.!
I won't be using printables specifically for planes, trains, or boats here, although they might be included in a printable pack with other transportation printables.
At PreK + K Sharing, I have lots and lots of themed activities and presentation ideas.
Disclosure: This post contains affiliate links (at no cost to you).
Montessori-Inspired Transportation Math Activities Using Free Printables
For this activity, I used the free Street Numbers for Block Center from Young & Lively Kindergarten. My son loved his Micro Machines
so much that he saved all of them even though he only saved a few Hot Wheels. The vehicles in this post are all Micro Machines, although you could use any small vehicles. I added a green color coding label where the child should start driving on each numeral.
Five Little Garbage Trucks Activity
This activity was super easy to put together. I just had to print and cut out the 5 garbage trucks and  poem from the Garbage Truck Game Pack by Living Worldsapart. A reader could read the poem while another child acts it out with the garbage trucks, or the children could say the poem by memory while acting it out if it's been used at circle time.
Transportation Number Puzzles

For the transportation puzzles, I used the free counting by 10s to 100 transportation puzzles from Selma Dawani. I cut off 1″ of the page so that I could fit the puzzles into a pencil box. If you want to have 1-10 transportation puzzles rather than 1-100, you'll find that Royal Baloo's free 1-10 Transportation Puzzles from Zoomin Moving Alphabet Packs work especially well. They're already the right size to fit into the pencil boxes.
Racing Racecars


This activity uses the Free Racing Racecars from Mama Jenn. I had to check this out after reading that this was the favorite activity of Renae's children (from Every Star is Different) in their racing vehicles week. I used glass gems for the markers. There would be a die on the tray as well. I added the 1st through 6th place ribbons by doing a Google search of sports ribbons and printing out ribbons from one of the pages. I thought that would be a fun way to emphasize the ordinal numbers for 1st through 6th place.
I love activities like this to teach sportsmanship and cooperation. See my post at Living Montessori Now called "How to Use Cooperative Games to Teach Sportsmanship." This is a perfect activity to use as a cooperative game where children take turns rolling the die and moving the appropriate numbered vehicle. The vehicles are the ones racing, so the children are working together to see which vehicle wins, which comes in second, and so on.
How Many Trucks in the Mud? Monster Truck Addition

This uses a fun monster truck printable from 1+1+1=1. There's a version for counting the number of trucks in the mud, but I used the addition printable for this activity.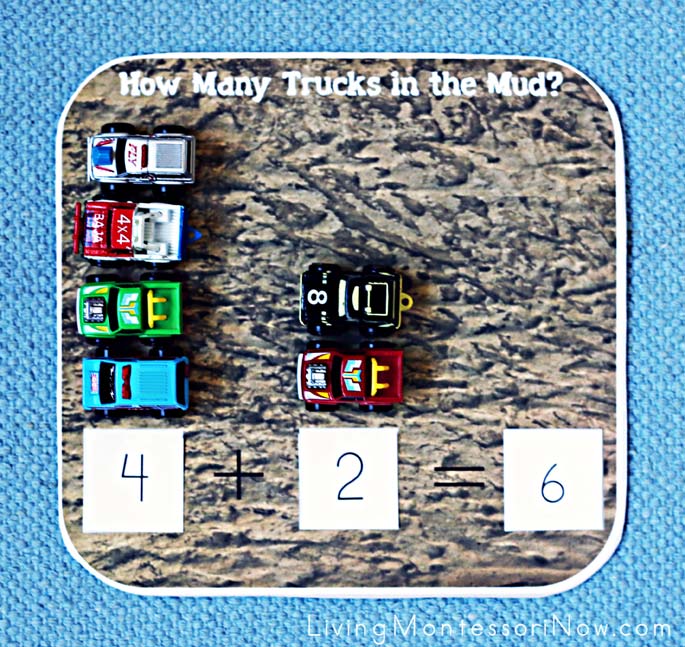 Transportation Sudoku
Transportation Sudoku from DLTK's Crafts for Kids has an easy version and a more difficult version. The more difficult version, which is pictured, would work well for kindergarteners or first graders.
Free Transportation Printables (of all kinds) for Preschoolers-First Graders
Here's a fun song and YouTube video about transportation by Nancy Kopman!

All My Transportation Posts:
You'll find my transportation unit with many blog posts and resources here.
Please join me at PreK + K Sharing to see all my posts there: Deb Chitwood at PreK + K Sharing.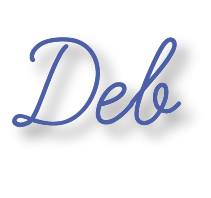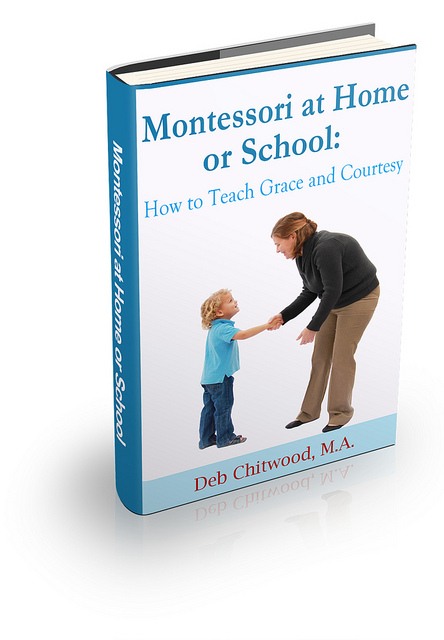 Learn more about Montessori at Home or School: How to Teach Grace and Courtesy!
If this is your first time visiting Living Montessori Now, welcome! If you haven't already, please join us on our Living Montessori Now Facebook page where you'll find a Free Printable of the Day and lots of inspiration and ideas for parenting and teaching! And please follow me on Pinterest (lots of Montessori-, holiday-, and theme-related boards), Twitter (blog posts by me and others along with the Parent/Teacher Daily and other interesting information), and Google+ (post updates and Montessori Community). You can find me on bloglovin' now, too. I'm also a Parenting Expert on Sulia. Thank you for following me there. And don't forget one of the best ways to follow me by signing up for my weekly newsletter in the right sidebar. You'll get two awesome freebies in the process!