Many unit studies are seasonally based, but a theme such as transportation is great at any time of year. It's often perfect to focus on activities that are educational yet fit with your child's passions. Especially if you have a vehicle-obsessed child (like my son was), a transportation unit can be a powerful educational tool. If it fits with your child's interests, it can even stimulate the development of concentration and make areas where your child is having difficulty easier to work through.
Disclosure: This post contains some affiliate links (at no cost to you).
Montessori-Inspired Transportation Printables
Note: You'll find most of the free transportation printables in my posts immediately below.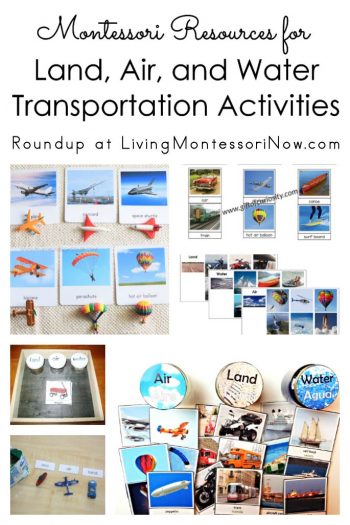 A good place to start with transportation is focusing on land, air, and water transportation activities (post includes links to many transportation printables).
You'll find lots of free printables that can be used for a transportation unit in my post with free transportation printables and Montessori-inspired transportation math activities.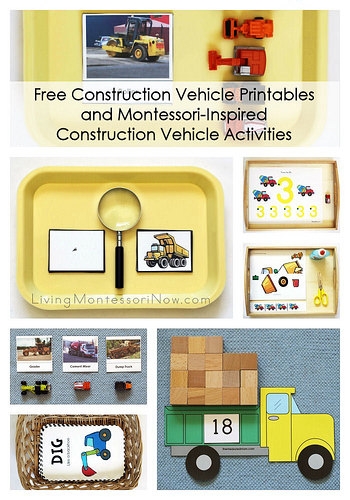 I have a post with free construction vehicle printables and Montessori-inspired construction vehicle activities.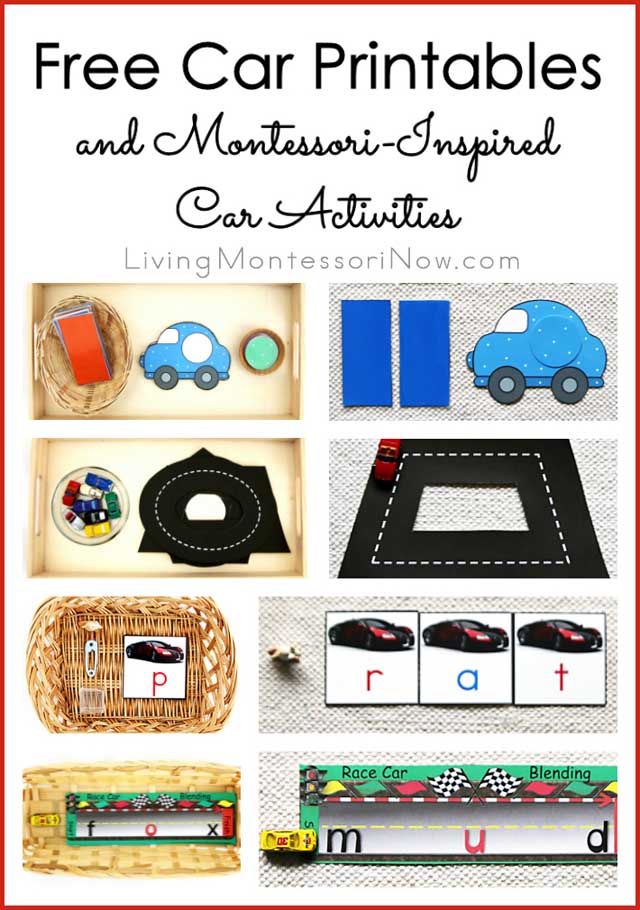 For car lovers, I have free car printables and Montessori-inspired car activities. This includes our Montessori-inspired car pack (subscriber freebie).
I have a free car do-a-dot printable (Montessori-inspired instant download).
I have free car cutting strips (Montessori-inspired instant download).
If your child is interested in trains, I have free train printables and Montessori-inspired train activities.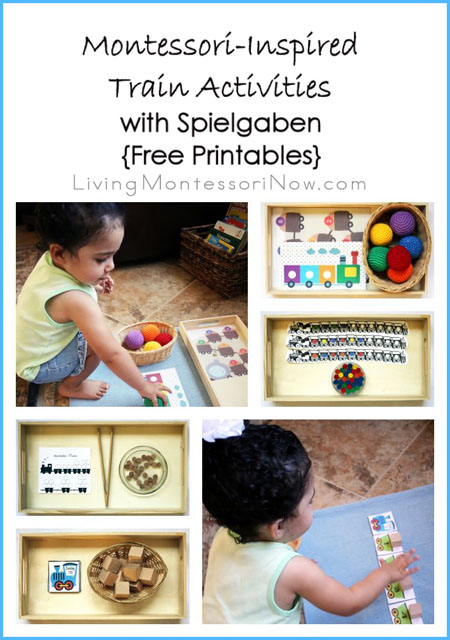 I also have Montessori-inspired train activities with Spielgaben and free printables.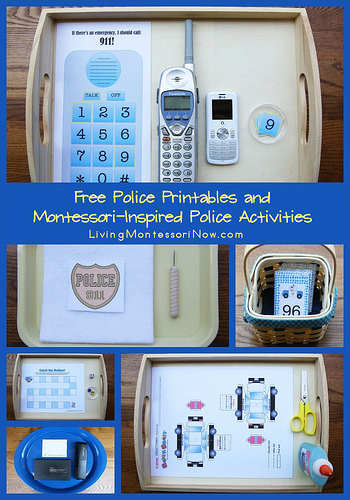 These aren't all vehicles, but you'll find some resources for police vehicles in my free police printables and Montessori-inspired police activities post.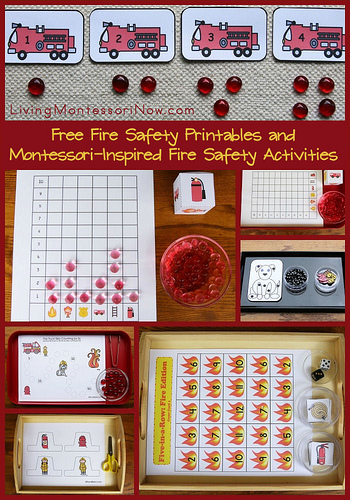 Again, these aren't all vehicles, but you'll find some resources for fire vehicles in my free fire safety printables and Montessori-inspired fire safety activities post.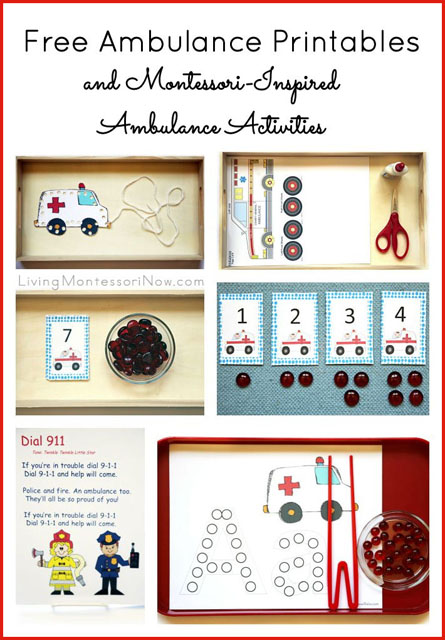 You'll find lots of ambulance resources in my free ambulance printables and Montessori-inspired ambulance activities post.
Montessori Materials has some free transportation cards that can be used for various matching games (with cards or objects).
Many of the printables from Homeschool Creations Transportation Preschool Pack can be used to make Montessori-inspired activity trays with hands-on activities. There's even a Spanish transportation pack for preparing transportation activities in Spanish.
The Montessori Company has free parts of an airplane and a number of transportation cards that can be purchased.
There are many Montessori-inspired transportation printables available for purchase on Teachers Pay Teachers.
Montessori-Inspired Ideas for a Transportation Unit
I have a post with a car-parking game from Montessori-Inspired Activities for Pre-Schoolers.
I have a post with race car blending.
I have a Montessori-inspired construction unit for construction vehicle lovers.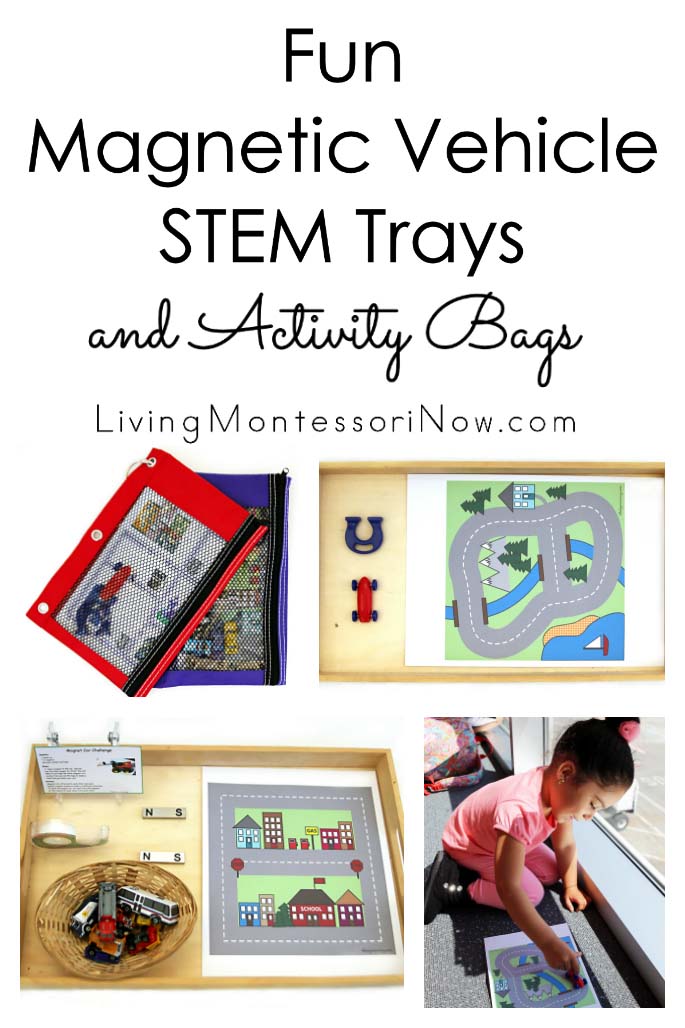 I also have fun magnetic vehicle STEM trays and activity bags.
For Spielgaben owners, I have a Spielgaben STEM challenge to build and fly a magnetic airplane.
My Little Keepers has Montessori inspired transportation activities for toddler.
Growing Book By Book has parking garage learn to spell your name.
Buggy and Buddy has a name practice activity using toy cars.
Pre-K Pages has a transportation theme with lots of hands-on activities.
Two Little Seeds has Montessori inspired transportation activities.
Montessori-Inspired Transportation Units
Here are some fundamental needs of people resources if your child is ready for that focus for your transportation unit.
You can take a transportation unit in many directions – for example, study types and parts of vehicles, how people in other nations travel, or focus on transportation as one of the fundamental needs of people (particularly as part of a history study at the elementary level). You can learn more about human needs and tendencies at Montessori Nuggets and What DID We Do All Day.
Using Interest-Based Unit Studies

Interest–based unit studies, such as a transportation unit for vehicle lovers, can be used to add motivation to any subject that's difficult for your child. Interest-based unit studies work well whether your child is struggling with learning phonetic sounds (use miniature vehicles and sandpaper letters), beginning reading (find phonetic-based readers with a transportation theme), or learning math facts (use miniature vehicles to add, subtract, multiply, or divide miniature vehicles or (later on) use online vehicle games at a site like Fun Brain or Academic Skill Builders to reinforce math facts).
A few years ago, there was an interesting discussion at Circle of Moms that relates well to an interest-based unit such as transportation for a vehicle lover:
What's a good way to motivate and support children who are struggling to learn a certain school subject? There are many interesting answers from bloggers (I have an answer there, too).
More Ideas for a Transportation Unit Study on Pinterest
Transportation Unit Study Pinterest Board
On Pinterest, I have more resources for a transportation unit for preschoolers through elementary-aged children. The resources aren't all Montessori resources, but there are many wonderful ideas to choose from to fit into a transportation unit.
Don't forget to include some transportation songs in your unit study. For young children, songs like "The Wheels on the Bus" are always fun. Here's a fun song and YouTube video about transportation by Nancy Kopman! "Transportation" is from her Wonderful You album. You can easily extend the song by adding other types of transportation.
Happy learning! 🙂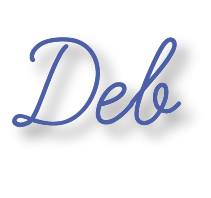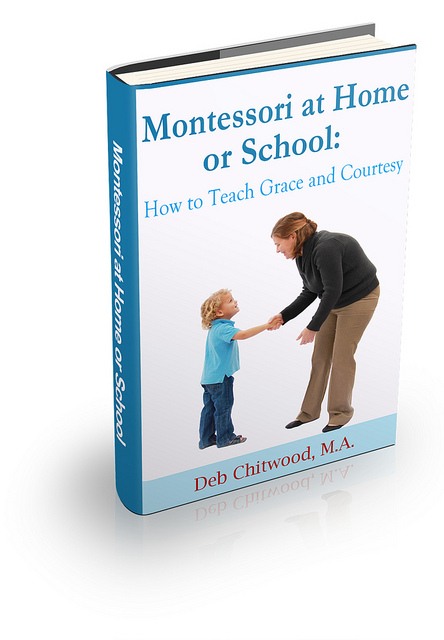 Learn more about my eBook Montessori at Home or School: How to. Teach Grace and Courtesy!
The Montessori at Home! eBook and Montessori at Home! eBook and Materials Bundle are AMAZING resources! You can learn more about them here. Buy them in the Living Montessori Now shop.
If this is your first time visiting Living Montessori Now, welcome! If you haven't already, please join us on our Living Montessori Now Facebook page where you'll find a Free Printable of the Day and lots of inspiration and ideas for parenting and teaching! And please follow me on Pinterest (lots of Montessori-, holiday-, and theme-related boards), Instagram, and YouTube. You can find me on bloglovin' and Twitter, too.
And don't forget one of the best ways to follow me by signing up for my weekly newsletter. You'll receive some awesome freebies in the process!