Review of Montessori Materials from Alison's Montessori
I'm often asked about the Montessori materials from various companies. To help you know more about Alison's Montessori and the company's products, I was given a set of knobbed cylinder blocks and a set of knobless cylinders from Alison's Montessori to review. (I was never required to write a positive review for Alison's Montessori, and any opinions expressed are my own.)
I had reviewed a number of Alison's Montessori materials in December. I was very pleased with the quality of those materials. This time, I asked to review the knobbed cylinder blocks and knobless cylinders after hearing of a number of homeschoolers who were unhappy with the fit of the cylinders from cylinder blocks from some other Montessori suppliers. I hadn't heard anything about the fit of the cylinders from Alison's Montessori, so I was excited to have the opportunity to check out the materials.

I wanted to review materials that homeschoolers and schools on a strict budget could afford. Alison's Montessori has a premium line of materials that are made from Russian birch and German birch.  The premium line materials are mostly handed sanded and hand cut … and meant to be flawless. I'm reviewing the value-line materials, which are solid rubber wood and are machine cut.
As before, my materials arrived quickly and were packed very well. Again, I was very pleased with the quality of the Alison's Montessori value-line materials. They reflect the beauty of Montessori and are very well constructed.
There are some minor imperfections in the value-line wood but nothing that's a problem or detracts from the beauty of the cylinder blocks. I'm EXTREMELY IMPRESSED with how well the cylinders fit into the cylinder blocks. I took out all the cylinders to test them, and every cylinder was a perfect fit.
The knobbed and knobless cylinders are some of the sensorial materials that I recommend Montessori homeschoolers buy if at all possible. They're beautiful to look at and touch. They give an excellent hands-on introduction to size and have numerous extensions for more advanced students. I love that they give an indirect preparation for mathematics.
Knobbed Cylinder Blocks (Set of 4)

Here's the description of the knobbed cylinder blocks (set of 4) from Alison's Montessori online catalog:
This is a set of four wooden cylinder blocks lacquered and handcrafted to a smooth satin finish.
Each block contains ten knobbed cylinders of varying dimensions.
The cylinder blocks help develop the concept of visual discrimination of size.
I'm a real fan of Montessori cylinder blocks. I love that there are so many ways cylinder blocks can be used. They're wonderful throughout the preschool years. They can be used one cylinder block at a time as in one of the early presentations (shown in the photo above).
Or, they can be used with 2, 3, or 4 cylinder blocks together, with or without a blindfold.
Knobless Cylinders (Set of 4)

Here's a description of the knobless cylinders (set of 4) from the Alison's Montessori online catalog:
This is a set of four wooden boxes with painted lids. Each contains knobless cylinders corresponding in size with the knobbed cylinders. The cylinders in each box are painted the same color as their lid.Made out of rubberwood (hardwood), these knobless cylinders are great for your home or school use. The knobless cylinders are stained and slightly lacquered.
We will warranty this set for one year, and assure you that this set will not chip. If breakage or chipping occurs within one year of purchasing this product than we will send a replacement cylinder for the one that is damaged at our cost.
I also tested each of the knobless cylinders to see if the cylinders would fit in the cylinder blocks. Again, each cylinder fit perfectly.
The knobless cylinders open up endless possibilities of extensions. An activity like the above photograph with red and green cylinders could even be featured at Christmastime. Alison's Montessori has printed and laminated extension cards for the knobless cylinders, too.
The extensions can be simple or elaborate, depending on the child's age and skill level. In my "Sensorial Size Extensions" post, you'll find many other ideas for extensions.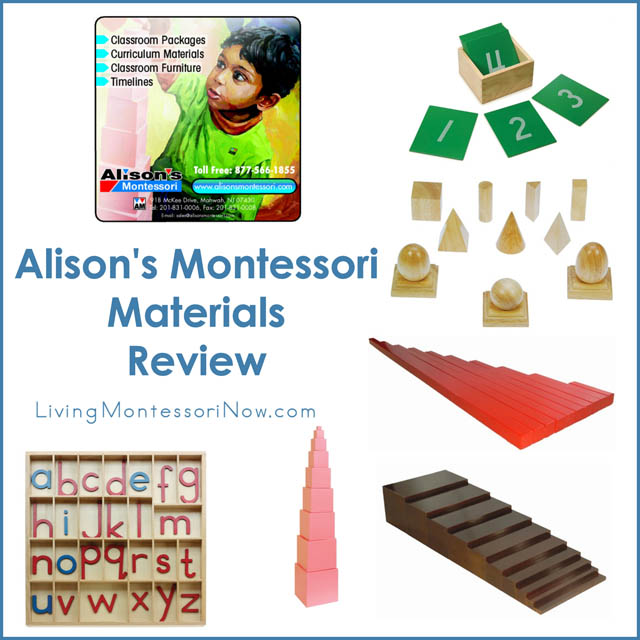 To learn more about some of my other favorite Montessori materials to purchase, check out my Alison's Montessori review from December.
Alison's Montessori Homepage
Be sure to check out the Alison's Montessori website with Montessori materials for infants and toddlers through upper elementary! You'll find a Value-Line E-Catalog, Premium E-Catalog, and other resources such as PDF files, books, arts and crafts, and enrichment materials. There's even a bargain basement!
Now for the Giveaway:
What You Will Win: 2 lucky winners from the U.S. will win a $100 Alison's Montessori gift certificate! Note: The gift certificates may not be used to purchase furniture. A third lucky winner from the U.S. will win Alison's Montessori geometric solids with bases, planes, and nomenclature cards.
Who is Eligible:
This giveaway is open to anyone 18 and older in the U.S. The first entry is mandatory. You must leave a blog post comment telling why you want to win (and be sure to click the green "ENTER" on the Rafflecopter form to let me know you left your blog post comment and to open up the optional entries)! After you've completed your mandatory entry, there are lots of optional entries. You have many chances to win! (Note: For the extra entries, you may count ways of following that you already do. For example, if you previously "liked" Living Montessori Now on Facebook, you may still count that for your "like" Living Montessori Now on Facebook entry!)
It's easy to enter giveaways with Rafflecopter! Just follow the directions to enter.If you still have questions about the Rafflecopter form, here's a 52-second video with quick directions for entering through Rafflecopter.

You must complete the Mandatory Entry to qualify for any additional entries. The giveaway closes 9:00pm PST on Thursday, May 15. Best of luck!

(Note: If you have any problems with the Rafflecopter form, you can sign up on the Rafflecopter form at the Living Montessori Now Facebook page. Just be sure to leave your blog comment here! Both Rafflecopter forms are the same, so it doesn't matter which one you sign up on.)
a Rafflecopter giveaway

UPDATE:
It's Friday morning, May 16. I really appreciated the 2,280 entries! 3 winners have been selected using Random.org through Rafflecopter!
Here are the three winners and their mandatory entries (blog comment telling why they want to win). All 3 had multiple entries.
Lisa K.  – Alison's Montessori $100 Gift Certificate

"I would choose something for my high schoolers from the math section."
Kelli W. – Alison's Montessori $100 Gift Certificate
"We are a homeschooling family who is making the transition to use the montessori style of learning. This would be of great help to get us some products to use with out son! Thank you for the chance!"
Heat D. – Alison's Montessori Geometric Solids, Bases, and Planes Plus Geometric Solids Nomenclature Cards

"Excited about the possibilities!!!"
CONGRATULATIONS, Lisa, Kelli, and Heat!!! THANK YOU SO MUCH to Alison's Montessori for sponsoring such an awesome giveaway – and thank you to everyone who entered!

On orders of $75 or more from the Alison's Montessori online store, my readers can save $10 by using coupon code LMN at checkout!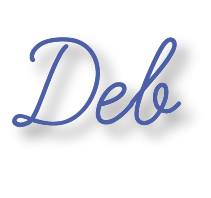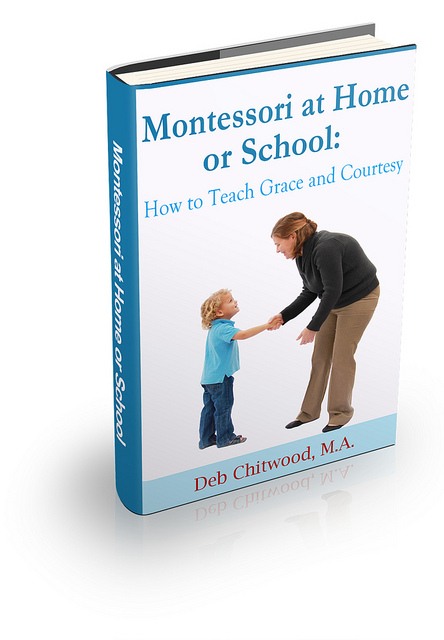 Learn more about my eBook Montessori at Home or School: How to. Teach Grace and Courtesy!
The Montessori at Home! eBook and Montessori at Home! eBook and Materials Bundle are AMAZING resources! You can learn more about them here. Buy them in the Living Montessori Now shop.
If this is your first time visiting Living Montessori Now, welcome! If you haven't already, please join us on our Living Montessori Now Facebook page where you'll find a Free Printable of the Day and lots of inspiration and ideas for parenting and teaching! And please follow me on Pinterest (lots of Montessori-, holiday-, and theme-related boards), Instagram, and YouTube. You can find me on bloglovin' and Twitter, too.
And don't forget one of the best ways to follow me by signing up for my weekly newsletter. You'll receive some awesome freebies in the process!