I've been a fan of both Safari Ltd. TOOBs and Montessori Print Shop printables for a long time. I'm excited to share activities featuring both … a perfect way for kids to have fun learning!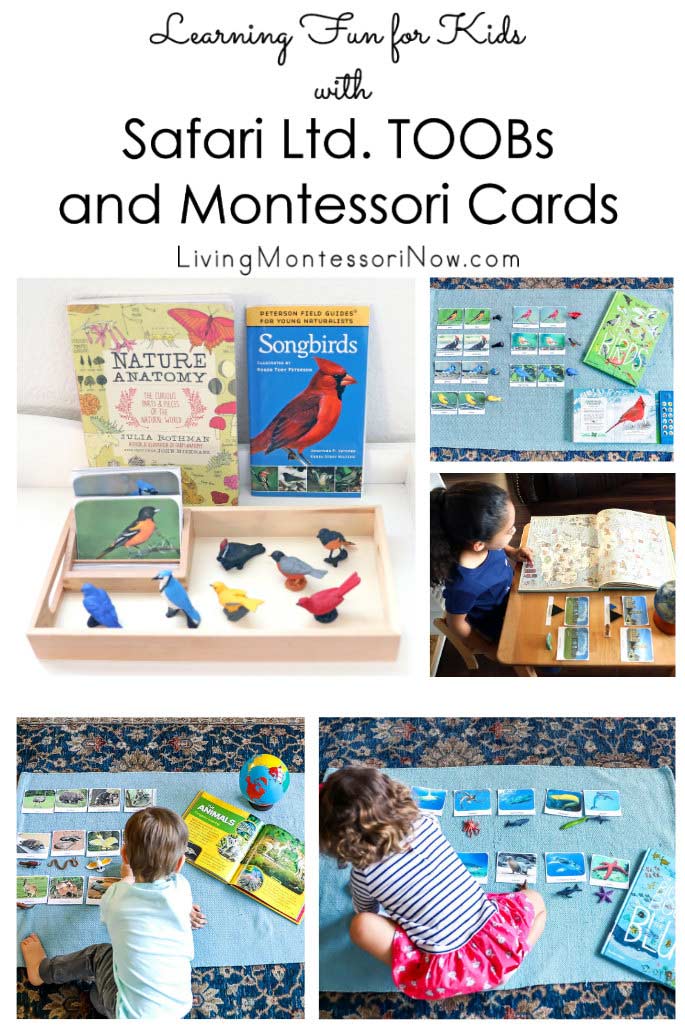 Disclosure: Montessori Print Shop is one of my blog sponsors. I was given a copy of the Montessori Print Shop Safari TOOBs Bundle. My opinion is honest and my own. This post also contains some affiliate links (at no cost to you).
Montessori Print Shop TOOB Cards
Montessori Print Shop has always been one of my very favorite Montessori material suppliers. And Montessori Print Shop materials are high-quality materials covering a huge range of areas. The materials are reasonably priced to begin with, but the bundles are even better deals.
The Safari TOOB Cards Bundle from Montessori Print Shop is valued at $102.50 and priced as a bundle at $60.
From Montessori Print Shop online store:
This bundle includes 41 sets of Safari TOOB Cards (as listed below). Each set of Safari TOOB Cards matches the figures included in each TOOB. The contents of each file can be viewed here.
All files include cards in single card format (pictures with labels) and a 3-part card format (pictures with labels, pictures without labels, and labels) for each figure. Two styles of cards are included.
Cards with labels are approx. 3¾" x 4½", cards without labels are approx. ¾" shorter.
Includes: Antarctica, Arctic, Around The World, Backyard Birds, Big Cats, Butterflies, Cave Dwellers, Coral Reef, Desert, Dogs, Domestic Cats, Down On The Farm, Endangered Species (Land), Endangered Species (Marine), Exotic Birds, Farm, Flowers, Frogs and Turtles, Fruits and Vegetables, Galapagos, Horses, In The Sky, In The Water, In The Woods, Insects, Monkeys and Apes, Musical Instruments, Nature, North American Wildlife, Ocean, On The Road, Penguins, Pets, Rainforest, River, Sharks, The Land Down Under, Venomous Creatures, Whales and Dolphins, Wild, World Landmarks.
You can see the contents of each printable in the Safari TOOB Cards section. Cards for individual TOOBs are $2.50 (or less if they're on sale).
Examples from the Montessori Print Shop Safari TOOB Cards Bundle
Here are just a very few ideas using some of the printables from the Safari TOOB Cards Bundle. There are many that work well for older toddlers. They're all great for preschoolers, and early-elementary-aged kids often enjoy working with them, too.
Note: The Safari Ltd. TOOB figures are a choking hazard, so don't use them with toddlers who still mouth objects unless you're watching closely every second.
I love how the cards look with the images that have rounded corners, so that's what you'll see here. There are duplicate images in each set with square corners if you prefer that look.
Using Safari TOOB Cards with Older Toddlers and Preschoolers
Ocean TOOB and Cards
My 3-year-old granddaughter, Sophia, worked with the Safari Ltd. Ocean TOOB figures and Montessori Print Shop Ocean TOOB Cards. Typically, for a child this age, you'll just use the picture card without the word. I used the picture and word label because Sophia enjoys letter activities, and I wanted her to associate words with the pictures. She loves ocean animals, and really enjoyed the activity!
The Big Book of the Blue is part of an amazing series and is loved by all my grandkids.
Land Down Under TOOB and Cards
This is my 3-year-old grandson, Caleb working with the Safari Ltd. Land Down Under TOOB figures and Montessori Print Shop Land Down Under TOOB cards. Caleb loves geography and enjoyed applying his knowledge of Australia to this work.
Note: I added a book from one of our favorite series: National Geographic Little Kids First Big Book of the World along with the Montessori continents globe.
Using TOOB Cards with Preschoolers Who Can Read Through Early-Elementary-Aged Kids
Backyard Birds TOOB and Cards
Backyard birds have been a popular study for my grandkids after our backyard bird unit two years ago. It was fun to prepare a tray with the Safari Ltd. Backyard Birds TOOB and Montessori Print Shop Backyard Birds TOOB Cards.
Nature Academy is another book from a favorite series. Songbirds is one of the field guides we've used in our study of bird songs.
This layout is one way you could use the TOOB cards with children who can read. AMI training recommends placing 3-part cards in this order when children are readers.
For older preschoolers who don't yet read, I like the AMS method of placing the control card first and letting them match the picture and word even if they can't actually read the word. You can see an example of this in my post on how to use Montessori classified cards for a variety of ages, themes, and concepts.
Note: Here are two other books we love: The Big Book of Birds and The Little Book of Backyard Bird Songs (an absolute favorite that's been used so, so many times by all my grandkids). We also use bird songs from YouTube when they aren't in The Little Book of Backyard Bird Songs.
Using TOOB Figures and Cards for a Country Study
My 7-year-old granddaughter, Zoey, has enjoyed our Montessori grammar work along with a variety of geography activities. Here, we're using the Big Ben figure from the Around the World TOOB and the big ben card from the Around the World TOOB Cards. We also used the Stonehenge figure from the World Landmarks TOOB and stonehenge card from the Montessori Print Shop World Landmarks TOOB Cards.
Zoey loved using the Maps book with the Safari Ltd. figures, grammar symbols, and Montessori Print Shop cards.
The Safari TOOB Cards Bundle from Montessori Print Shop is a wonderful bundle with so many more ways it can be used! Again, it's valued at $102.50 and priced as a bundle at $60.
Other Examples of Montessori Print Shop Materials in Use at Living Montessori Now
I have a number of toddler posts that feature materials from the Montessori Print Shop Toddler Bundle, I have a number of other posts with Montessori Print Shop printables and activities, too!
More about Montessori Print Shop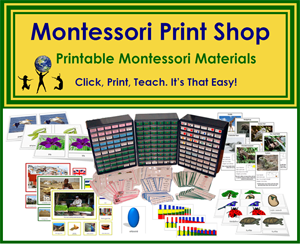 Montessori Print Shop has free printables, a shop with 2,311 printable materials, and lots of great information and resources (see all the drop-down menus at the top of the Montessori Print Shop page)! For more information, read my Sponsor Spotlight – Montessori Print Shop.
Remember to check the sale area each month. You'll always find some great deals in the Montessori Print Shop sale area.
11th Blogiversary Giveaway on Instagram!!!
And don't miss the AWESOME WORLDWIDE 11th blogiversary giveaway sponsored by Montessori Print Shop! The prize is their Deluxe CD-Rom Collection that's priced at $800 but is worth $5,927 if the materials are purchased individually!!! It ends April 12, 2021, at 11:59pm PT. You can read more about the giveaway here. It's on Instagram, and you can enter the giveaway here.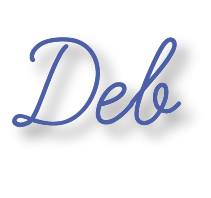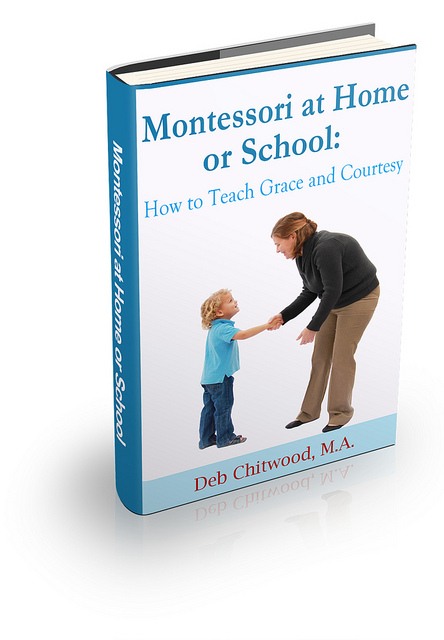 Learn more about my eBook Montessori at Home or School: How to. Teach Grace and Courtesy
If this is your first time visiting Living Montessori Now, welcome! If you haven't already, please join us on our Living Montessori Now Facebook page where you'll find a Free Printable of the Day and lots of inspiration and ideas for parenting and teaching! And please follow me on Pinterest (lots of Montessori-, holiday-, and theme-related boards), Instagram, and YouTube. You can find me on bloglovin' and Twitter, too.
And don't forget one of the best ways to follow me by signing up for my weekly newsletter. You'll receive some awesome freebies in the process!