The Montessori By Mom toolboxes are designed for ages 3-6, but don't tell my 22-month-old granddaughter, Zoey, that. I spent over an hour each of the last two days working with miniature language objects with Zoey. She's in love with the new language objects and activities from the Montessori By Mom Learning Language Toolbox.
Disclosure: I'm a Montessori By Mom affiliate. I was given the Learning Language Toolbox for this review. This post contains affiliate links (at no cost to you).
Montessori By Mom
Montessori By Mom is a small business started by Nathan and Teresa Hadsall, two teachers who wanted to empower parents to teach their own children using Montessori principles and activities. Nathan and Teresa offer a subscription service, sending a box of themed Montessori materials and activities for 3-5 year olds each month. Everything you need for teaching your child with the materials is included in the monthly subscription. With each box, you'll get
Video instruction for many activities (The videos are wonderful! Parents with no Montessori experience can feel comfortable introducing the Montessori activities after watching the video instructions.)
Video instruction about basic Montessori principles and teaching techniques
All the materials needed
Extension activities with other materials from home
Access to an online forum where you can ask questions and connect with other parents
Montessori By Mom now has a Montessori By Mom store where you can buy single toolboxes, activity sets, single items and refills, and printables and videos.
Learning Language Toolbox and Activities
The Learning Language Toolbox has a large number of activities you can create with the materials.
Teresa and Nathan give many ideas for various ages and levels of difficulty. Each material can be used in multiple ways, and the extensions ensure that the activities can grow with your child. The instructional videos and online resources are wonderful … and it's so nice to have all the materials included. The Learning Language Toolbox is available in the Montessori By Mom store.
The toolbox contains:
Language Minis Set (54 minis)
Movable Alphabet Cards Set (160 cards!)
Montessori Sand Tray Set
Handwriting Practice Set

Montessori Writing Paper
Handwriting Practice Grids
Tripod Grip Pencil

Learning Language The Montessori Way Brochure
BONUS: Sign Language Poster with ASL and BSL signs!
Learning Language Toolbox Guide
Instructional Videos (online)
Online Printables and Resources
Learning Language Activities Using the Montessori By Mom Materials
These are just a few of the activities you can prepare using the learning language materials. There are additional ideas in the videos and online parent resources that are included with the toolbox. I'm impressed that there are so many different levels of activities included in the Learning Language Toolbox. It's especially helpful for homeschoolers to have activities for toddlers through elementary. (Note: Except for the red sand tray, the trays and baskets don't come with the Learning Language Toolbox.)
Montessori: Letter Work Book

We already had this book, so I gave the extra copy for Zoey to use at home. Zoey loves the tactile letters. I have some important information on the best way to use the book in the following video. My daughter, Christina, is sharing the book with Zoey (her niece) when Zoey is almost 16 months old.
Montessori I Spy Games
These are some early language games that are recommended by Montessori By Mom using the miniature language objects that are provided in the Learning Language Toolbox. In this video, my daughter, Christina, is working with Zoey when Zoey is 22 months old.
Sand Tray with Montessori: Letter Work
Sand trays are fun for preschoolers and a great way to reinforce letter tracing. You can use the Montessori: Letter Work book instead of the sandpaper letters if you choose. In the Learning Language Toolbox, there are movable alphabet letters that can be used for a variety of activities. Here, I used the Montessori: Letter Work book for the child to find and trace the highlighted letter sound. Then the child could trace the letter in the sand box.
S Beginning Sounds Basket with Montessori: Letter Work

Here, I used a small basket with the /s/ objects that came with the Learning Language Toolbox. A child could find the letter in the book, trace it, and then say the names of the objects that start with that sound. More than one of each letter of the alphabet comes with the movable alphabet set.
S, M, T, A Beginning Sounds Basket
This basket uses language minis for /s/, /m/, /t/, and /a/. Those are the first four phonetic sounds I typically teach. You can find a possible order to use for introducing letter sounds in this post: In What Order Should You Introduce Letters to Your Preschooler?
You could then lay out the letters on a rug and match the objects to the appropriate letter sounds.
Movable Alphabet Spelling
Movable alphabet spelling is perfect for children who know a number of sounds. They can spell words by hearing the sounds even if they can't write all the letters yet.
Handwriting Practice Grids
This is a great activity for preparing the hand for writing. I simply cut out ideas for designs for the grids that came with the Learning Language Toolbox. The tripod pencil will help children develop the proper pencil grip. You'll also receive some Montessori writing paper in the toolbox.
Sign Language Alphabet Poster and Letter Matching
I always taught the sign language alphabet to preschoolers in my classroom. This activity could reinforce the sign language alphabet as well as give a matching activity. I noticed that the movable alphabet letters were the same size as the sign language poster, so I simply put the two together for a matching activity. I used the American Sign Language side, but there's a British Sign Language poster on the other side.
Miniature Language Objects Available Separately
If you'd like to purchase the set of miniature language objects without the complete Learning Language Toolbox, you'll find an updated set for 2019 in the Montessori By Mom shop! These are half the price of many miniature language object sets. Montessori By Mom combined a balance of beautiful objects with economy objects to keep the set affordable.
Montessori By Mom Toolboxes + Toolbox Review and Activity Posts
Here are all the Montessori By Mom toolbox review and activity posts I've published here at Living Montessori Now: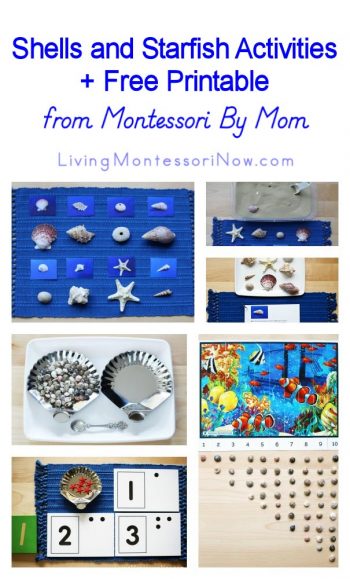 Shells and Starfish Activities + Free Printable from Montessori By Mom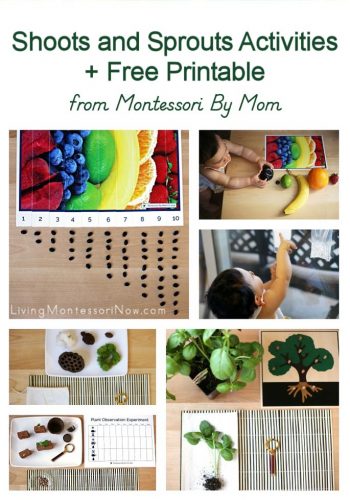 Shoots and Sprouts Activities + Free Printable from Montessori By Mom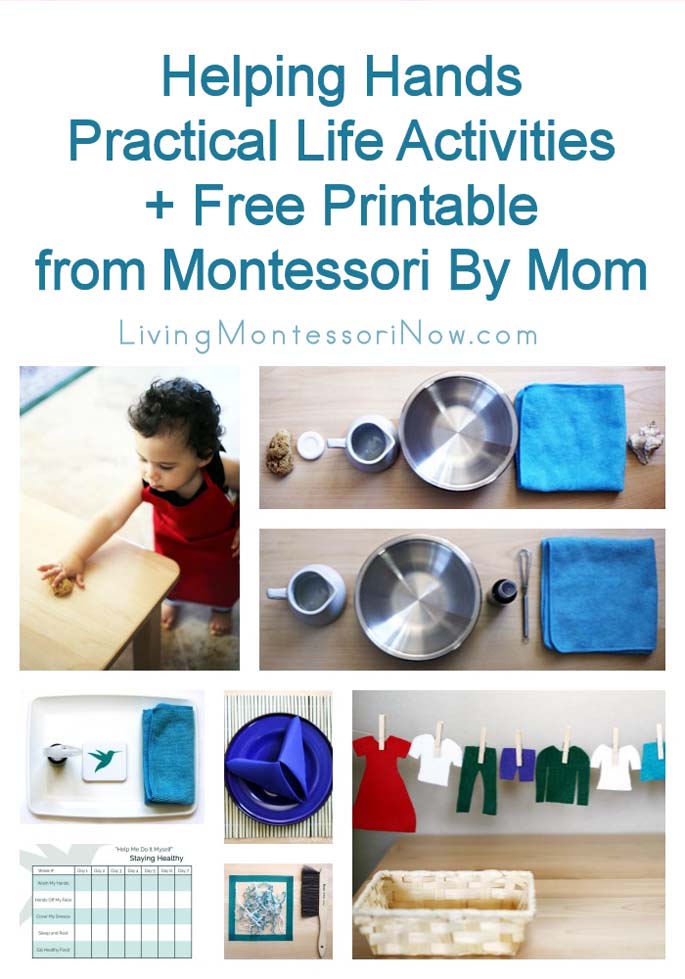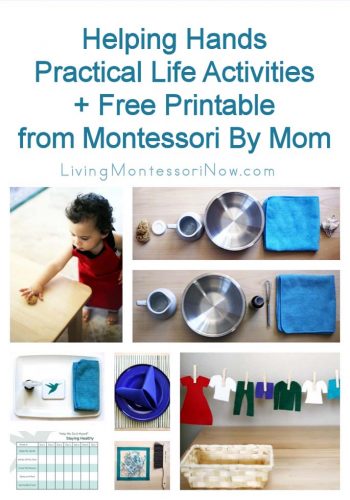 Practical Life Activities + Free Printable from Montessori By Mom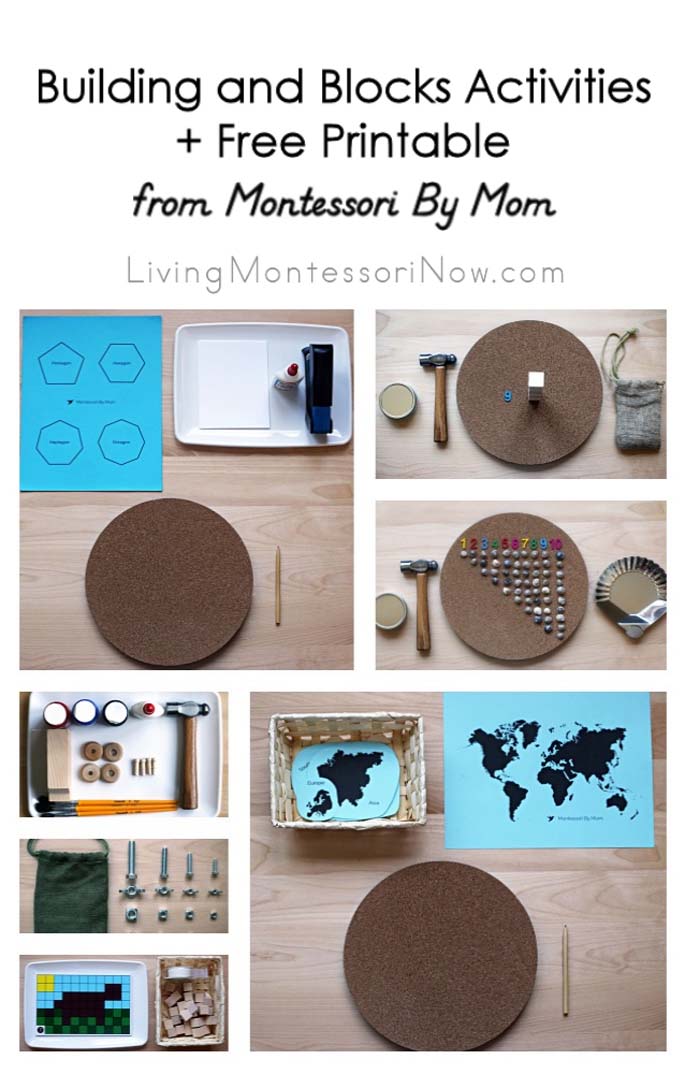 Building and Blocks Activities + Free Printable from Montessori By Mom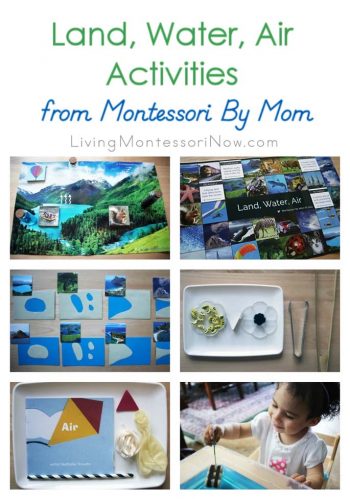 Land, Water, Air Activities from Montessori By Mom
Art Appreciation Activities from Montessori By Mom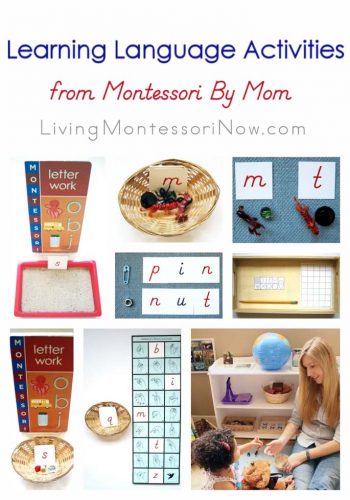 Learning Language Activities from Montessori By Mom
Making Music Activities from Montessori By Mom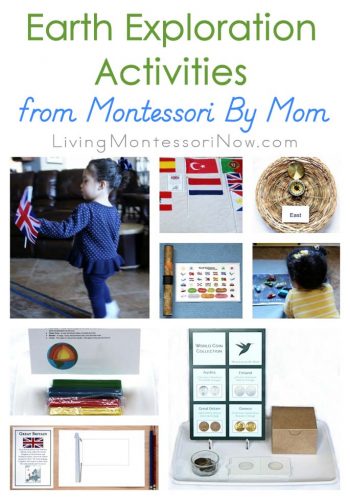 Earth Exploration Activities from Montessori By Mom
Montessori By Mom has a few other Toolboxes, too: Mad Scientist (for skills such as pouring, color mixing, volume, and measurement), Space Explorer Toolbox, Movement and Motion, Caves and Caverns, Journey to Japan, Dinosaur Discovery, Delicious Discoveries, and Kings, Queens, and Castles.
I'll be adding my review and activity posts to this post as I publish them. Montessori By Mom is actively working to restock several of their Toolboxes, so there should be more available every month.
MONTESSORI BY MOM SPECIAL OFFER FOR NEW SUBSCRIBERS!
I really love the Montessori By Mom materials and curriculum. I definitely recommend Montessori By Mom for parents looking for a simple and fun way to start using Montessori at home.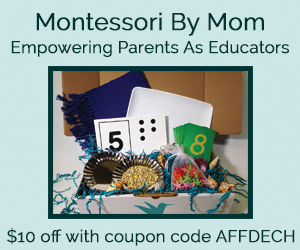 Montessori By Mom offers $10 off to new subscribers with the coupon code AFFDECH at checkout.
Montessori By Mom is based in the U.S., but there's even international shipping! Montessori By Mom also has a Montessori By Mom store where you can buy single toolboxes, activity sets, single items and refills, and printables and videos! You can connect with Nathan and Teresa on Facebook, Twitter, Google +, and YouTube (where you can see their public videos, including a Montessori By Mom subscription sample). They also have a blog with more helpful information. Montessori By Mom runs the Montessori By Mom Family (Facebook group), too, "as a way way to support anyone interested in providing children with a Montessori experience. We also want our customers and fans to be able to connect with us and each other!"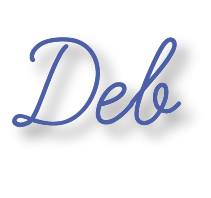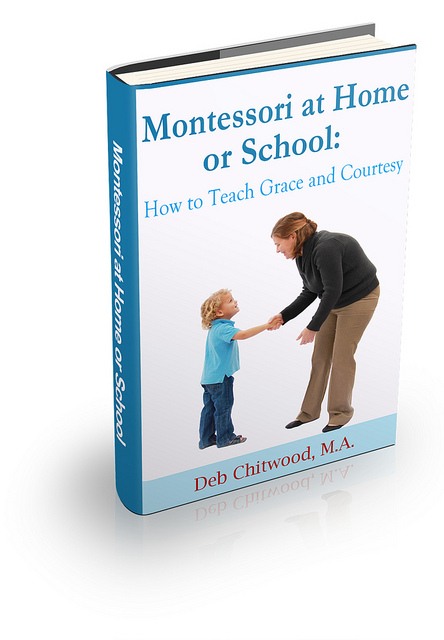 Learn more about my eBook Montessori at Home or School: How to. Teach Grace and Courtesy!
The Montessori at Home! eBook and Montessori at Home! eBook and Materials Bundle are AMAZING resources! You can learn more about them here. Buy them in the Living Montessori Now shop.
If this is your first time visiting Living Montessori Now, welcome! If you haven't already, please join us on our Living Montessori Now Facebook page where you'll find a Free Printable of the Day and lots of inspiration and ideas for parenting and teaching! And please follow me on Pinterest (lots of Montessori-, holiday-, and theme-related boards), and Twitter. You can find me on bloglovin', Instagram, and YouTube, too.
And don't forget one of the best ways to follow me by signing up for my weekly newsletter. You'll receive some awesome freebies in the process!
Giveaway: The giveaway is now closed. See the bottom of the post right below the Rafflecopter form for the announcement of the winner.
What You Will Win: A lucky winner worldwide will win $55.95 credit at the Montessori By Mom store! If the winner is from the U.S., shipping will be free.
Who is Eligible:
This giveaway is open to anyone 18 and older worldwide. The first two entries are mandatory. You must sign up for both the Montessori By Mom newsletter and the Living Montessori Now newsletter (and be sure to leave the email address you used and then click the green "ENTER" on the Rafflecopter form to open up the optional entries)! After you've completed your mandatory entries, there are lots of optional entries. You have many chances to win! (Note: For the extra entries, you may count ways of following that you already do. For example, if you previously followed @DebChitwood on Twitter, you may still count that for your follow @DebChitwood on Twitter entry!) It's easy to enter giveaways with Rafflecopter! Just follow the directions to enter. If you still have questions about the Rafflecopter form, here's a 52-second video with quick directions for entering through Rafflecopter. You must complete the Mandatory Entries to qualify for any additional entries. The giveaway closes 9:00pm PST on Thursday, October 1. Best of luck!

(Note: If you have any problems with the Rafflecopter form, you can sign up on the Rafflecopter form at the Living Montessori Now Facebook page. Just be sure to leave your blog comment here! Both Rafflecopter forms are the same, so it doesn't matter which one you sign up on.) a Rafflecopter giveaway
UPDATE:
It's Friday Morning, October 2. I really appreciated the 1, 849 entries! A winner has been selected using Random.org through Rafflecopter!
1. Laura-Rose W is the winner of $55.95 credit at the Montessori By Mom store!
I'm so happy for Laura-Rose! (Note: Laura-Rose, you have 48 hours to respond to my email, or a new winner will be chosen.)
CONGRATULATIONS, Laura-Rose!!! A HUGE THANK YOU to Montessori By Mom for sponsoring this great giveaway – and thank you to everyone who entered!
And, always, thanks so much to all my blog sponsors!
Montessori Print Shop
Montessori Compass
Spielgaben
KHT Montessori
Montessori By Mom
Pin It! Maps
Alison's Montessori