Do you feel inadequate to help your child with musical activities? Montessori By Mom to the rescue! Montessori by Mom toolboxes are designed for ages 3-6, but many of the activities work well with toddlers, and others even work well with elementary-age kids.
The Making Music Toolbox is an amazing resource, even if you have no experience with music. It wasn't hard to put together some great hands-on activities using the Making Music Toolbox from Montessori By Mom!
Disclosure: I'm a Montessori By Mom affiliate. I was given the Making Music Toolbox for this review. This post contains affiliate links (at no cost to you).
Montessori By Mom
Montessori By Mom is a small business started by Nathan and Teresa Hadsall, two teachers who wanted to empower parents to teach their own children using Montessori principles and activities. Nathan and Teresa offer a subscription service, sending a box of themed Montessori materials and activities for 3-5 year olds each month. Everything you need for teaching your child with the materials is included in the monthly subscription. With each box, you'll get
Video instruction for many activities (The videos are wonderful! Parents with no Montessori experience can feel comfortable introducing the Montessori activities after watching the video instructions.)
Video instruction about basic Montessori principles and teaching techniques
All the materials needed
Extension activities with other materials from home
Access to an online forum where you can ask questions and connect with other parents
Montessori By Mom now has a Montessori By Mom store where you can buy single toolboxes, activity sets, single items and refills, and printables and videos.
There's also a Marketplace where parents and teachers can sell homemade or used Montessori-related products. You can post products free. Montessori By Mom just takes a 15% commission from each sale for providing credit card processing and the platform.
Making Music Toolbox and Activities
The Making Music Toolbox has a large number of activities you can create with the materials.
Teresa and Nathan give many ideas for various ages and levels of difficulty. Each material can be used in multiple ways, and the extensions ensure that the activities can grow with your child. The instructional videos and online resources are wonderful … and it's so nice to have all the materials included. The Making Music Toolbox is available in the Montessori By Mom store.
The toolbox contains:
Irish Penny Whistle
Montessori Sound Cylinders Set
Instrument Matching Set

Musical Instrument Models
MBM Instrument Cards Set

Rhythm and Patterning Set

Rhythm Pattern Card Set
Paper Mache Drum
Rhythm Sticks

Jingle Bells
Leather Cord
Making Music Toolbox Guide
Instructional Videos (online)
Online Printables and Resources
Making Music Activities Using the Montessori By Mom Materials
These are just a few of the activities you can prepare using the Making Music materials. There are many additional ideas in the videos and online parent resources that are included with the toolbox. I'm impressed that there are so many different levels of activities included in the Making Music Toolbox. It's especially helpful for homeschoolers to have activities for toddlers through elementary. (Note: The trays and baskets in my photos don't come with the Making Music Toolbox.)
In the extension activities, there are some very fun activities, such as conducting, circus tricks, freeze dance, and creative musical activities to "BINGO" and "If You're Happy and You Know It."
Montessori Sound Cylinders
Montessori sound cylinders are a perfect way to focus young children on differentiating sounds. The Making Music Toolbox includes a sound matching tubes set with 5 white cylinders and 5 black cylinders. Normally, sound cylinders are divided into two boxes. If all five cylinders are used, I think they should be divided into two boxes. For toddlers and young preschoolers, you could put both sets of loud, medium, and soft tubes into a single basket for the child to match. (My basket is from a craft store.) Later on, your child could match all five pairs and then grade them from loudest to softest.
Using an Irish Penny Whistle and Rhythm Sticks with "Twinkle, Twinkle, Little Star" – Making Music with a Toddler Video
My daughter, Christina, my 23-month-old granddaughter, Zoey (Christina's niece), and I had so much fun making music with the Making Music Toolbox materials! When I was younger, I was a clarinetist and played soprano and alto recorders. I had never tried playing an Irish penny whistle, though. I was very impressed with how easy it is to play. It would make a great first instrument for an advanced preschooler or for a kindergartener or elementary-age child. It has a lot of similarities to a recorder but doesn't have a thumb hole, so it's even easier to learn to play than a recorder. In this 40-second video, you'll see the fun we had when I played the penny whistle while Christina and Zoey sang and tapped rhythm sticks to "Twinkle, Twinkle, Little Star.
Matching Music Cards with Musical Instrument Models
This is a very inviting 3-part card activity. The 3-part music cards and musical instrument models would work well for preschoolers through early elementary.
Toddlers will love them, too! Zoey enjoyed matching the instrument models to the pictures. Older children and readers can use the entire set of 3-part cards.
Musical Instrument Sound Identification
Zoey and I both LOVED this activity! I brought my iPhone to the rug where Zoey had matched the musical instrument models to the cards. Then I played each piece of music using the links provided in the Montessori By Mom online resources for people who've purchased the Making Music Toolbox. Zoey wanted to "play" the musical instruments, so I showed her how to "play" each one during the music.
Decorating a Drum
If you have the Art Appreciation Toolbox, you can use those pigments to decorate your drum. I just showed how you could paint it with materials you already have. I just used some acrylic paints, a paint palette, and paint brushes I had at home to prepare a tray for decoarating the drum.
Rhythm Pattern Card Matching
This is a wonderful activity for introducing children to musical notation before they read notes while playing an instrument. It's hands on, and even includes the rhythm sticks for practicing the rhythms.
Making a Jingle Bell Bracelet and Ringing Bells to Rhythm Patterns
Younger children could make a jingle bell bracelet and use the bells to practice rhythms. I just added the strips with the whole notes and the half notes. You could hold up a strip and have your child play the rhythm.
Montessori By Mom Toolboxes + Toolbox Review and Activity Posts
(Update) Here are all the Montessori By Mom toolbox review and activity posts I've published here at Living Montessori Now: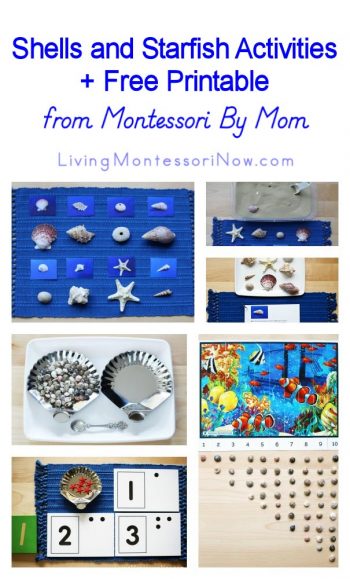 Shells and Starfish Activities + Free Printable from Montessori By Mom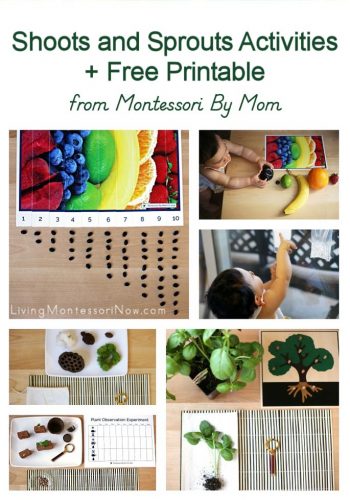 Shoots and Sprouts Activities + Free Printable from Montessori By Mom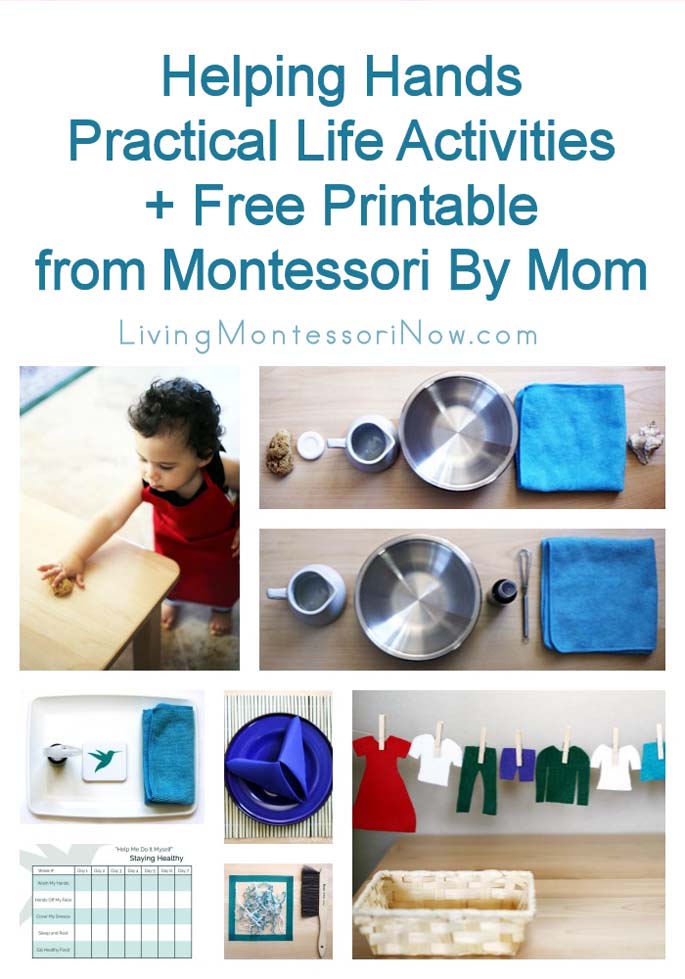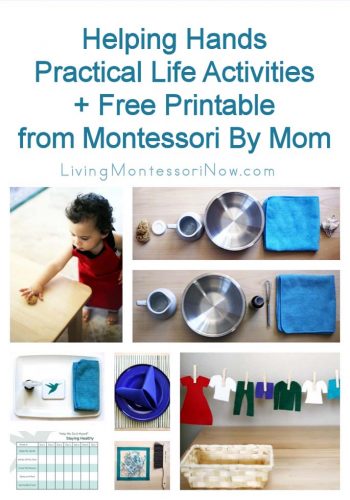 Practical Life Activities + Free Printable from Montessori By Mom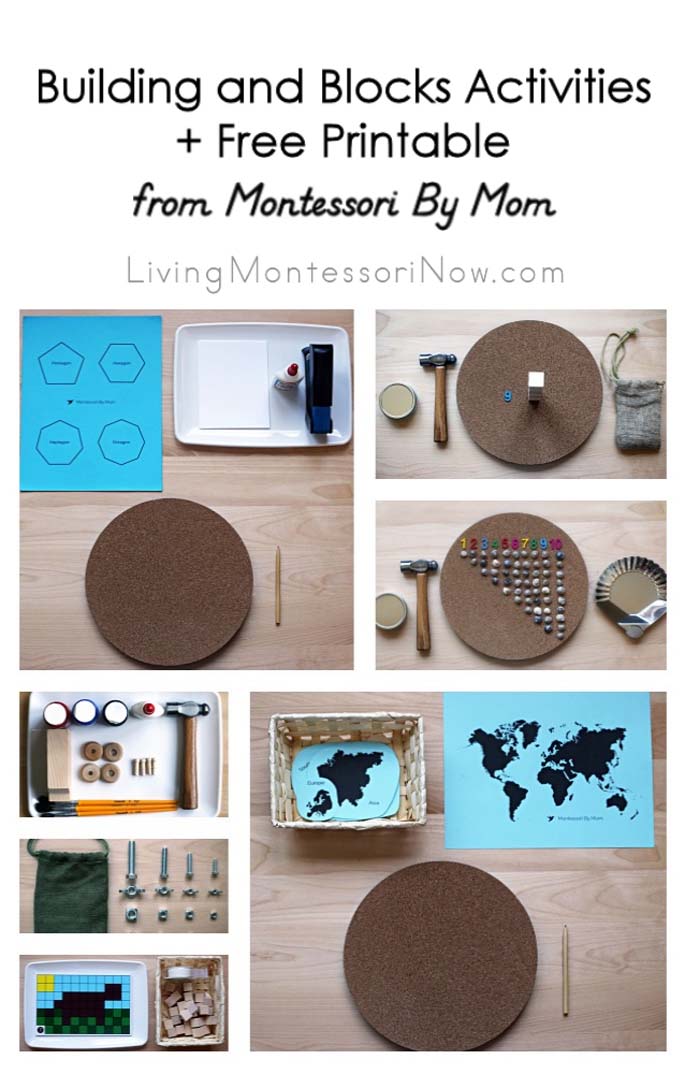 Building and Blocks Activities + Free Printable from Montessori By Mom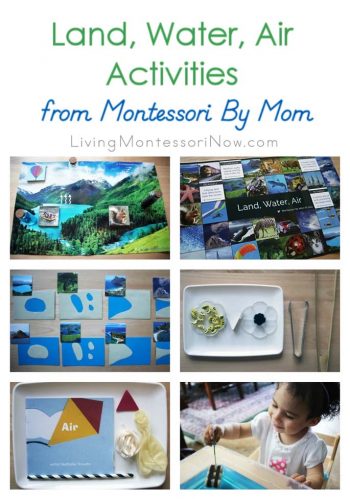 Land, Water, Air Activities from Montessori By Mom
Art Appreciation Activities from Montessori By Mom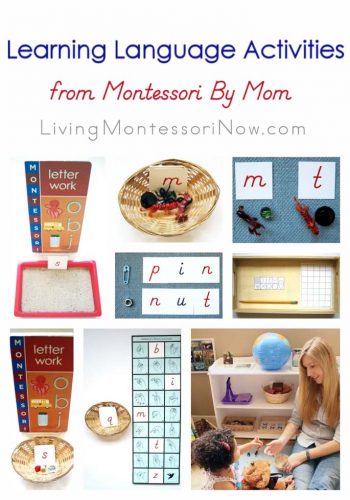 Learning Language Activities from Montessori By Mom
Making Music Activities from Montessori By Mom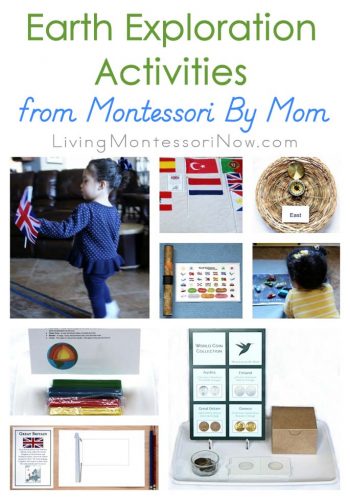 Earth Exploration Activities from Montessori By Mom
Montessori By Mom has a few other Toolboxes, too: Mad Scientist (for skills such as pouring, color mixing, volume, and measurement), Space Explorer Toolbox, Movement and Motion, Caves and Caverns, Journey to Japan, Dinosaur Discovery, Delicious Discoveries, and Kings, Queens, and Castles.
I'll be adding my review and activity posts to this post as I publish them. Montessori By Mom is actively working to restock several of their Toolboxes, so there should be more available every month.
MONTESSORI BY MOM SPECIAL OFFER FOR NEW SUBSCRIBERS!
I really love the Montessori By Mom materials and curriculum. I definitely recommend Montessori By Mom for parents looking for a simple and fun way to start using Montessori at home.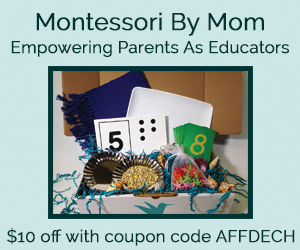 Montessori By Mom offers $10 off to new subscribers with the coupon code AFFDECH at checkout.
Montessori By Mom is based in the U.S., but there's even international shipping! Montessori By Mom also has a Montessori By Mom store where you can buy single toolboxes, activity sets, single items and refills, and printables and videos! You can connect with Nathan and Teresa on Facebook, Twitter, Google +, and YouTube (where you can see their public videos, including a Montessori By Mom subscription sample). They also have a blog with more helpful information. Montessori By Mom runs the Montessori By Mom Family (Facebook group), too, "as a way way to support anyone interested in providing children with a Montessori experience. We also want our customers and fans to be able to connect with us and each other!"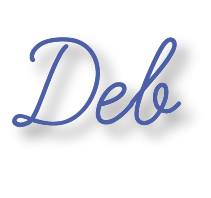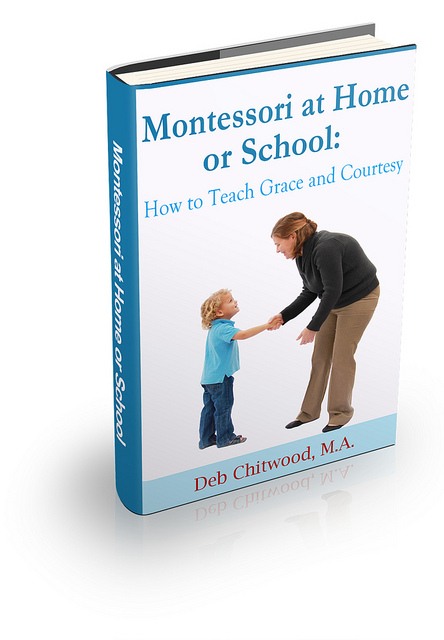 Learn more about my eBook Montessori at Home or School: How to. Teach Grace and Courtesy! I'm also one of the coauthors of the book Learn with Play – 150+ Activities for Year-round Fun & Learning!
The Montessori at Home! eBook and Montessori at Home! eBook and Materials Bundle are AMAZING resources! You can learn more about them here. Buy them in the Living Montessori Now shop.
If this is your first time visiting Living Montessori Now, welcome! If you haven't already, please join us on our Living Montessori Now Facebook page where you'll find a Free Printable of the Day and lots of inspiration and ideas for parenting and teaching! And please follow me on Pinterest (lots of Montessori-, holiday-, and theme-related boards), Twitter (blog posts by me and others along with the Parent/Teacher Daily and other interesting information), and Google+ (post updates). You can find me on bloglovin', Instagram, and YouTube, too.
And don't forget one of the best ways to follow me by signing up for my weekly newsletter. You'll get two awesome freebies (and a monthly subscriber freebie) in the process!
May be linked to Mommy Monday, Mommy Monday, Tasty Tuesdays, A Little Bird Told Me Linky Party, Saturday Sharing