I grew up on a farm 40 miles from De Smet, South Dakota, one of the settings for Laura Ingalls Wilder's Little House on the Prairie series. I always loved the Laura Ingalls Wilder books. Those books naturally became an important part of our homeschooling.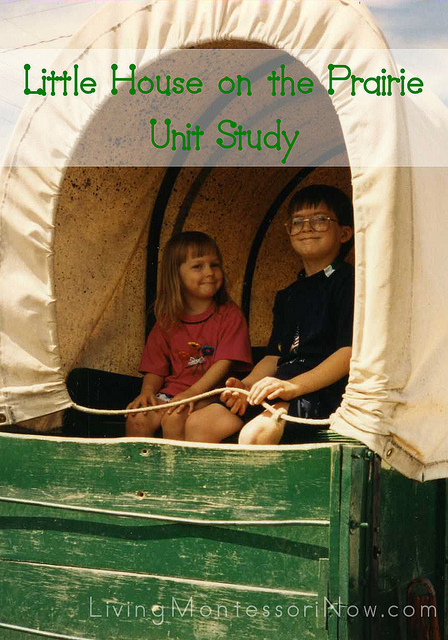 In fact, the books were woven throughout our homeschooling for years. We read aloud through the entire series more than once. And Will and Christina used to say that I used Little House on the Prairie books as examples for almost anything (such as the beauty of showing gratitude for the simplest presents).
Disclosure: This post contains affiliate links (at no cost to you).

Even if Little House on the Prairie isn't such an important part of your homeschool, it's a great topic for a multi-age unit study during the summer as well as any time during the school year. We still enjoy Little House on the Prairie activities even though my kids are adults now!
Note: There are now "My First Little House Books." They're fabulous for preschoolers and beginning readers. I love the character values of the Little House series, and it's wonderful for children to fall in love with Laura Ingalls Wilder books at an early age.
Because we lived in South Dakota until Will was 11 and Christina was 6, we had easy access to lots of museums and activities related to pioneer life on the prairie. In 1989, Will and I even rode a few miles in an actual covered wagon in the  South Dakota Centennial wagon train.
If you're ever able to visit De Smet, South Dakota, there are Laura Ingalls Wilder historic homes, Ingalls homestead, Loftus store, Laura Ingalls Wilder pageant (three weekends in July), De Smet Depot Museum, and Harvey Dunn School. With my parents, we attended The Long Winter pageant in 2002 and By the Shores of Silver Lake on July 8 this year.
Little House on the Prairie Curriculums You Can Purchase
October 2015 Update: Little House on the Prairie: The Legacy of Laura Ingalls Wilder is a one-hour documentary that gives the behind-the-scenes, true-life story of Laura Ingalls Wilder.
I was given a copy of the documentary. I loved learning more about Laura Ingalls Wilder and the creation of the book series. A Little House on the Prairie Unit Study would definitely benefit by adding the documentary to the unit.
The documentary emphasizes the books' "universal themes of courage, hope, and love." I enjoyed learning new information such as that Laura insisted on keeping an account of Mary's blindness in the the book By the Shores of Silver Lake because "Mary's blindness transformed her adolescence. It transformed the family. It also added momentum to the idea of facing adversities with courage and strength." And I appreciated the segment after "the long winter" where Laura gives the message that "gratitude for deliverance outweighs anger over hardship." Such important messages!
You can learn more about the documentary here. Buy the documentary through Amazon.
For ideas of activities, we used the KONOS Character Curriculum Volume III unit on Resourcefulness: Frontier Life.
There's also The Prairie Primer: Literature Based Unit Studies Utilizing the "Little House" Series.
Laura's Prairie House has information on inexpensive resources.
But you can create your own unit study with just the Little House books and the resources available online.
Little House on the Prairie Free Online Resources
Chasing Cheerios has lots of wonderful ideas that work well for preschoolers for a summer "Laura" Camp (the photo is from the first "Laura" Camp post).
Homeschool Share has a Little House on the Prairie Story Study Lapbook.
The Herbert Hoover Presidential Library and Museum has a Laura Ingalls Wilder Website and  Laura Ingalls Wilder Teaching Unit. For younger children, check out the online One, Two, Threes of Pioneer Life: A Little House Counting Book.
A to Z Home's Cool Homeschooling has lots of resources for a Little House Unit Study.
Mothering has a forum discussion with resources for a Little House on the Prairie Unit Study.
School @ Home has a Little House on the Prairie Lesson Plan.
Mrs. Smith's Fifth Grade has Little House on the Prairie: An Adventure (for 4th grade).
National Archives has Teaching With Documents: Little House in the Census – Almanzo and Laura Ingalls Wilder.
Cape Girardeau Public Schools has links with discussion questions, author sites, and activities for Little House on the Prairie.
Simply Necessary tells about their Little House on the Prairie Lapbook Unit Study.
Daffodil Lane tells about their Homeschool Laura Ingalls – Little House Unit Week
LauraIngallsWilder.com has more information about Little House books as well as lots of homesite links.
Laura-Ingalls-Wilder.com has a shop with CDs of the Little House music that can be purchased (see comment below from Kristi). It also has a free multi-media page with videos and the NPR special Arkansas Traveler: Little House Music and Tales.
Little House on the Prairie is the official website. They've developed fun activities and resources in their lifestyle and learning sections that will appeal to homeschoolers.
Easy Fun School has an Index of Lesson Activities to go with 'Little House on the Prairie' Books.
Little House Books has more information about the Little House book series, and it also has sections of fun and games and ideas for teachers and librarians.
Sarah Tennant has Little House on the Prairie Art Project Ideas at suite.io
UPDATE: Wordplayhouse tells about their complete Little House on the Prairie unit study starting with "chapter 1" and linking to "chapter 2" (photo) of their study. Cheerios Underfoot and Craft Phesine have Little House peg dolls.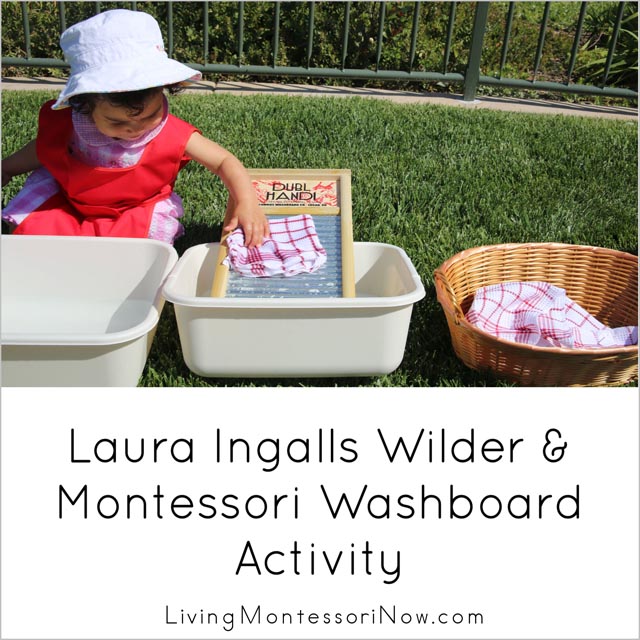 I have a post about Laura Ingalls Wilder and a Montessori washboard activity.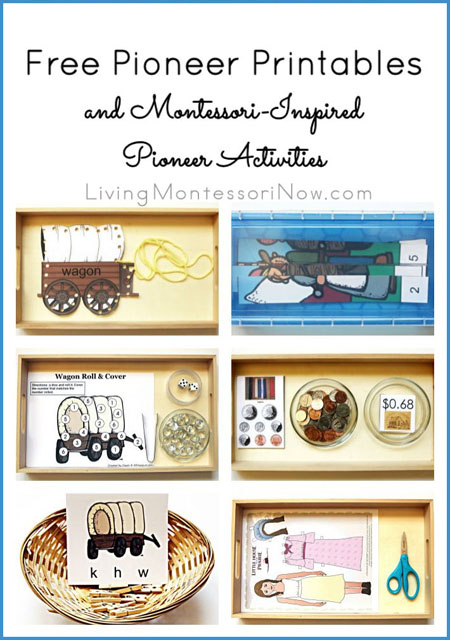 I also have a post with free pioneer printables and Montessori-inspired pioneer activities.
I'd love to hear about your experiences with Little House on the Prairie! 🙂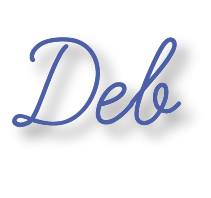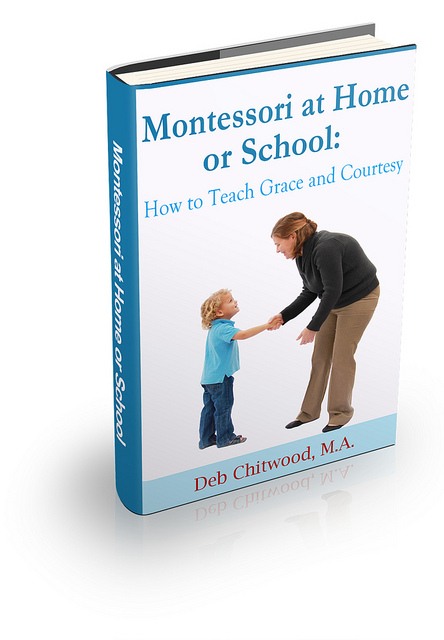 Learn more about my eBook Montessori at Home or School: How to. Teach Grace and Courtesy! I'm also one of the coauthors of the book Learn with Play – 150+ Activities for Year-round Fun & Learning!
The Montessori at Home! eBook and Montessori at Home! eBook and Materials Bundle are AMAZING resources! You can learn more about them here. Buy them in the Living Montessori Now shop.
If this is your first time visiting Living Montessori Now, welcome! If you haven't already, please join us on our Living Montessori Now Facebook pagewhere you'll find a Free Printable of the Day and lots of inspiration and ideas for parenting and teaching! And please follow me on Pinterest (lots of Montessori-, holiday-, and theme-related boards), Twitter (blog posts by me and others along with the Parent/Teacher Daily and other interesting information), and Google+ (post updates and Montessori Community). You can find me on bloglovin', Instagram, and YouTube now, too.
And don't forget one of the best ways to follow me by signing up for my weekly newsletter. You'll get two awesome freebies (and a monthly subscriber freebie) in the process!
May be linked to Practical Mondays Link Up, LouLou Girls, Tasty Tuesdays, A Little Bird Told Me Linky Party, Link-ups at Squishable Baby, Sharing Saturday