Seemi of Trillium Montessori has a 7 Continents Bundle that's perfect for Montessori continent boxes or any continent work with young children. Today, I'm sharing some ideas for activities you can use with South America continent work. You can easily apply these activities to any continent.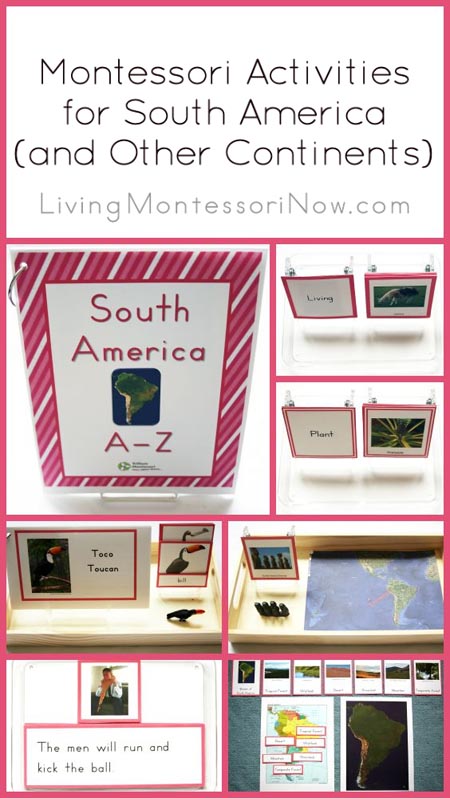 Disclosure: I was given the Trillium Montessori 7 Continents A-Z Bundle. I was never required to write a positive review, and any opinions expressed are my own. This post contains affiliate links (at no cost to you).
7 Continents A-Z Bundle from Trillium Montessori
Seemi's 7 Continents A-Z Bundle (go to the link in the Trillium Montessori shop) is wonderful for any study of continents. It can be used for preschool through grade 3 and for numerous extensions.
Seemi's printables work well for both classrooms and homeschools, whether or not you use Montessori education. If you do use Montessori education, you'll love that the printables are created by a certified Montessori teacher. They're already Montessori friendly and don't need to be adapted to work perfectly in a Montessori classroom or homeschool.
Below, I'm sharing some ideas of activities that could be used for a study of South America. They could easily be adapted for other continents using the applicable printables from the 7 Continents Bundle.
Here's the description by Seemi of the 7 Continents A-Z Bundle:
This bundle includes the A-Z Montessori Packs for all 7 Continents.
It is suitable for PreK-1 but can easily be adapted for 2nd and 3rd grades as well. It features photographs and easy to read font. If you are a Montessori teacher, this will really round out your continent boxes and unit studies!
In all of my Continent A-Z packs, I have tried hard to provide a wide range of representative photographs in order to give students a sense of the luscious, rich diversity of our beautiful planet. Not only do these packs represent the diversity of the continent, but they also represent each letter of the alphabet.
The photos are of things ranging from animals and plants to biomes to clothing and food and sports. I often show iconic things like traditional dancers as well as average day to day things such as children and their pets. I do my best to avoid stereotypical images and try to touch upon many different regions and cultures within the continent.
The activities in this bundle are designed to be used by individuals or in small groups. You can use these card materials to introduce each continent to your students and then place them on the shelf or in centers for the children to explore. Montessori classrooms will be familiar with the use of most of these activities such as the 3-part cards and the "parts-of" nomenclature cards.
These printables work particularly well in a writing center. Students can examine the photos and write lists or reports about what they see. Younger students will enjoy matching the photographs and learning new vocabulary. This is also a fantastic pack to add to your letter work. Once students have learned the vocabulary, have them sort by initial letter/sound.
*****************************************************************************
Contents:
The possibilities for using a pack of this type are endless. Each of the Continent Packs in this bundle include the following activities
1. A-Z non-fiction book: Photos and short descriptions for things from that continent for each letter of the alphabet (short vowels). The Asia, Europe, and South America packs also include clipart versions of the book for low-ink printing.
2. A-Z Matching Cards: Photographs and one word labels. Print two copies to make 3-part cards or matching cards.
3. Phonetic Reading Sentences:9 phonetically decodable sentences each to go with pictures from each continent. The sentences do include a few basic sight words but the majority of the words are decodable and your intermediate readers will have success with these.
4. Living & Non-Living Sorting Cards:Photos of plants, animals, and natural and manmade landmarks from each continent.
5. Plant & Animal Sorting Cards:: Sort photos of plants and animals typically found on each continent.
6. Parts of an Animal: Make a set of 3-part nomenclature cards of animals such as the Lion (Africa), Toucan (South America), Kangaroo (Australia) Penguin (Antarctica), Badger (Europe), Turkey (North America) and Peacock (Asia). The cards also come with a book describing the various parts as well as a blackline master that can be used to make student booklets.
7. Biomes of each continent:Photographic 3-part cards of the various climate regions on each continent (except Antarctica).
South America Activities Using the Trillium Montessori 7 Continents A-Z Bundle
I had fun putting together some possible Montessori trays using the South America A-Z Printables Pack. I show some simple ways to display the materials that require a minimum amount of preparation for homeschoolers. These are materials that are easy to individualize for your classroom or homeschool.
Seemi made the South America materials pink to go with the colors of the Montessori world map. I like to use small tabletop easels often for homeschooling. I find they help me prepare activities very quickly yet are an inviting way to draw attention to a specific material.
South America A-Z Non-Fiction Book
Children can learn a lot of helpful information about South America while reinforcing phonetic sounds with the South America A-Z nonfiction book. It's simple to print out, laminate, and connect with a binder ring. Of course, you could use another type of binding if you prefer.
Phonetic Reading Sentences

This is another great extension activity. It consists of phonetic sentences about the continent with matching pictures. Seemi provides the sentences in both the continent color and in blue to coordinate with the Montessori blue box. The tray is a clear acrylic tray from Montessori Services.
Living and Non-Living Sorting Tray
I really appreciate that Seemi has living and non-living sorting activities for each continent.
Easter Island Tray

I love the Safari Ltd. Around the World TOOB and World Landmarks TOOB. These are great to have if you plan to study a number or all of the continents. The Easter Island statues are from the World Landmarks TOOB. (Note: I have free Safari Ltd. TOOB keys that are very helpful.) For this tray, I used the Easter Island statues image from the South America non-living images. I added a map I found in a Google search of Easter island. The tray is a Multicraft tray.
Plant and Animal Sorting Tray
Seemi also includes plant and animal sorting for each continent.
Toco Toucan Tray
Seemi has parts of an animal 3-part cards and book featuring an animal for each continent. For South America, the featured animal is the toco toucan. I added the toco toucan from the Safari Ltd. Rainforest TOOB (which is very helpful for a study of South America).
Biomes Matching Activity
For older children, I like to include the study of biomes. Seemi's printables would be helpful to encourage biome research. There are many ways you could prepare and introduce the activity. I used the free satellite map printable that I used in my Montessori-inspired continent activities with animal figures – South America. I also added the South America political map from the CIA World Fact Book.
For the layout, I simply laid the labels on the matching place on the political map. I would use the satellite map to show the relationship between climate and various types of terrain.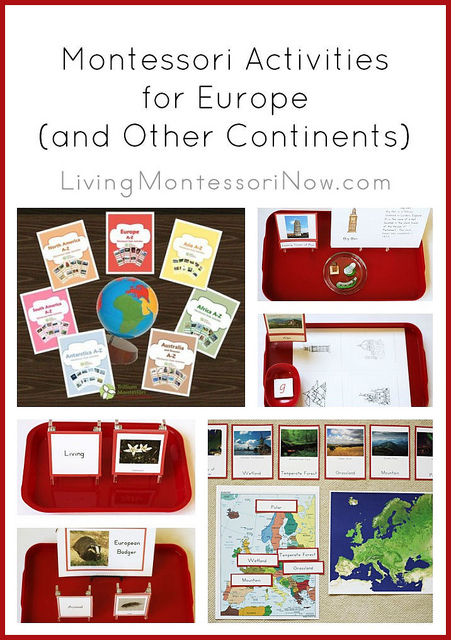 Check out my Europe activities using the Trillium Montessori 7 Continents Bundle for more ideas, such as continent A-Z matching and booklet making.
You can order the 7 Continents A-Z Bundle here.
More about Trillium Montessori
If you subscribe to the Trillium Montessori newsletter, you'll receive notifications of special deals plus access to exclusive free printables on the subscribers-only page! You can also follow Trillium Montessori via Facebook, Google+, Pinterest, Twitter, and YouTube.
Now for the Giveaway: Update: The giveaway is now closed. Please see the announcement of the winners right below the Rafflecopter form.

What You Will Win: 4 lucky winners from anywhere in the world will win a $55 7-Continents A-Z Bundle from Trillium Montessori!
Who is Eligible:
This giveaway is open to anyone 18 and older worldwide. The first entry is mandatory. You must leave a blog post comment telling why you want to win(and be sure to click the green "ENTER" on the Rafflecopter form to let me know you left your blog post comment and to open up the optional entries)!
After you've completed your mandatory entry, there are lots of optional entries. You have many chances to win! (Note: For the extra entries, you may count ways of following that you already do. For example, if you previously followed @DebChitwood on Twitter, you may still count that for your follow @DebChitwood on Twitter entry!)
It's easy to enter giveaways with Rafflecopter! Just follow the directions to enter.If you still have questions about the Rafflecopter form, here's a 52-second video with quick directions for entering through Rafflecopter.
You must complete the Mandatory Entry to qualify for any additional entries. The giveaway closes 9:00pm PST on Saturday, September 19. Best of luck!

(Note: If you have any problems with the Rafflecopter form, you can sign up on the Rafflecopter form at the Living Montessori Now Facebook page. Just be sure to leave your blog comment here! Both Rafflecopter forms are the same, so it doesn't matter which one you sign up on.)
a Rafflecopter giveaway

UPDATE:
It's Sunday Morning, September 20. I really appreciated all your comments and the 1,558 entries! A winner has been selected using Random.org through Rafflecopter!
1. Vanessa A won a copy of the Trillium Montessori 7 Continents A-Z Bundle!
I'm so happy for Vanessa! (Note: Vanessa, you have 48 hours to respond to my email, or a new winner will be chosen.)
The comment for Vanessa's mandatory entry (why she wanted to win) said:
"I am French. I live and work in Thailand. My husband is German and works in Myanmar. Understanding geography is very much linked to our family's dynamics."
2. Cheryl W won a copy of the Trillium Montessori 7 Continents A-Z Bundle!
I'm so happy for Cheryl! (Note: Cheryl, you have 48 hours to respond to my email, or a new winner will be chosen.)
The comment for Cheryl's mandatory entry (why she wanted to win) said:
"I love all the materials from Trillium Montessori and I follow their page too. I have started a new casa preschool and materials like these are so needed! Thank you for this give away…my fingers are crossed.
P.S. My husband and I hope to visit South America next summer and it would be a great pre-trip education for us too, going through the materials together!!."
3. Rebekah M won a copy of the Trillium Montessori 7 Continents A-Z Bundle!
I'm so happy for Rebekah! (Note: Rebekah, you have 48 hours to respond to my email, or a new winner will be chosen.)
The comment for Rebekah's mandatory entry (why she wanted to win) said:
"I would really like to win this giveaway, because I have felt really impressed to teach my children geography this year and this bundle will help me accomplish that goal. "
4. Jessica L H won a copy of the Trillium Montessori 7 Continents A-Z Bundle!
I'm so happy for Jessica! (Note: Jessica, you have 48 hours to respond to my email, or a new winner will be chosen.)
The comment for Jessica's mandatory entry (why she wanted to win) said:
"I am a Montessori 3-6 teacher and we are kicking off our cultural studies with a study of South America! This bundle would supplement the materials in my classroom beautifully!! I love Seemi's work, and would be honored to receive this prize!"
CONGRATULATIONS, Vanessa, Cheryl, Rebekah, and Jessica!!! A HUGE THANK YOU to Trillium Montessori for sponsoring this great giveaway – and thank you to everyone who entered!
And, always, thanks so much to all my blog sponsors!
Montessori Print Shop
Montessori Compass
Spielgaben
KHT Montessori
Montessori By Mom
Pin It! Maps
Alison's Montessori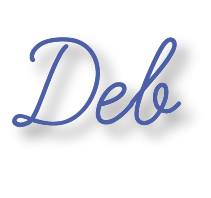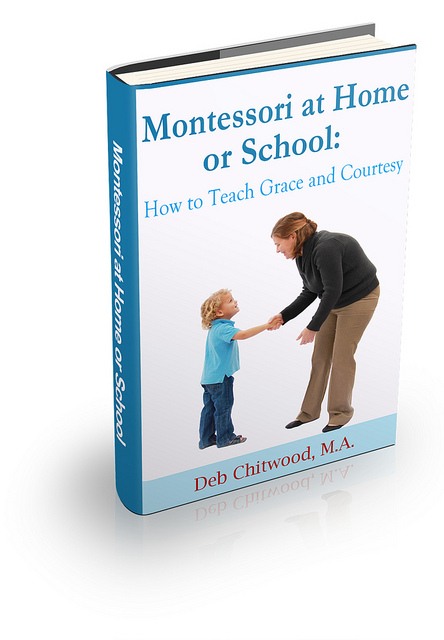 Learn more about my eBook Montessori at Home or School: How to Teach Grace and Courtesy! I'm also one of the coauthors of the book Learn with Play – 150+ Activities for Year-round Fun & Learning!
If this is your first time visiting Living Montessori Now, welcome! If you haven't already, please join us on our
Living Montessori Now Facebook page
where you'll find a Free Printable of the Day and lots of inspiration and ideas for parenting and teaching! And please follow me on 
Pinterest
 (lots of Montessori-, holiday-, and theme-related boards),
Twitter
(blog posts by me and others along with the Parent/Teacher Daily and other interesting information), and
Google+
 (post updates and Montessori Community). You can find me on 
bloglovin'
,
Instagram
, and 
YouTube
now, too. And don't forget one of the best ways to follow me by signing up for my weekly newsletter in the right sidebar. You'll get two awesome freebies in the process!
May be linked to
Afterschool
Express
,
Thoughtful Spot
,
Hip Homeschool Hop
, 
The Mommy Club Resources and Solutions
,
Mom's Library
,
A Little Bird Told Me Linky Party
,
Learn and Play
, 
TGIF Linky Party
,
Preschool Corner
,
Sharing Saturday
,
Tot School Gathering Place
.

Giveaway linked with
Contest Girl
and Free
Sweepstakes
and
Contests