Welcome to S is for Subtraction in the A-Z STEM Series! I love preparing hands-on activities to help young children understand basic math concepts. Subtraction is especially well suited to activities with food. A Montessori-inspired snacktime subtraction activity is a fun way for preschoolers and kindergarteners to work on subtraction concepts independently.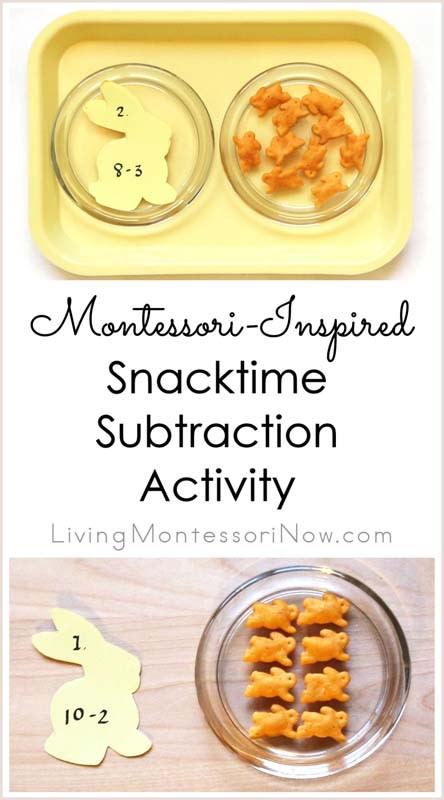 For this activity, I used organic bunny-shaped snacks, although you could use Goldfish crackers or almost any type of snack along with subtraction problems written on cardstock. The subtraction problems wouldn't have to be written on a shape related to the snack, although it adds interest if you can coordinate the two.
This snacktime subtraction activity has a series of subtraction problems for the child to solve by eating the snacks in the order numbered on the cardstock. The control of error is that there will be the correct number of bunnies to complete each problem and end with no bunnies.
Disclosure: This post contains affiliate links (at no cost to you).
Supplies Needed for Bunny Snacktime Subtraction:
Directions for Preparing a Montessori-Inspired Snacktime Subtraction Activity
Trace or print out bunny shapes on cardstock.
Cut out bunny shapes.
Write numbered subtraction problems on bunnies. I used 10 cheddar bunnies and 4 subtraction problems. (As an example, I used 10-2, 8-3, 5-4, and 1-1.) Of course, you could use a larger number of cheddar bunnies and more subtraction problems or smaller number and fewer subtraction problems if you choose. The solution to the last subtraction problem should always equal 0.
Laminate cardstock bunnies.
Cut out laminated bunnies, leaving a laminate edge (small laminated border) on each bunny.
Place laminated bunnies and snack bunnies on tray.
Snacktime Subtraction Presentation
Carry tray to snack table.
Find bunny problem #1. (Example: 10-2)
Eat the number of cheddar bunnies in the subtrahend.
Place remaining bunnies in rows of two on snack plate (as in Montessori cards and counters). This step is optional, although it reinforces the concept of odd and even. The orderly layout also makes it easier for the child to count the number of bunnies left on the plate.
Find bunny problem #2. (Example 8-3)
Eat the number of cheddar bunnies in the subtrahend.
Place remaining bunnies in rows of two on snack plate.
Continue solving problems (eating bunnies) until the plate is empty.
Put away snack materials.
A-Z STEM Series
This post is part of an A-Z STEM series. Thanks to Sarah from Little Bins for Little Hands for organizing the series! Every day of the series is a new letter related to Science, Technology, Engineering, or Math. Check out more great STEM posts in this series by clicking on the image below.
Do you have a favorite hands-on subtraction activity for your child or students?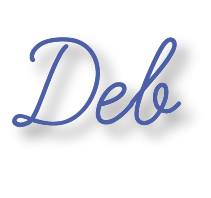 Learn more about my eBook Montessori at Home or School: How to. Teach Grace and Courtesy!
If this is your first time visiting Living Montessori Now, welcome! If you haven't already, please join us on our Living Montessori Now Facebook page where you'll find a Free Printable of the Day and lots of inspiration and ideas for parenting and teaching! And please follow me on Instagram, Pinterest (lots of Montessori-, holiday-, and theme-related boards), and YouTube. While you're here, please check out the Living Montessori Now shop.
And don't forget one of the best ways to follow me by signing up for my weekly newsletter. You'll receive some awesome freebies in the process!