The Montessori geometric cabinet and metal insets are among my favorite Montessori materials. They can be expensive for homeschoolers and environments other than Montessori schools, though. Fortunately, there are inexpensive alternatives.
Although the geometric cabinet is considered a sensorial material and the metal insets are a language material (preparation for writing), you can create materials that will work for both. Here are some great ideas from around the blogosphere for making your own geometric shapes that can be used instead of a geometric cabinet and metal insets. To isolate the difficulty, it's best if you keep the shapes the same color and size, varying only in shape.
DIY Geometric Shapes and Supplementary Materials

Jenny from OurMontessoriHome.wordpress.com won the geometric cabinet in my giveaway sponsored by Alison's Montessori. Before she won, she had started to make her own geometric cabinet. Here is her tutorial: DIY Montessori: Geometric Cabinet.
Noor Janan Homeschool has Geometric Shapes and Shelf (shelf made using a hot glue gun – no nails or screws).
Seedpod Craft Studio has Homemade Geometric Insets.
DIY Baby Stuff has DIY insets using mounting board covered with contact paper and a glued-on board pin for the knob.
Montessori Print Shop has free Triangles 3-Part Cards and inexpensive Geometry Cabinet Cards and other geometric materials.
Montessori Materials has free geometry downloads.
Montessori Mom has free insets for design printouts.
Geometric Shapes Presentations and Extensions
Montessori Primary Guide has Geometric Cabinet presentation.
Montessori World has Cabinet of Geometrical Plane Figures presentation.
Montessori Primary Guide has Metal Insets presentation.
Jessie from The Education of Ours has a post on Metal Insets, Lesson and Suggested Order and a post at Mommy Moment on The Aims of Metal Insets.
Umamah Learning Academy has a post with polygon 3-part cards and an activity making shapes with beads.
Montessori Mama has Metal Inset Art with examples and a free download of shapes and directions for creating an ellipse.
The Moveable Alphabet has Metal Inset and Fraction Work: Don't Forget the Frames, Have You Ever Done the Metal Insets Blindfolded?(photo), Passionate Pentagons And A Mouse Named Frederick, Phases of the Moon, Hexagon Happenings, How Do You Teach A Child To Paint – Exactly Like You Taught Them How To Write, How To Teach A Child To Paint – Shading with Color, Something As Simple and Complex As A Line – Updated, Geometry in Art, Photographic Album 6, and Photographic Album 7 with lots of metal inset extensions.
NOTE: See my DIY Montessori Materials post for DIY roundup posts for many Montessori materials.
Montessori Monday Link-Up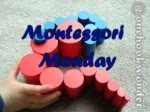 If you have some Montessori activity trays/lessons to share, please link up below. Please also place the Montessori Monday button (using the code from the right sidebar) in your post or put a link back to this post.
Nicole at One Hook Wonder, my co-host and the founder of Montessori Monday, doesn't have a Montessori activity to share today. She does have lots of great activities in her archives.
Thanks for participating! (Note: If you have a giveaway on your blog, please add it to my Family-Friendly Giveaway Linky Page – and check out all the great Christmas gift giveaways! If you're looking for Cyber Monday specials, I'm an affiliate for some awesome family-friendly companies with links on my Products page.)


Linked to AfterSchool Linky Party, Living Life Intentionally Linky Party, The Mommy Club Resources and Solutions at Milk and Cuddles and Crystal & Co. , Pinterest Tuesday, Show-and-Share Saturday, Link & Learn, and The Sunday Showcase at Mom to 2 Posh Lil Divas and Classified: Mom.