Welcome to the 100 Acts of Kindness! And welcome to the 100 Acts of Kindness week 2 challenge!
If you haven't started the 100 Acts of Kindness Project through Toddler Approved, it isn't too late to start. You have plenty of time to do 100 acts of kindness before Valentine's Day.
Toddler Approved had the kindness challenge for week 1: Kindness Challenge #1: Saying Thank You. If you missed it, there's no reason you can't do more than one kindness challenge at a time. Just do the 100 acts of kindness in whatever way works for your family.
This week's challenge: choose 5 Montessori-inspired ways to give love to relatives. (It can also be one Montessori-inspired way to give love to 5 relatives.) It doesn't matter if you normally use Montessori education at home or not. Regardless of the age of participants in your family, you can easily make these Montessori-inspired acts of kindness.
1. For younger children, prepare an activity tray or table.
The sticker tray in the photo is something you can easily put together and keep on a low shelf for your child to use whenever he or she chooses to create a card for a relative.
I don't have markers, scissors, or glue on the tray because I had a central location on a shelf for those supplies. You could add those to your tray if you wish. The tray just has lace doilies (mine are in a napkin holder that has sentimental value as it was from Finland and belonged to my grandmother), paper for cards, 5¾ x 8¾ greeting card envelopes (available at office supply stores), and a supply of stickers in a container.
You could put together a simple tray like that or a tray with the materials for any Valentine's Day craft. The accessible tray is helpful because it allows your child to choose to do the activity and to repeat the activity when he or she wishes, an important Montessori principle.
I have a post with ideas for turning Valentine's Day crafts into Montessori-oriented activities.
The Work Plan has a Montessori-inspired Valentine writing tray.
Little Wonders' Days had a Montessori-inspired Valentine placemat tray. (Little Wonders' Days blog is no longer available.)
If you have room for a table instead of a tray, you could have a Valentine card-making work table or area, Valentine sun catchers table, or another craft area similar to one at My Montessori Journey.
2. For any age, let your child help choose the activities. Choice is an important part of Montessori education, and the project will have the most meaning if your child is an active participant in choosing what you'll do.
3. Follow your child's interests. Following the child is one of the main principles in Montessori, and you can consider this a Montessori-inspired activity (with any age) if it's an interest-led activity. If you're doing this activity with adults, make sure you're choosing activities of interest to whoever is participating.
For example, if someone is interested in technology, you might want to create a video for a relative, create a digital scrapbook page or album, or create memories together on Skype. Help Your Child Create Unforgettable Cards and Gifts through Digital Scrapbooking is a post I wrote with ideas for following that interest. Creating Memories Together on Skype is a post I published which tells about one of my family's favorite ways to share love from a distance.
If your family is celebrating Chinese New Year, you might like to choose a Chinese New Year activity or activities to give to a relative.
Follow Deb @ Living Montessori Now's board Kids' Chinese New Year Activities on Pinterest.
I have a
Kids' Chinese New Year Activities Pinterest board
filled with activities to choose from.
If your child likes baking, bake something for a relative like the cookie-baking activity by Jen from Kitchen Counter Chronicles at Toddler Approved.
If your family is interested in Valentine's Day and enjoys crafts, make something like the Jar of Hearts from Outlaw Mom.
UPDATE: JDaniel4's Mom has interest-led and practical life activities for helping others: Acts of Kindness – Montessori Style.
Follow Deb @ Living Montessori Now's board Kids' Valentine's Day Activities on Pinterest.
I have a Kids' Valentine's Day Pinterest board with lots of Valentine's Day crafts and activities to choose from.
Follow Deb @ Living Montessori Now's board Kindness Projects on Pinterest.
I also have a
Kindness Projects Pinterest board
with kindness projects to choose from.
Update: More Ideas for Kindness Projects
Montessori Monday Link-Up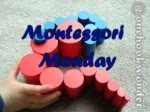 If you have some Montessori activity trays/lessons to share, please link up below. It's fine to link up a post from your archives – and you may link up anytime during the week! Please place the Montessori Monday button (using the code from the right sidebar) in your post or put a link back to this post. Thanks for participating! (Note: If you have a giveaway on your blog, please add it to my Family-Friendly Giveaway Linky Page!)
Linked to AfterSchool Linky Party, Pinterest Tuesday, The Mommy Club Resources and Solutions at Milk and Cuddles and Crystal & Co. , What's on the Tray Wednesday, Thrifty Thursday, Living Life Intentionally Linky Party, Preschool Corner, Fun Stuff Friday, Show-and-Share Saturday, Link & Learn, and The Sunday Showcase at Mom to 2 Posh Lil Divas and Classified: Mom.