Peace education is an important part of Montessori education. On Monday, I linked to lots of resources with Montessori peace education inspiration/philosophy: Montessori Inspiration for Martin Luther King Day. Today, I want to share links to peace education activities that can be used throughout the year for peace education and conflict resolution. You'll find activities for toddlers through elementary level.
Disclosure: This post contains affiliate links (at no cost to you).
"Educating for Peace: the Essence of Montessori"
10 Ways to Promote Peace in Your Classroom
(blog post) from
Montessori for Everyone
The Peaceful Montessori Classroom: Environmental Design, Montessori and Imagination: the Second Plane of Development, and Introducing and Exploring The Five Great Lessons in Montessori Elementary (with additional links within post) from North American Montessori Center
Introducing and Cultivating Peace in Our Homes and Classrooms from Simply Montessori
Free Elementary Online Albums for Montessori Great Lessons (Helpful for a Peace Education Curriculum)
Lesson ideas and links for the Great Lessons from Miss Barbara
Free albums from Cultivating Dharma
Peace Shelf, Tray, or Table
Adapt your peace education area to the space you have. It can be effective whether it's a shelf, tray, or table.
Montessori Peace Shelf (my post)
How to Prepare a Montessori Peace Tray (my post)
Peace Table from Mommy Moment (photo at the top of this post)
Peace Table from Montessori Mama
Peace Table for 100 Acts of Kindness from The Work Plan
Montessori Monday – Introducing the Peace Table from Barefoot in Suburbia
Peace materials (available for purchase) from Montessori Print Shop
Teaching Peace Education with a Peace Table by Andrea Coventry at Bright Hub
Mom, You Need to Invite Dad to the Peace Table…. from Critters and Crayons
Peaceful Space
Our Peaceful Space from Counting Coconuts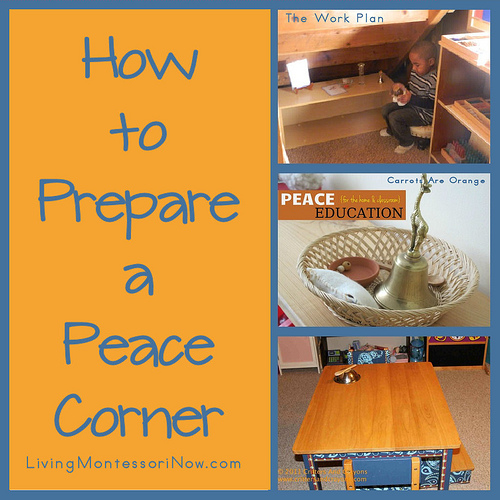 How to Prepare a Peace Corner (my roundup post)
Peace Rug
Conflict Resolution for Children – The Peace Rug: A Montessori Method for Resolving Conflicts by Kathy Campanella at Yahoo Voices
"What is the Peace Rug? Child's View Montessori" (video)
Peace Basket
Our Peace basket (photo) and A Peace Basket Addition from Chasing Cheerios
Other Peace Activities
Free Peace Printables and Montessori-Inspired Peace Activities
Activity of the Week – Montessori Education Week Peace Lesson
Activity of the Week – Friendship Flower Activities
Peace Cards (free download) and World Peace Day Activities from Little Acorns
Peace Activities (available for purchase) from Montessori Services
Peace Box, Toddler Conflict Resolution, Peace Corner, Affirmation Cards,  Classroom Affirmations, Peaceful Feet, Creating a Center-PEACE, Thursday's Center-PEACE, Making Peace Mandalas, Healing Hugs, and Who Is Missing? from Montessori Mama
Peace Bag, Making Silence, Love Light Pins, Our Peace Shelf, The Peace Rose, The Peace Rose Song, from My Montessori Journey
A Peaceful Time-Out Alternative (Peace Flowers) from Creekside Learning
Enjoy a Peaceful Classroom With These Peace Art Projects by Andrea Coventry at Bright Hub Education
"Light a Candle for Peace"
UPDATE: My Montessori-Inspired Kindness post has more ideas to promote love and kindness.
Sharing, Turn Taking, and Fairness: A Montessori Perspective from Vibrant Wanderings talks about Montessori-inspired conflict resolution and the peace rose.
Montessori in the Home: Conflict Resolution from Carrots Are Orange gives ideas from a talk at the American Montessori Society conference. (Also see Peace Education Posts from Carrots Are Orange.)
At Bits of Positivity, I have a post with lots of free guided meditations for kids. I have many more mindfulness posts with guided meditations or other mindfulness activities there as well. Mindfulness activities can help children naturally feel more peaceful.
Do you have a favorite peace education activity?
If this is your first time visiting Living Montessori Now, welcome! If you haven't already, please join us on ourLiving Montessori Now Facebook pagewhere you'll find a Free Printable of the Day and lots of inspiration and ideas for parenting and teaching! And please follow me on Pinterest (lots of Montessori-, holiday-, and theme-related boards),Twitter (blog posts by me and others along with the Parent/Teacher Daily and other interesting information), andGoogle+ (post updates and Montessori Community). You can find me on bloglovin', Instagram, and YouTube now, too. And don't forget one of the best ways to follow me by signing up for my weekly newsletter in the right sidebar. You'll get two awesome freebies in the process!
Linked to AfterSchool Linky Party, Living Life Intentionally Linky Party, Pinterest Tuesday, The Mommy Club Resources and Solutions at Milk and Cuddles and Crystal & Co. , Thrifty Thursday, Preschool Corner, Show-and-Share Saturday, Link & Learn, and The Sunday Showcase at Mom to 2 Posh Lil Divas and Classified: Mom.