It's Montessori Monday! Can you believe it'll be the 4th of July soon?! Fortunately, there are lots of awesome Montessori-inspired 4th of July printables and activities available online. If you don't live in the U.S., you can adapt many of the activities for your own country's celebrations.
I've previously published a number of posts with 4th of July activities: Child-Led Patriotism, Montessori-Inspired Fun with Golf Balls and Ping Pong Balls, and Montessori-Inspired Patriotic Unit. Today, I want to share some 4th of July activities published since my post last year.
I'll add printables from a number of different posts to make things easier, but the activities will be in separate posts according to when they were published. Be sure to check out my previous posts for some great 4th of July activities. I'll be adding to this post throughout the month.
Montessori-Inspired 4th of July Printables
Free American Flag 4th of July Do-A-Dot Printable from Simply Montessori
US 4th of July Match-Up and Memory Game available inexpensively from Montessori Print Shop
4th of July Preschool and Kindergarten Free Printable Pack from Our Country Road (with a number of patriotic language and math activities and examples of how to put them on trays)
US Landmarks and Symbols — free 3-part Montessori cards from The Homeschool Den
American Symbols and Landmarks Memory Game from Living Life Intentionally
Symbols of America Free 3-Part Card Download from Mondorfment
Montessori-Inspired 4th of July Activities
Red Treasure Basket from Counting Coconuts (not a specific 4th of July activity, but a baby's treasure basket could be red, blue, or red, white, and blue for the 4th of July) and On Our Shelves – July & August (photo) from Counting Coconuts
Patriotic Rice Sensory Box  (photo) and Sifted Flour Lawn Stars (unique practical life and art activity) from Pink and Green Mama
Patriotic Activities for Preschoolers from Carrots Are Orange
Montessori-Inspired 4th of July Activities from Barefoot in Suburbia
Patriotic Practical Life and Math Activity (UPDATE – my latest patriotic post)
Kids' Patriotic Activities (U.S.) Pinterest Board
Because U.S. patriotic holidays can use many of the same activities, I've combined them all on the same board. You'll find activities for many different levels.
I'd love to hear what you're planning for the 4th of July! 🙂
Montessori Monday Link-Up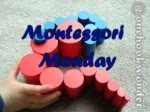 If you have some Montessori activity trays/lessons to share, please link up below. It's fine to link up a post from your archives – and you may link up anytime during the week! Your post may be any Montessori-inspired activity or idea. It doesn't need to be related to my Montessori Monday post. I publish the Montessori Monday post and linky at 6:00 a.m. EST each Monday and keep the linky open throughout the week.
Please place the Montessori Monday button (using the code from the right sidebar) in your post or put a link back to this post. Let's use Montessori Monday to gain inspiration/ideas and to encourage each other! If you would leave an encouraging comment on the post linked up ahead of you (along with any other posts you're drawn to), that would be awesome! Thanks for participating!
Notes: If you have a giveaway on your blog, please add it to my Family-Friendly Giveaway Linky Page! If you enjoy entering giveaways, you'll always find some great giveaways there! Right now there are 3 Montessori giveaways linked up in addition to the amazing giveaway Montessori Print Shop is sponsoring here with 2 winners each receiving a full set of Montessori Teaching Manuals for ages 2 1/2-6! (ends Thursday at 10:01pm MST)
If you have any discipline questions, be sure to check out the free Montessori-compatible webinar from parenting expert Amy McCready tomorrow, June 26, at 9pmEST! More information and an RSVP link here: Free Positive Parenting Solutions Webinar Tuesday, June 26!



Linked to The Mommy Club Resources and Solutions at Milk and Cuddles and Crystal & Co. , The Weekly Kid's Co-op, Living Life Intentionally Linky Party, Preschool Corner, Saturday Show & Tell, Show-and-Share Saturday, The Sunday Showcase, Link & Learn, Inspire Me Monday, Discover & Explore 4th of July.