Using realistic dinosaur models for hands-on activities is a perfect introduction to paleontology. I've been having lots of fun putting together Montessori-inspired dinosaur activities using replicas from Safari Ltd. dinosaur TOOBS and Montessori Print Shop dinosaur printables! The activities here are designed for preschool through early elementary.
For these activities, I used 5 Safari Ltd. Dinosaur TOOBS and free printable Safari Ltd. Dinosaur TOOB Keys.
Disclosure: I received free copies of the materials used in this post, although my opinions are completely my own. This post contains affiliate links at no cost to you.
Montessori-Inspired Dinosaur TOOB Play-Based Activity Tray
This is a very simple activity to prepare and requires little other than the dinosaur TOOBs. I used the Safari Ltd. Dinos TOOB, Dino Babies TOOB, Carnivorous Dinos TOOB, Feathered Dinos TOOB, and Dino Skulls TOOB, although you can use whichever dinosaur TOOBS you have. You just need to add the Dino TOOBS to the tray for your child or students to use for free play. The Montessori-inspired part is  the tray added to a low shelf  for your child or students to choose along with the Montessori-inspired clean-up activity.
Click on and print out the keys for each TOOB from my review and giveaway post. I cut out and laminated mine as well. When a child or student is finished playing with the dinosaurs, he or she can use the keys to sort the dinosaurs into the correct tubes. This requires advanced sorting skills along with fairly good fine-motor coordination to fit the dinosaurs into each tube.
For younger preschoolers, you could do the cleanup together, or you could simply have the dinosaurs available in a basket or another container.
Matching Dinosaurs from Dino TOOB and Dino Babies TOOB

For this activity, I used 7 dinosaurs from the  Safari Ltd. Dinos TOOB and the matching 7 dinosaurs from the Dino Babies TOOB. I just used a pencil box for the container, although a small basket or tray would work well, too. This activity would inspire some interesting conversations about scale and proportion. You would need to be sure your child understands that the adult dinosaurs would be larger than the baby dinosaurs if they were alive … and that model dinosaurs are miniature versions of the larger dinosaurs. The variations in color are interesting, too, and show that no one really knows what color dinosaurs were.
Dinosaur Punching Activity
For this activity, I used the Dinosaurs – Pin Poking and Cutting printable from Montessori Print Shop. There are 19 dinosaur shapes and 5 dinosaur footprints in the set. I added 3 dinosaur models to go with the shapes I used on the tray, although you could choose any of the dinosaur shapes. You can buy punching materials from Montessori Services. Or you can use a 1/4″ thick felt pad, an old mouse pad, a carpet piece, or corkboard underneath the pin punching.
Note: even though Montessori schools and homeschools have been using push pins for pin punching for years, I'd like to see that change. Please read this sad post and consider an alternative to push pins, such as Montessori Services' wood handled puncher like the one in the photo.
Matching Dinosaurs with Dinosaur Cards
For this activity, I used 6 dinosaurs from the Safari Ltd. Dinos TOOB and the free Dinosaurs Set 1 and inexpensive Dinosaurs Set 2 from Montessori Print Shop.
You'll find ideas for preparing and using printable materials in the "Learn How To" section of Montessori Print Shop. Even though I love laminate edges and always left laminate edges as a Montessori teacher, I used the simpler Method #3 as a homeschooler. You know your own children and which level of cutting/laminating preparation is necessary for your homeschool. I use a method similar to Little Schoolhouse in the Suburbs to make folders for the 3-part cards.
I used a large rug from Montessori Services for the layouts. Younger children could just match the dinosaurs to the dinosaur picture card. There aren't dinosaur cards to match each of the dinosaurs in the TOOBS (through Montessori Print Shop or any company), so you need to decide which ones you want to use.
Dinosaur Skull Excavation Activity
I absolutely love the Safari Ltd. Dinosaur Skulls TOOB! The other TOOBS are all great, too, but this one is a special favorite of mine.
I appreciate how realistic-looking the dinosaur skulls are, and I have great memories of my own children involved in fossil excavation activities when they were little.
You could use any size sandbox or sensory box for this. The container in the photo is a shoebox-size container from Dollar Tree. I like it because a child can easily carry it to and from the shelf, and it doesn't require a lot of space. Of course, a larger box for the sand or a sand table might work better in your environment. For this activity, I just added a scoop, brush to clean off the uncovered dinosaur skulls, and magnifying glass.
I used some of the Montessori Print Shop cards to match skulls to cards. You could match skulls to the dinosaur replicas as well.
A similar excavation activity would work well for a dig of dinosaur replicas or any sort of fossils, too.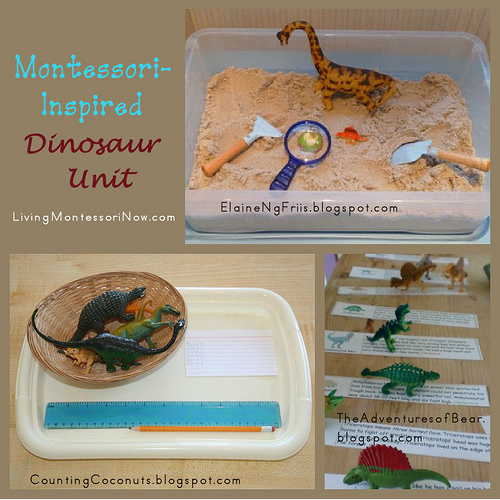 I have a Montessori-Inspired Dinosaur Unit filled with hands-on dinosaur activities and links to dinosaur printables.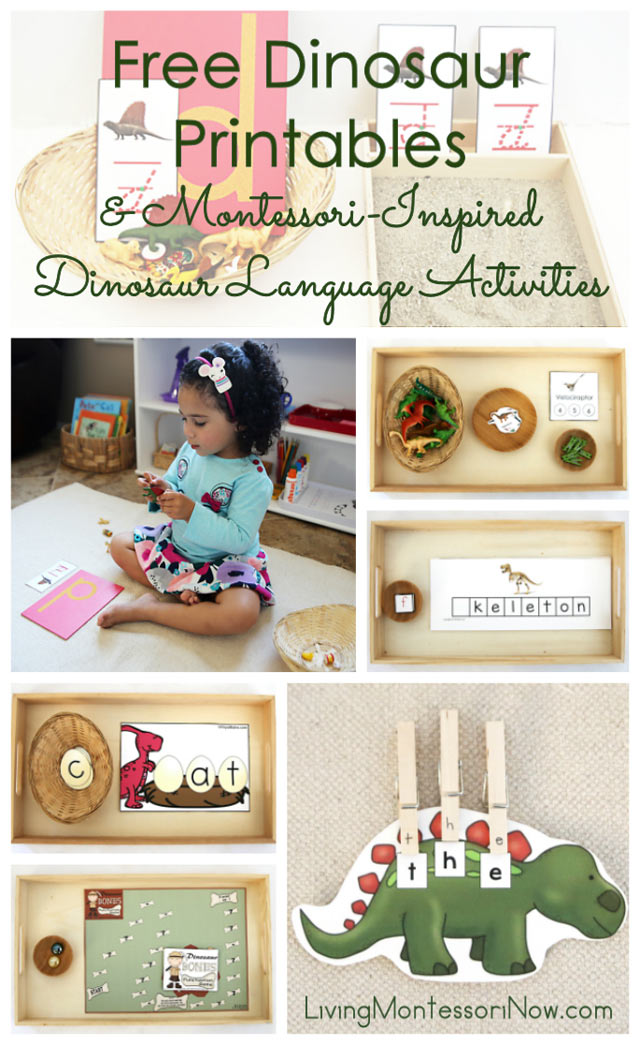 UPDATE: Free Dinosaur Printables and Montessori-Inspired Dinosaur Language Activities.
I also have a Dinosaur Unit Study Pinterest Board with even more Dinosaur activities!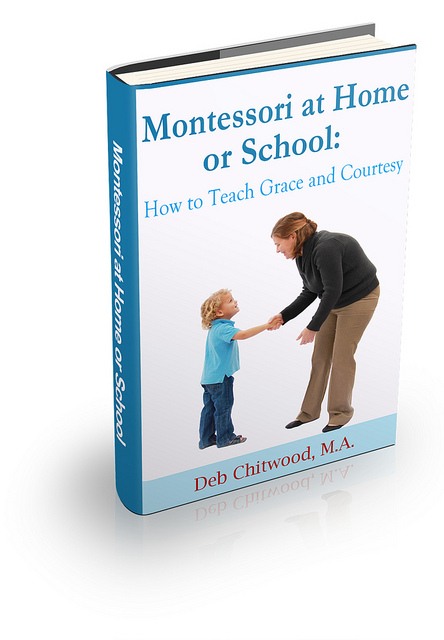 Learn more about my eBook Montessori at Home or School: How to. Teach Grace and Courtesy!
The Montessori at Home! eBook and Montessori at Home! eBook and Materials Bundle are AMAZING resources! You can learn more about them here. Buy them in the Living Montessori Now shop.
If this is your first time visiting Living Montessori Now, welcome! If you haven't already, please join us on our Living Montessori Now Facebook page where you'll find a Free Printable of the Day and lots of inspiration and ideas for parenting and teaching! And please follow me on Pinterest (lots of Montessori-, holiday-, and theme-related boards) and Twitter (blog posts by me and others along with the Parent/Teacher Daily and other interesting information). You can find me on Google+ (post updates), bloglovin', Instagram, and YouTube, too.
And don't forget one of the best ways to follow me by signing up for my weekly newsletter. You'll get two awesome freebies (and a monthly subscriber freebie) in the process!