My kids always loved to make special gifts for family members at Christmas. From the time they were preschoolers on, they wrapped the gifts they made, too. It made my life a bit easier and was a fun and special activity for my kids.
Whether or not your kids have special presents to wrap, you can give them a fun activity and help them develop coordination by setting up a gift-wrapping activity or area. The gift-wrapping activities can continue after Christmas using recycled wrapping paper and presents from Christmas! 🙂
Ideas for Gift Wrapping Activities
My Montessori Journey and Sunrise Learning Lab have some great ideas for gift-wrapping activities, which I featured in my Activity of the Week – Gift Wrapping Work.
Montessori Mischief had a post about wrapping pretend presents. (Note: Montessori Mischief is no longer available. Aubrey Hargis's site is now called Child of the Redwoods and doesn't contain the article on present wrapping.
OurMontessoriHome.wordpress.com has a post on wrapping a block with ideas that can be used as well.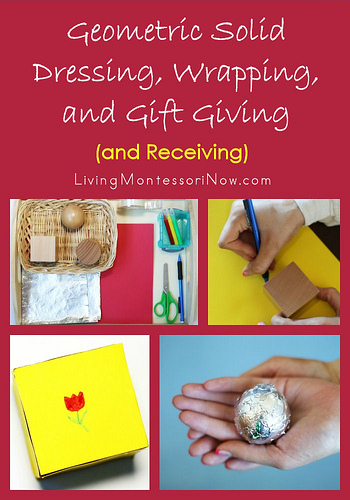 I have a new post with Geometric Solid Dressing, Wrapping, and Gift Giving (and Receiving).
My kids always loved to wrap their presents secretly. If your child wants to wrap presents secretly, you could set up the activity in his or her bedroom. The pieces of wrapping paper can be pre-cut, and you don't have to add scissors to the activity if you don't feel safe with scissors in your child's room. You could use actual wrapping paper, your child's artwork or homemade wrapping paper (you'll find lots of ideas for homemade paper on my Kids' Christmas Activities Pinterest Board), colored comics, or any pretty recycled paper for the wrapping paper.
Be sure to check out Holiday Manners and How to Teach Your Child to Say Thank You for Holiday Presents to help your Christmas be as comfortable and happy as possible.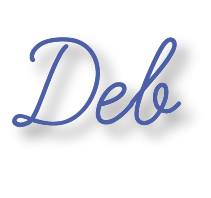 Learn more about my eBook Montessori at Home or School: How to. Teach Grace and Courtesy!
If this is your first time visiting Living Montessori Now, welcome! If you haven't already, please join us on our Living Montessori Now Facebook page where you'll find a Free Printable of the Day and lots of inspiration and ideas for parenting and teaching! And please follow me on Instagram, Pinterest (lots of Montessori-, holiday-, and theme-related boards), and YouTube. While you're here, please check out the Living Montessori Now shop.
And don't forget one of the best ways to follow me by signing up for my weekly newsletter. You'll receive some awesome freebies in the process!