I love preparing Christmas activities for kids, and I have lots of Montessori-inspired Christmas activities to share. Today, I had fun preparing a Montessori-inspired Christmas Scavenger Hunt.
Montessori-Inspired Christmas Scavenger Hunt
This post contains affiliate links at no cost to you.
There are a number of ways to do a Montessori-inspired Christmas scavenger hunt. Montessori Mischief has a great idea, and Montessori MOMents has another great idea.
For this scavenger hunt, I used the Safari Ltd. Christmas TOOB and the free Christmas Pack from 3 Dinosau.urs. The Safari Ltd. Christmas TOOB has 8 miniatures that can be used as ornaments or as objects for alphabet boxes. The Christmas Pack from 3 Dinosaurs has pictures and handwriting cards that coordinate with 7 of the 8 miniatures in the Christmas TOOB.
This could be a scavenger hunt for a number of different levels. Toddlers could simply take a card with a picture and look for the matching objects. Children who are working with sandpaper letters could take a picture card with traceable letters like the one in the basket in the photo. The child could trace the letter with a finger or with a marker. (Note: When preparing the activity, you could use a green marker to place a dot at each letter's starting point.)
A child at another level could trace the word with a marker (like the Santa card in the photo). The printable pack even has blank cards so that advanced spellers could spell out the word. For advanced readers, you could use the blank cards to write a clue for the child to read to find the object (similar to Montessori sentence command cards).
You or another child could hide the objects around the room. Whatever the participating child's level, he or she could find the object, trace the letter or word on the card on a clipboard, and find another object until all the the objects are found. Then the child could hide the objects for another child (in a class or in a home with siblings). The completed cards could be stapled together to make a simple booklet.
More Free Christmas Printables
My December Holiday Posts and Pinterest Boards (Updated 12/17)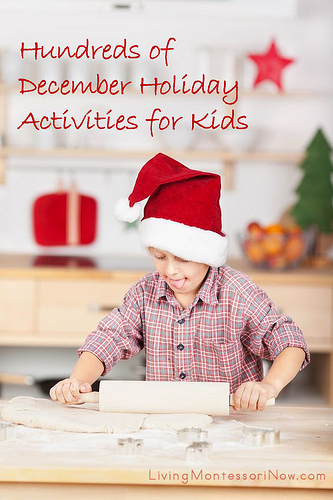 Here are my posts on Advent, Christmas, and other December Holidays:
Montessori Moms Holiday Hop #2

If you have a Montessori-inspired post of any kind, please link it up at Montessori Monday. If your Montessori-inspired post is holiday-related, you may link it up both here and at Montessori Monday. Both link-ups are open all week. The Montessori Moms Holiday Hop is open through December 24.
Have a wonderful Christmas!
If this is your first time visiting Living Montessori Now, welcome! If you haven't already, please join us on our Living Montessori Now Facebook page where you'll find a Free Printable of the Day and lots of inspiration and ideas for parenting and teaching!

Linked to Tuesday Tots, Tactile Tuesday, Do Your Thing Link Party, The Mommy Club Resources and Solutions at Milk and Cuddles and Crystal & Co. , Enchanted Thursdays Blog Hop, The Weekly Kid's Co-op, Living Life Intentionally Linky Party, Preschool Corner, Sharing Saturday, Saturday Show & Tell, Show-and-Share Saturday, The Sunday Showcase, Link & Learn, Afterschool Express, December Holiday Blog Hop at PreK + K Sharing, Montessori Moms Holiday Hop, and All Year Round Blog Carnival: Winter.