July is National Ice Cream Month, and it's a great time for a Montessori-inspired version of ice cream in a bag! The third Sunday of July was actually National Ice Cream Day, but I think the entire month (and summer in general) is perfect for enjoying ice cream – especially when there are healthy versions you can prepare easily. Ice cream in a bag is a fun way to make a quick ice-cream snack during the school year, too.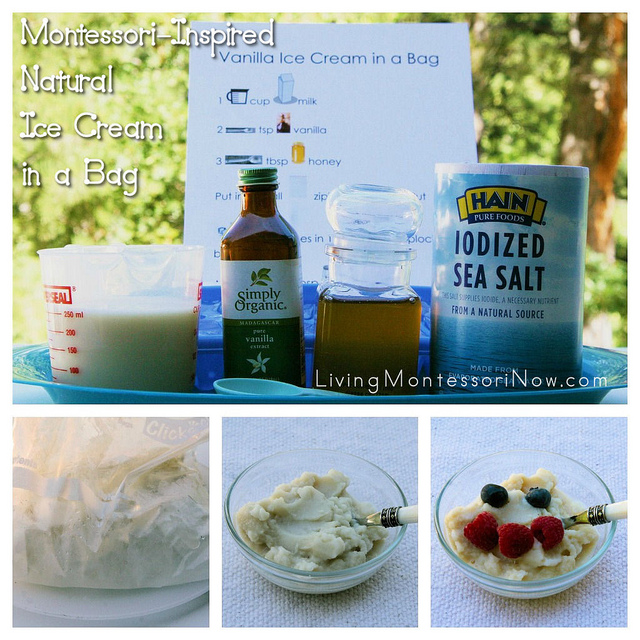 I had an earlier post linking to ice cream in a bag from Simply Montessori: "Activity of the Week – Homemade Ice Cream Right Now! No Machine Required!" Ice cream in a bag can easily be adapted for a Montessori-inspired food-preparation activity and healthy treat. It's great for kids, but I enjoy it as an adult treat, too.
For kids, you can easily prepare a tray with the basic materials needed. If you want to leave the tray on a shelf for your kids to make ice cream in a bag on other days, you can just leave the ingredients on the tray except for the milk and ice. I created a recipe page that can be used to make a natural version of ice cream in a bag.
You can use the recipe page to make either a dairy or vegan version of ice cream in a bag. I like to use soy milk or almond milk, although any type of dairy milk would work as well. (I guess this is technically ice milk in a bag!) You can adjust the amount of sweetener, too. And you may also make a game of tossing the bag back and forth rather than shaking it.
You may download and print out my recipe page to help your child prepare the activity as independently as possible. Download a PDF recipe page by clicking here. Click here for an editable Word document of the same recipe page in case you'd like to adjust the recipe or change any of the images.
I like to add some melted 100% cacao baking chocolate to my ice cream sometimes to make healthy chocolate ice cream. I just melt the chocolate in the microwave and mix it in with the other ingredients in the small bag.
Ice cream in a bag doesn't have the same texture as regular homemade ice cream, but it still tastes good – and it's fun to make. You can add whatever toppings you like. And you can give your child bowls of toppings to create food art if he or she likes. July is also National Blueberry Month, so I added a couple of blueberries to my simple design.
I'd love to hear if you've tried ice cream in a bag before. And I'd love to hear how you're celebrating National Ice Cream Month! 🙂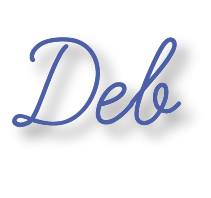 Learn more about my eBook Montessori at Home or School: How to. Teach Grace and Courtesy!
If this is your first time visiting Living Montessori Now, welcome! If you haven't already, please join us on our Living Montessori Now Facebook page where you'll find a Free Printable of the Day and lots of inspiration and ideas for parenting and teaching! And please follow me on Instagram, Pinterest (lots of Montessori-, holiday-, and theme-related boards), and YouTube. While you're here, please check out the Living Montessori Now shop.
And don't forget one of the best ways to follow me by signing up for my weekly newsletter. You'll receive some awesome freebies in the process!