Table setting is a practical life skill that can give your preschooler extra confidence and independence … and give you some extra help. Knowing how to set a table can also help your child feel comfortable in social situations, especially if you've given grace and courtesy lessons introducing the placement of dishes and silverware within the setting.
Preparing a Table Setting Activity
Here are some posts with wonderful ideas for preparing a table setting activity:
My Montessori Journey has a table setting tray prepared using an inexpensive placemat and permanent marker to trace around the pieces of the place setting. That's what I did for my school placement during my master's dissertation work.
Simply Montessori also purchased inexpensive placemats and traced around the dinnerware with a permanent marker. You could draw a similar setting and just add the outlines for a napkin and glass, or draw a more formal setting if you want to prepare your child for a formal dinner with more forks and knives. Simply Montessori also has links to placemats that can be printed out.
Counting Coconuts has a table setting activity with an attractive placemat you can purchase.
Montessori ici used a variation of a tutorial from Simple Kids to prepare lovely placemats.
I have a shadow-matching table setting tray using a free printable in my Thanksgiving Grace and Courtesy post.
North American Montessori Center has a napkin folding activity. Montessori for Learning has a post on using table setting as a practice in mindfulness, putting "each piece down on the table slowly, and with purpose… and taking the time to step back and reflect on our work." Note: Emily Post has an article "Informal Place Setting" which helps illustrate a typical table setting for a 3-course meal.
Table Setting for Kids at Pinterest
Follow Deb @ Living Montessori Now's board Table Setting for Kids on Pinterest.
I have a Pinterest board of Table Setting for Kids. There are many links to place settings you can print out, purchase, or make yourself. Just choose the placemat and table-setting activity for your home or school according to whatever type of place setting you'd like. Have fun! 🙂  
Montessori Monday Link-Up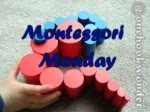 If you have some Montessori ideas/lessons to share, please link up below. Please also place the Montessori Monday button (using the code from the right sidebar) in your post or put a link back to this post. My co-host, Nicole, at One Hook Wonder, is taking the week off but has lots of great posts from other weeks! Thanks for participating! (Note: If you have a giveaway on your blog, please add it to my Family-Friendly Giveaway Linky Page.) 🙂
Linked with The Mommy Club Resources and Solutions at Milk and Cuddles and Crystal & Co. , Pinterest Tuesday, Show-and-Share Saturday, Link & Learn, and The Sunday Showcase at Mom to 2 Posh Lil Divas and Classified: Mom.