Preschoolers often enjoy building activities that help with eye-hand coordination along with the concepts right, left, and "right is tight, left is loose." An activity can be as simple as having a few different sizes of nuts and bolts in a basket for children to put together.
(Note: This post was updated on 3/31/2013 to add information from the newly published 3rd edition of Montessori at Home. This post contains affiliate links at no cost to you.)
In John Bowman's eBook Montessori at Home: The Complete Guide to Doing Montessori Early Learning Activities at Home, John has activities with nuts and bolts and a screwdriver board along with two practical life activities that are less commonly seen and are great ways to reinforce similar skills.
Building a Flashlight
Excerpt from Montessori at Home:
Turn something we do without thinking into a self-contained activity that provides muscle control and coordination practice, sequencing, and a safe experience with electricity. Neat!
(Excerpt and photos used with permission from John Bowman. The "right is tight" and "left is loose" cards are printables in the new edition of Montessori at Home.)
Pipe Building
Excerpt from Montessori at Home:
Age Range 3-6

Goals of this Activity

Exercise the small muscles of the hand and fingers in a new way
Teach the concepts of right and left, and the "right is tight, left is loose" rule
Allow the child to create free form pipe sculptures
Reinforce the Activity Cycle

Materials Required

A bowl or box
1" diameter male and female pipe fittings from the home improvement store. Get different lengths of pipe, curved and right angle elbows, caps, and T shaped pieces. Get at least 2-3 of each kind.

Presentation and Use

1. Have your child lay out a table mat to make a work space and bring the box with the pipe pieces to the mat.

2. Help your child as needed to get the hang of attaching the pieces together. Emphasize the "right is tight, left is loose" rule.

3. Let your child explore on her own.

4. When your child is done, she can take apart the pipe, put the bowl away, and put the mat away, completing the Activity Cycle.

Extending the Activity

Run water through the pipe.
Drop a small rock or a nut from the Nuts and Bolts activity into the finished pipe and work it down by turning and shifting the pipe. Stop at times before it comes out and see if your child can figure out where the object is in the pipe.

Visit Buttercup's Babies for a parent's account of doing the pipe building activity with her two boys, titled

"Plumbing: who knew it was fun and educational?"

This story nicely illustrates how activities can be extended to involve numerous interesting elements. This parent did a great job of helping her kids get the most from an activity they found highly interesting. Good job!
(Excerpt and photos used with permission from John Bowman and Gwen at Buttercup's Babies.)
MONTESSORI AT HOME! EBOOK AVAILABLE EXCLUSIVELY AT LIVING MONTESSORI NOW!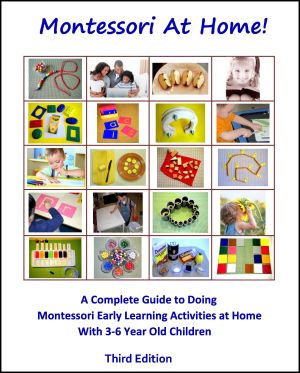 The 3rd edition of Montessori at Home! eBook is only $8.95 (formerly $10.95) for 512 pages with over 300 early-learning activities!

In the eBook, you'll also find a quick start guide, 225 educational digital tablet app recommendations, hundreds of links to sites, blogs, and videos, and 76 pages of printable materials!
You can get a free download of 51 sample pages from Montessori at Home eBook by clicking here! (This includes information on John's simplified Montessori reading sequence.) 
Here's the direct link to the purchase page for Montessori at Home! eBook. Here's the direct link to the purchase page for the Montessori at Home! Materials Bundle,which includes the Montessori at Home eBook AND over $60 worth of Montessori Print Shop materials to go with the book (now only $17.95)!
Montessori Monday Link-Up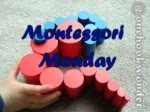 If you have some Montessori ideas/lessons to share, please link up below.
Thanks for participating! (Note: If you have a giveaway on your blog, please add it to my Family-Friendly Giveaway Linky Page.)
Loading InLinkz ...
If this is your first time visiting Living Montessori Now, welcome! If you haven't already, please join us on our Living Montessori Now Facebook page where you'll find a Free Printable of the Day and lots of inspiration and ideas for parenting and teaching!
Linked to Tuesday Tots, Tactile Tuesday, The Mommy Club Resources and Solutions at Milk and Cuddles and Crystal & Co., Hearts for Home Blog Hop, The Weekly Kid's Co-op, Learn & Link, Living Life Intentionally Linky Party, Preschool Corner, Sharing Saturday, Saturday Show & Tell, Share It Saturday, Show-and-Share Saturday, The Sunday Showcase, Link & Learn, and Afterschool Express.