My 21-month-old granddaughter, Zoey, is in love with walking on the line. Walking on the line is a great Montessori practical life activity for control of movement in preschoolers. While the process and results won't be quite the same with toddlers, Montessori walking on the line remains a wonderful activity with many extensions.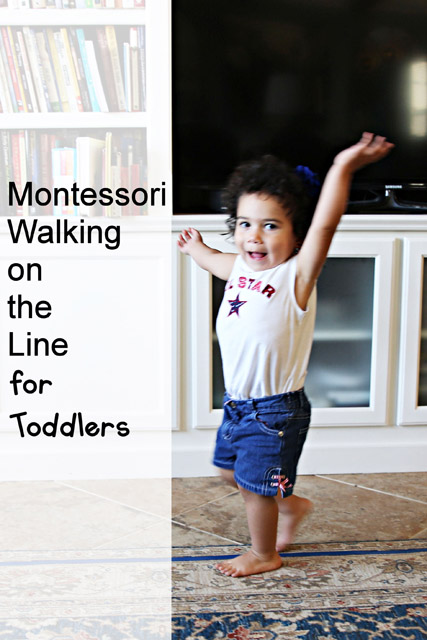 Disclosure: This post contains affiliate links (at no cost to you).
Montessori Walking on the Line
Materials needed: any line, indoors or outdoors. I make a specific line indoors using electrical tape. The traditional line used in many Montessori schools is in the shape of an ellipse, although the line you have at home should be determined mainly by your space. Right now, I have a circle in my office and a rectangle in my living room.
If you'd like helpful Montessori presentation ideas for walking on the line for ages 3-6, check out the Walking on the Line page at Montessori AMI Primary Guide.
It lists the importance of the lesson:
"Between the ages of 3 to 6, the child needs to practice, perfect, and consolidate the body's movements. For this reason, Dr. Montessori began using the 'Walking on the Line' as a Practical Life exercise. This exercise helps the child control his body, develop balance and perfect equilibrium, as well as to strengthen the mind's control of its body's movements."
The page also has a number of extensions that are popular with preschoolers.
Here are some more extensions: Activity of the Week: Walking on the Line and Outdoor Line Hunt and Walking on the Line.
Montessori Walking on the Line for Toddlers
While a toddler is in a very different stage of learning control of movement, walking on the line is a natural fascination (and a helpful experience) for toddlers. The easiest way to start is to really observe how much your toddler likes to walk on lines outdoors or wherever he or she finds them. For months, Zoey has been fascinated by walking on concrete landscape dividers. (Be sure to watch the video to see her latest outdoor walking on the line!)
So I prepared lines indoors for Zoey, too. We use them for walking, marching, and galloping. Zoey and I often move on the line to the music from the CDs by Music with Nancy (see "Montessori-Inspired Music Activities for Toddlers and Preschoolers" to see the CDs and our line in my office).
Zoey also loves the arm movements that my daughter, Christina, (Zoey's aunt), the dancer, showed Zoey to do while walking on the line.
We don't worry about perfection of movement on the line at this age. Sometimes, Zoey stays on the line quite well. Other times, she gets excited and walks or gallops off the line. Gradually, she'll become ready for the more refined movements of the preschool (primary) walking on the line. Right now, she's following directions, gaining more control of her movements, and having fun! 🙂
Montessori Walking on the Line for Toddlers – Video
This video is only 21 seconds! Even I joined in the walking-on-the-line fun Zoey and Christina were having.
Does your toddler have favorite walking on the line activities?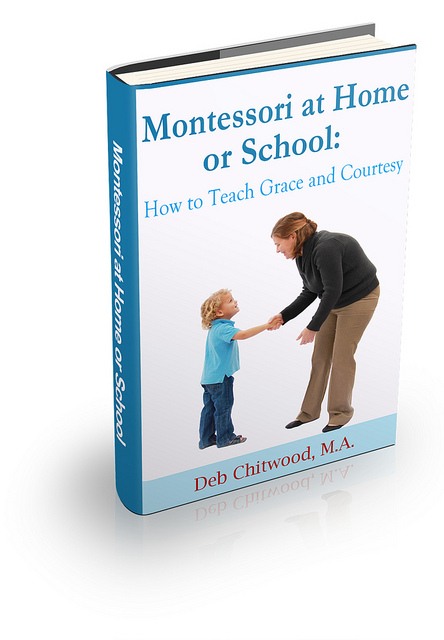 Learn more about my eBook Montessori at Home or School: How to Teach Grace and Courtesy! I'm also one of the coauthors of the book Learn with Play – 150+ Activities for Year-round Fun & Learning!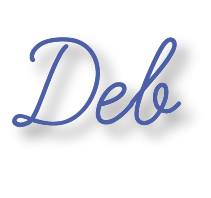 If this is your first time visiting Living Montessori Now, welcome! If you haven't already, please join us on our
Living Montessori Now Facebook page
where you'll find a Free Printable of the Day and lots of inspiration and ideas for parenting and teaching! And please follow me on
Pinterest
(lots of Montessori-, holiday-, and theme-related boards),
Twitter
(blog posts by me and others along with the
Parent/Teacher Daily
and other interesting information), and
Google+
(post updates and Montessori Community). You can find me on
bloglovin'
,
Instagram
, and
YouTube
now, too. And don't forget one of the best ways to follow me by signing up for my weekly newsletter in the right sidebar. You'll get two awesome freebies in the process!
May be linked to
Afterschool
Express
,
Thoughtful Spot
,
Hip Homeschool Hop
,
The Mommy Club Resources and Solutions
,
Mom's Library
,
A Little Bird Told Me Linky Party
,
Learn and Play
,
Homeschool Link-up
,
TGIF Linky Party
,
Preschool Corner
,
Ultimate Homeschool Pinterest Party
,
Sharing Saturday
,
Tot School Gathering Place
.