Rocks and minerals can make a fascinating unit study, although good books and hands-on activities are both essential. I've already shared lots of hands-on activities, so I'm going to share some of my favorite rocks and minerals books for kids.
Disclosure: This post contains affiliate links (at no cost to you).
Just choose books based on your child's age and what you think will engage your child's interest. I recommend checking out the "Look Inside the Book" feature on Amazon and reading reviews there. Another place to learn about a book is on YouTube. You can typically see the entire book there. If you live outside the U.S., be sure to check out Book Depository for great prices and free worldwide delivery.
Montessori-friendly books use photos or realistic illustrations. They don't have talking animals or a lot of fantasy. But many books that have fantasy and talking animals are wonderful books, and I love sharing them with children who understand the difference between fantasy and reality. I typically have a majority of Montessori-friendly books for a theme, but I include a variety of books that might not be Montessori-style books but that are simply lots of fun or are classic books that I consider an important part of cultural literacy.
Favorite Rock and Mineral Books for Kids
The Rocks board book is recommended for babies through age 3, although the content is much more advanced than that. It's the only Montessori-friendly board book I found about rocks, and it has lots of easy-to-understand facts. I like the book for including babies and toddlers in the unit study.
I added some of my toddler grandkids' favorite beach rocks to a book basket with the Rocks board book. I recommend adapting the words to fit your baby, toddler, or young preschooler. Don't worry about reading every word. This is a nice book for multiple ages, since an older child will learn a lot simply by reading this to a younger sibling!
I always have related books available throughout a unit. On the top shelf, I have the National Geographic Kids Rocks and Minerals (National Geographic Kids' books are always some of my favorites.)

Note: For a rocks and minerals unit, I also like the National Geographic Kids Volcanoes book and Everything Volcanoes and Earthquakes for their beautiful photographs and interesting facts. They're helpful for teaching kids about igneous rocks.
I also have the gorgeous Rocks Minerals & Gems book. This is recommended for ages 8-12, but I like to have it for preschoolers on up. The photos are stunning, and the text can be adapted for a variety of ages.
On the right side of the shelf ( book on a wooden cookbook holder), I have DK Smithsonian Picturepedia (beautiful photos and a fabulous reference book for many units!).
In our rocks and minerals unit, I switched our earlier rock sorting activity. I used a sorting tray to sort the rocks into igneous, sedimentary, and metamorphic. I like to include a book for interest, such as the beautiful book A Rock Is Lively. This book is recommended for elementary-age children, but it can easily be adapted for younger children as well. I love this whole series of nature books!
I have a book basket beside the shelf with a variety of Montessori-friendly rock and mineral books. Look here for more non-fiction rocks and minerals books to see new books when they're published.
National Geographic Pocket Guide to Rocks and Minerals of North America is the pocket guide we're using. I find it clear and easy to use.
I have an older version of Let's Go Rock Collecting by Roma Gans
from when I homeschooled my own kids. The book has lots of helpful information for ages 4-8.
My Book of Rocks and Minerals: Things to Find, Collect, and Treasure is recommended for ages 6-9. This is another book I recommend for preschoolers on up. The photographs are gorgeous, and the information is easy to understand. It can be adapted as needed for younger children.

Rocks, Fossils and Arrowheads is part of a series of books with lovely illustrations, interesting facts, and hands-on activities.
Rocks and Minerals by Torrey Maloof is another book with clear, informative photographs and text for ages 6-9.
Earthsteps: A Rock's Journey Through Time is a tale of one rock's geological journey through time. It's a fascinating way to focus on the geologic cycle. This book, like the others here that include the geological age of rocks, are appropriate for families who believe in evolution or believe that God could have created everything through evolution.
I have another book basket with mainly fiction books for a rocks and minerals unit.
I love If You Find a Rock! It's recommended for ages 4-7, but I think it's perfect even for adults. It's an artistic book with a mindfulness flavor. It has a poetic, rather than scientific, way of classifying rocks by terms such as wishing rock, resting rock, or walking rock. A great way to focus on nature.
I also love If Rocks Could Sing: A Discovered Alphabet. This is such a fun, creative book! This is another book designed for ages 3-7 that even adults will enjoy. It does have a mixture of uppercase and lowercase letters, although each letter is a rock! And each rock is illustrated by one or more rocks that illustrate the alphabet word. For example, "y is for yawn" is illustrated by a rock that looks like it's yawning. The words for each letter actually begin with a phonetic sound, except for "o is for ouch." This is another book that will give both children and adults a new way to look at rocks!
The Magic School Bus Inside the Earth obviously isn't a Montessori-style book, but it's so much fun! It's recommended for ages 4-8. My kids loved Magic School Bus books growing up, and now my 5½-year-old granddaughter loves them, too!
How to Dig a Hole to the Other Side of the World is such a fun way to learn about what's underneath the earth's surface! It's one of the books I kept from when I homeschooled my kids. It's the story of a child who imagines going on an 8,000 miles journey through the earth. It's recommended for ages 4-8.
Rhoda's Rock Hunt is a Montessori-friendly book about a girl who goes camping with her aunt and uncle and rock hunting along the way. It's a fun story about the joys of rock hunting. Recommended for ages 3-7.
Peace/Mindfulness Area Resource Using Rocks
A Handful of Quiet can be used in a number of ways. The book is recommended for ages 4+. Sometimes, I've included inspiration stones and drawstring pouch from Montessori Services with the book. Zoey loves that pouch and stones. Sometimes, I've had a larger drawstring bag with larger polished rocks to fit the book's meditation themes of flower; mountain; calm, clear lake; and big blue sky. The book also has directions for making your own drawstring bag and finding special meditation stones.
Favorite Christian Children's Books Using Rocks
A Savior Is Born: Rocks Tell the Story of Christmas is a beautiful
book with the Christmas story told through arrangements of rocks. This is perfect for inspiring children to create their own versions with rocks, and it gives both children and adults a unique way to look at rocks. Recommended for ages 4-8, but I love it for a wide variety of ages!

He is Risen: Rocks Tell the Story of Easter is from the same series. What a great addition to a Montessori-based Godly Play Easter activities! Recommended for ages 4-8, I see this as another book for any age.
Noticeably Missing from My Favorites
Ricky, the rock that couldn't roll is a very popular book, but I haven't included it in my favorite books. Why? Because I have mixed feelings about the book's message. I like the ideas of friendship and perseverance. But I don't like that Ricky felt he had to be like everyone else to be happy and accepted. I prefer books about inclusion where the main character is included and feels accepted however different he or she is.
More Rock and Mineral Resources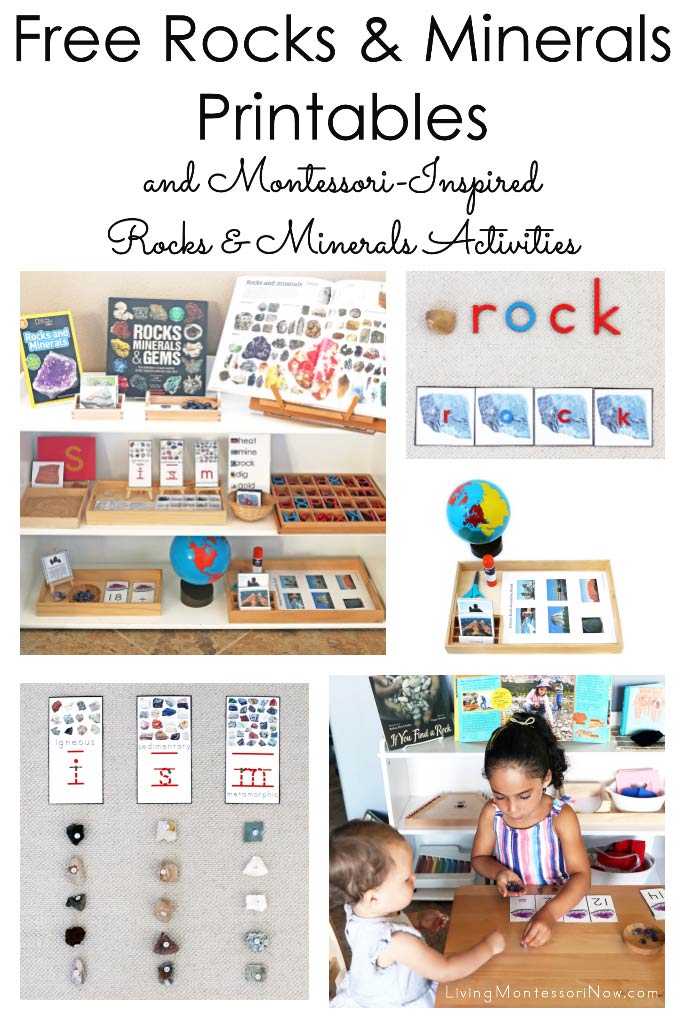 MONTESSORI-INSPIRED PACKS – SUBSCRIBER FREEBIES
Montessori-Inspired Rocks and Minerals Pack for DIY Cards and Counters, Number or Letter Matching, Number or Letter Basket, Bead Bar Work, Hands-on Math Operations, Number or Letter Salt/Sand Writing Tray, Letter Tracing, DIY Movable Alphabet, and Creative Writing (subscriber freebie, so just sign up for my email to get the link and password – or check your inbox if you're already a subscriber).
Don't miss our themed monthly packs! You'll get the link and password for the Living Montessori Now subscriber library with the current pack and all the past monthly packs if you subscribe to the Living Montessori Now weekly newsletter!
Happy reading! 🙂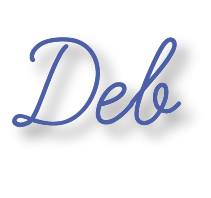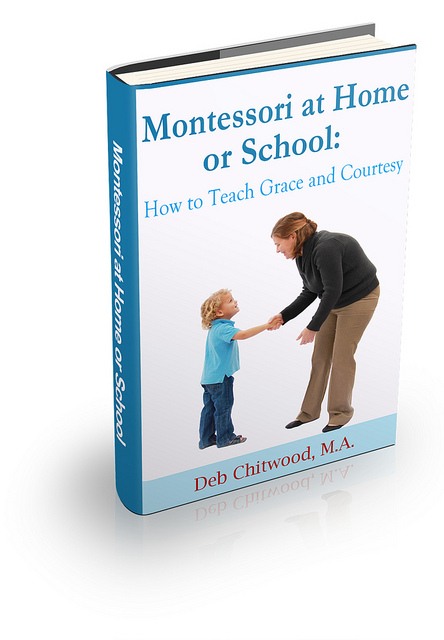 Learn more about my eBook Montessori at Home or School: How to. Teach Grace and Courtesy!
The Montessori at Home! eBook and Montessori at Home! eBook and Materials Bundle are AMAZING resources! You can learn more about them here. Buy them in the Living Montessori Now shop.
If this is your first time visiting Living Montessori Now, welcome! If you haven't already, please join us on our Living Montessori Now Facebook page where you'll find a Free Printable of the Day and lots of inspiration and ideas for parenting and teaching! And please follow me on Pinterest (lots of Montessori-, holiday-, and theme-related boards), Instagram, and YouTube. You can find me on bloglovin' and Twitter, too.
And don't forget one of the best ways to follow me by signing up for my weekly newsletter. You'll receive some awesome freebies in the process!