Cutting is an important, yet difficult, skill for preschoolers. It's helpful to have a Montessori-inspired paper cutting activity available to encourage your preschooler's mastery of cutting.
Here are some helpful Montessori-inspired resources from around the blogosphere:
Cutting with Scissors Information:
Andrea Coventry has helpful information in a post on Montessori Preschool Guide to Cutting at Suite 101 and Preschool Guide to Cutting Activities at Associated Content (with directions for teaching your child how to hold the scissors).
Language Planet Montessori has an article with a possible progression of scissors activities: Use Scissors, Just Don't Run With Them.
Kathy Moore at About.com has Montessori-compatible ideas for parents in an article and video: Teaching Your Child to Use Scissors.
Samantha Lowe at eHow has Projects Related to Paper Cutting for Montessori.
Montessori for Everyone has a post on Setting Up Your Preschool Art Area.
Montessori World has a section on Handwork: Paper Cutting.
AHC Arts & Crafts has Paper Cutting Art Projects for Kids with advanced paper cutting tutorials.
UPDATE: Teaching with a Tackle Box has Paper Cutting (for young children) and Paper Cutting – Extreme!! (artistic paper cutting).
Printables:
Montessori Print Shop has a series of printable Cutting Lessons available very inexpensively. Montessori Print Shop also has free Fall Cutting Strips.
Umamah Learning Academy has free printables of the first cutting strips.
Montessori Materials has some free Cutting Paper and Scissors Exercises.
Practical Homeschooling has free Montessori Cutting Worksheets.
Montessori Cutting Videos:
Examples of Montessori-Inspired Cutting Activities:
To the Lesson! has basic paper cutting (photo) and cutting folded paper to make shapes.
Leptir has a post and free printables: Paper Cutting.
My Montessori Journey has Cutting Work that's always out on the art shelves.
Counting Coconuts has a cutting activity using stickers on paper strips (photo at top of this post).
The Adventures of Bear used Word and clipart to create themed cutting strips.
Fun with Mama has Bug Cutting.
Does your child have a favorite paper cutting activity?
Montessori Monday Link-Up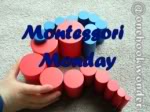 If you have some Montessori ideas/lessons to share, please link up below. Please also place the Montessori Monday button (using the code from the right sidebar) in your post or put a link back to this post.
My co-host (and founder of Montessori Monday), Nicole from One Hook Wonder, doesn't have any Montessori activities to share today, but she has lots of great Montessori activities in her archives.
Thanks for participating! (Note: If you have a giveaway on your blog, please add it to my Family-Friendly Giveaway Linky Page.)