Do you wonder about the best learning activities to put on your shelves for a 3 year old? In case you might find it helpful, I'll show you what's on the shelves in my living room for my 3-year-old granddaughter, Zoey. I take care of her 3 afternoons each week. She attends a Montessori school in the mornings.
Like most Montessori homes, mine is always a work in progress. My shelves change according to Zoey's needs and interests. The shelves I'm showing here are a mixture of afterschooling and homeschooling. Check out my post on afterschooling to see more specific ideas on how to prepare a home environment for afterschooling a preschooler who attends a Montessori school.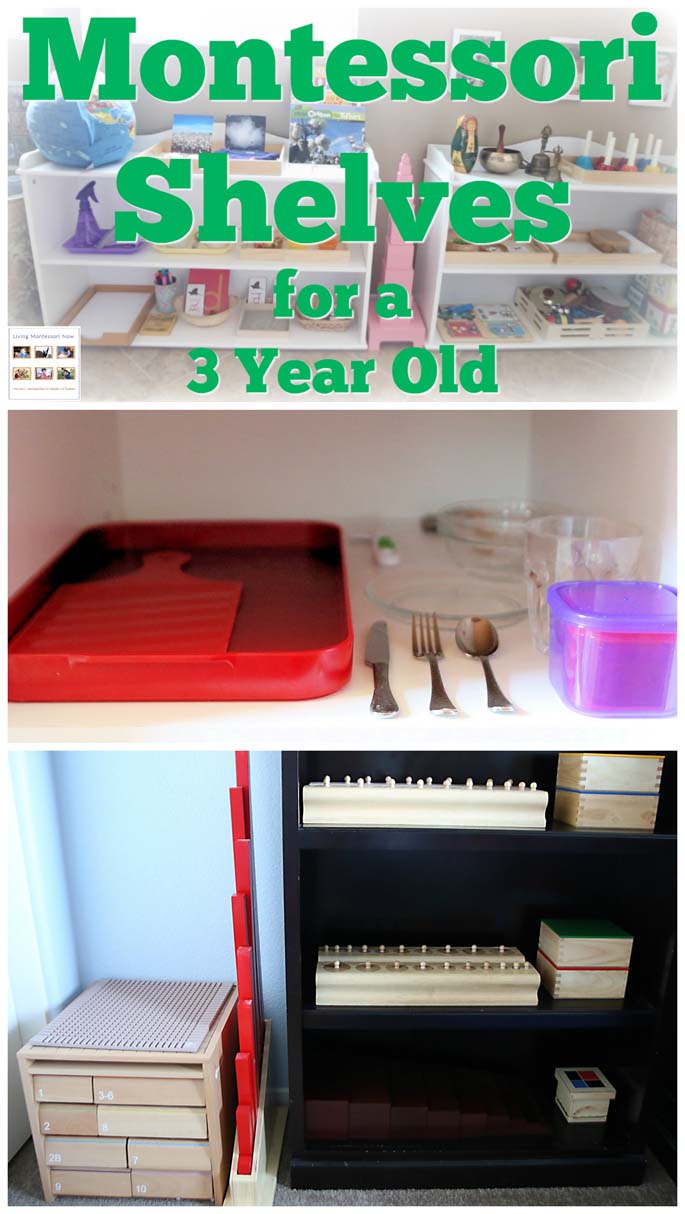 The shelves I'm showing you today may not be the same tomorrow. So don't worry about the exact activities on each shelf. I don't want you to think that these are what should be on your 3 year old's shelves. If something is helpful for you, that's awesome. But I hope you feel comfortable in going with your own child's needs and interests. That's what's most important.
Note: Shelves for a 2½ year old and a 3 year old will typically be very similar. Don't worry about the exact age. I mainly show our shelves every half year to give you a variety of activities and to show a couple of different themes and seasons. Right now, I mainly have out dinosaurl-themed and fall-themed activities.)
Disclosure: This post contains affiliate links (at no cost to you).
How to Prepare a Montessori Home Environment for a 3 Year Old – YouTube Video
What's on My Montessori Shelves for a 3 Year Old
Here's my Montessori home environment in late fall. If you're interested in a particular activity below, just click on the link. It'll go to a blog post or resource with more details. (Note: Zoey's had Montessori tot schooling, so your activities could be quite different if your child is new to Montessori.)
Between a comfortable armchair for reading together and Zoey's shelves is a Montessori book basket that we use instead of a book shelf. We have a few of these in our home. Because of our dinosaur theme (which Zoey loves), we've included a book about dinosaurs. I typically have some Pete the Cat books, which Zoey absolutely adores, a book about germs, I Spy art books, and some classic books, (Note: These aren't all Montessori-style books, but they're all fabulous!)
Our rug container for Montessori Services rugs is an umbrella stand from China. I like to have some special items like this to give preschoolers a sense of beauty and to help them learn to take care of their environment. Of course, if a preschooler isn't ready to handle something like this carefully, it shouldn't be part of the environment.
A Montessori school generally has a shelf for each curriculum area. Because I only have two shelving units in my living room, I use one for practical life, language, and cultural activities. Many of the cultural activities include language activities in them. The materials aren't organized by curriculum area on a specific shelf, though. That's more a matter of which tray fits better on a particular shelf. Organize your shelves in whatever way works best for you, too.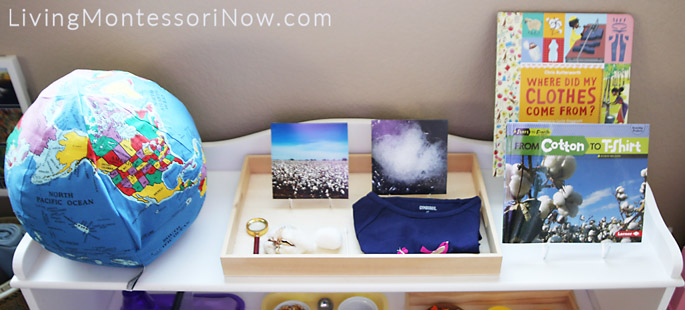 Top shelf in the practical life, language, and cultural area:
Middle shelf:
a window washing tray with a Montessori Services squeegee, which Zoey loves (I always keep these on our shelves.)
spooning popcorn (I usually have a dry or wet pouring activity or some other type of transferring activity on the shelf for a young preschooler. I'm using popcorn right now because I like corn activities in the fall.)
placing miniature clothespins with autumn leaves (which I found at Michaels craft store) on the edges of silicon baking cups, a sorting and fine-motor activity
Bottom shelf:
Top shelf in the Educational Toys, Sensorial, Math, Music, and Movement Area
nesting doll (Zoey has loved this for a long time, so I've kept it on her shelf. I'll probably put out our nesting snowman family in its place for winter.)
singing bowl, Tibetan meditation cymbals, and Tibetan bells
basket of Color Matching Cards from Montessori Print Shop (I use these as a substitute for the Montessori color box 2 and often use them in themed activities.)
Middle shelf in the Educational Toys, Sensorial, Math, Music, and Movement Area
playdough math activities for fall (I kept out the number cards plus the pumpkin images. I removed the apples after mid-October. I'll be designing free playdough math printables for each season.)
ball basket (Zoey's had a ball basket since she was a baby. Now she uses balls to play catch with her grandpa.)
Bottom shelf in the Educational Toys, Sensorial, Math, Music, and Movement Area
Zoey's snack shelves are in a cupboard in my kitchen. Cutting a banana, coring an apple and spreading peanut butter on the apple slices, making ants on a log, and table washing have been fun activities for her. I've changed a number of the items on the shelves from Zoey's toddler snack shelves because she can get her own snacks out of the refrigerator and freezer. Many of the items here are for Zoey to prepare her snack (for example, washing berries in the strainer or using the cutting board with a nylon knife to cut her snack). I only have some cashews in the nesting containers (a fun way for a preschooler to find a snack and work on fine-motor skills at the same time).
I have a number of Zoey's activities in my dining room. In addition to her snack and meal table (and work area) with flower arranging activity, she has a Melissa & Doug cleaning set and a bucket for big spills and water recycling.
Next to the cleaning set is her Little Partners Learning Tower with easel. I move her Learning Tower for food preparation activities at the kitchen counter, I always have a magnetic learning activity on the Learning Tower shelf. Because of our dinosaur theme, our current activity here is the Melissa and Doug Wooden Dinosaur Magnets in a Box.
This isn't part of our shelves, but Zoey also has a DIY sensory table (could also be used as a water table) to use on my patio or indoors next to the patio doors. I typically change the sensory bin according to season or holiday. It won't be found in a traditional Montessori school, but it's wonderful for homeschooling and afterschooling. It promotes concentration and repetition and is a nice, calming activity. It can also be a fun way to introduce educational concepts in a way that's not duplicating what your child will do in a Montessori school. (Watch next week for our Christmas bell sensory bin!)
Because Zoey attends a Montessori school 5 mornings each week, I don't want her to spend too much time with classic Montessori materials outside of school. Even though I have some Montessori materials, I want those specific activities saved mainly for her school times. (Note: if your child attends or will attend a Montessori school, you don't need to buy any classic Montessori materials. In fact, it's recommended that you don't.) If you have a Montessori homeschool, you'll want to buy Montessori materials and/or make your own Montessori materials. I homeschooled my now-adult kids through high school, and I have LOTS of posts about Montessori homeschooling. You'll find many of them linked to in this post on how to set up a Montessori homeschool classroom.
So, I keep most of the Montessori materials in my office where Zoey spends limited time each week. I have them next to my cabinet of Spielgaben materials, which I use for preparing Montessori-inspired activities.
Here are some Montessori materials that could be good for your 3 year old:
Zoey's environment at her own home also has Montessori-friendly shelves, although with more toys than educational materials.
I can't believe Zoey is already 3 years old. But I'm enjoying each day I get to spend with her in our Montessori-friendly environment.
Amazon Affiliate:
Preparing Montessori Spaces in Your Home
See "How to Create a Montessori-Friendly Home" for ideas for a number of levels. Here are some of my main home environment posts here: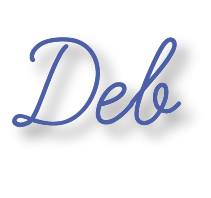 Learn more about my eBook Montessori at Home or School: How to. Teach Grace and Courtesy!
If this is your first time visiting Living Montessori Now, welcome! If you haven't already, please join us on our Living Montessori Now Facebook page where you'll find a Free Printable of the Day and lots of inspiration and ideas for parenting and teaching! And please follow me on Instagram, Pinterest (lots of Montessori-, holiday-, and theme-related boards), and YouTube. While you're here, please check out the Living Montessori Now shop.
And don't forget one of the best ways to follow me by signing up for my weekly newsletter. You'll receive some awesome freebies in the process!
Save
Save