This is an especially good time to focus on grace and courtesy if you have any family gatherings coming up. Even if you don't have any family gatherings this week or don't celebrate Thanksgiving in your country, it's also a good time to focus on etiquette before the December holidays.
Young children need lots of practice with etiquette techniques, and the more opportunities you can provide for practice the better. Today, I'll share some posts and ideas for helping your child become comfortable with etiquette rules for holiday gatherings.
General Grace and Courtesy and Help Greeting Relatives
Grace and courtesy games can be especially helpful in giving your child lots of practice with manners in a fun and non-threatening way: Grace and Courtesy Games at Home or School.
Greeting relatives and others at Thanksgiving or any large family gathering is very difficult for shy children, so allow plenty of opportunities for practice. And don't worry if your child isn't able to demonstrate perfectly the manners you practiced earlier. Here are tips for the best possible experience: How to Help Your Child Feel Comfortable Greeting Relatives.
Table Setting
Children can show good manners by helping with the table setting at holiday times. Work with table setting can also help children begin to understand silverware and dish placement that they'll need to know for more advanced table-etiquette rules.
Cassie from 3 Dinosaurs created a free Dishes Pack that can be used to prepare many hands-on activities for skills such as language and math skills. It can also be used to help preschoolers learn basic table setting.
The above photo shows a table-setting activity I put together using the shadow matching printable from the dishes pack. After using an activity like this for matching, the shadow matching printable could also be used as a control chart for a child to use when setting the table using real dishes.
There are lots of ideas for teaching table setting in this post: Table Setting. There are also many free printable placemats if you check out my Pinterest board linked to in the post.
Table Manners

Give your child some basic introductions to table manners before any holiday meal: How to Teach Your Child Table Manners for Holiday Gatherings.
UPDATE: For all the etiquette rules your child will need from ages 2-12 (along with Montessori ideas for teaching them), see my eBook Montessori at Home or School: How to Teach Grace and Courtesy!
Montessori Monday Link-Up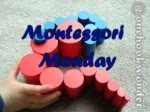 If you have some Montessori activity trays/lessons to share, please link up below. It's fine to link up a post from your archives – and you may link up anytime during the week! Your post may be any Montessori-inspired activity or idea. It doesn't need to be related to my Montessori Monday post.
Link up your exact post URL so that we can find your activity if we return to the linky at a later date (which I often do when I'm looking for activities for a roundup post). I publish the Montessori Monday post and linky at 6:00 a.m. EST each Monday and keep the linky open throughout the week.
Please place the Montessori Monday button (using the code from the right sidebar) in your post or put a link back to this post. Let's use Montessori Monday to gain inspiration/ideas and to encourage each other! If you would leave an encouraging comment on the post linked up ahead of you (along with any other posts you're drawn to), that would be awesome! Thanks for participating!
Notes: You'll find a Pinterest Pinning Party in our Living Montessori Now Community (featured on the welcome page). That's for any kid-related posts whether they're Montessori-inspired or not. Please feel free to add posts there as well! (If you join our Living Montessori Now Community, your blog feed (post excerpts) will show up on the Living Montessori Now Community Welcome Page if you add your blog link when you sign up. It's an easy way to get extra attention for your blog posts.)
If you have a giveaway on your blog, please add it to my Family-Friendly Giveaway Linky Page! If you enjoy entering giveaways, you'll always find some great giveaways there. There are lots of great pre-Christmas giveaways right now!
Also, if you've ever been linked to in one of my roundup posts, please feel free to grab the "Featured on" badge.

Please check that you've added the Montessori Monday button or linked back so that others can find the link-up, too! Thanks so much! 🙂
If this is your first time visiting Living Montessori Now, welcome! If you haven't already, please join us on our Living Montessori Now Facebook page where you'll find a Free Printable of the Day and lots of inspiration and ideas for parenting and teaching!
Linked to Tuesday Tots, Tactile Tuesday, Do Your Thing Link Party, The Mommy Club Resources and Solutions at Milk and Cuddles and Crystal & Co. , Enchanted Thursdays Blog Hop, The Weekly Kid's Co-op, Living Life Intentionally Linky Party, Preschool Corner, Saturday Show & Tell, Show-and-Share Saturday, The Sunday Showcase, Link & Learn, Afterschool Express, Discover and Explore: Thanksgiving