In case you've wondered about our latest do-a-dot pack, we now have one that focuses on both phonics and Spanish! It's our Spanish Animal Alphabet Do-a-Dot Pack and Mi Libro del Alfabeto de Animales (My Animal Alphabet Book).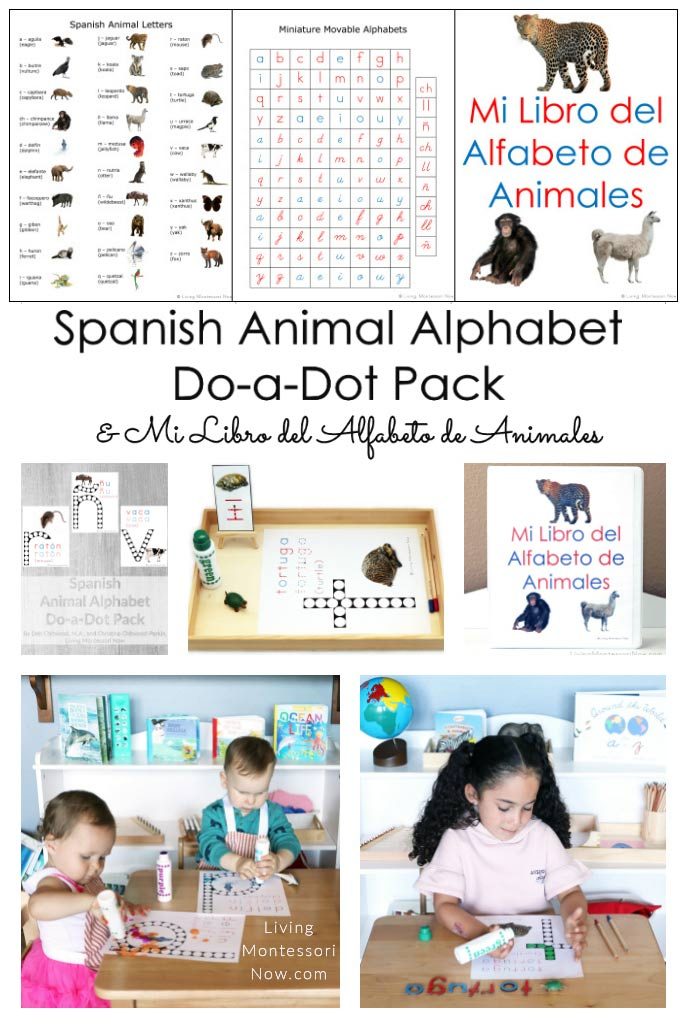 Disclosure: This post contains some affiliate links (at no cost to you).
Montessori-Inspired Printables at Living Montessori Now
My daughter, Chrissy (a former Montessori child), and I have partnered to bring you a series of Montessori-inspired printables. The printables are typically themed and use a number of Montessori principles (although you don't need to be a Montessori teacher or homeschooler to use them):
They use isolation of quality.
They use photographs or realistic images to emphasize reality.
They typically use traditional Montessori colors such as red for consonants and blue for vowels.
They use lowercase letters, which are what we introduce letter sounds with in Montessori education. (Children tend to pick up the uppercase letters without being introduced if they're introduced to the lowercase letter sounds.)
They often feature themed printable versions of Montessori materials.
What's in the Spanish Animal Alphabet Pack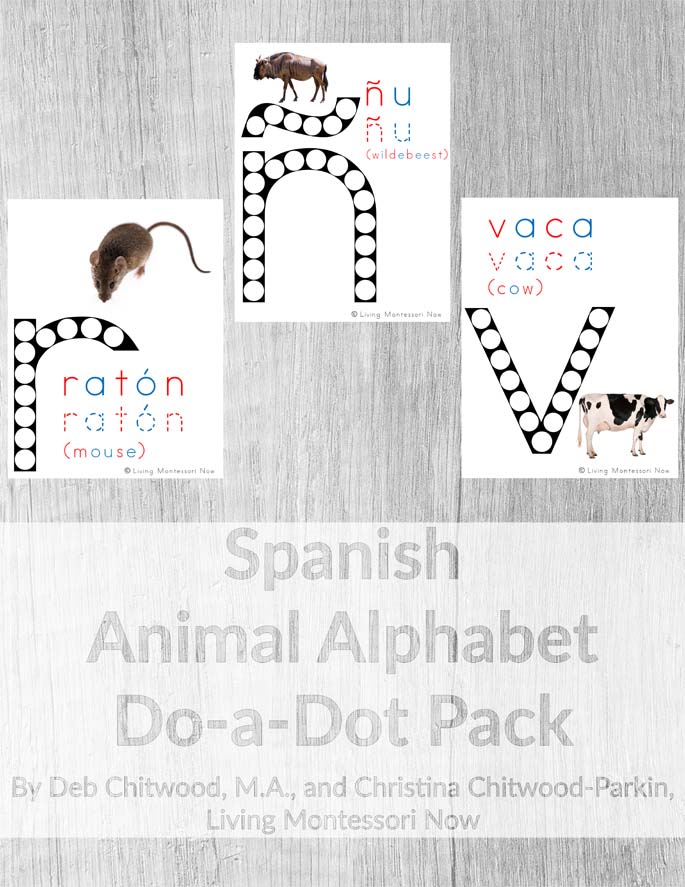 The Spanish Animal Alphabet Do-a-Dot Pack can be purchased alone or in a bundle with the original Animal Alphabet Do-a-Dot Pack: English and Spanish Animal Alphabet Do-a-Dot Bundle.
These 29 Montessori-inspired Spanish do-a-dot letters for toddlers and preschoolers feature a variety of animals, some common and others unusual.
The pack also has a page with letters and miniature animal images along with 3 different miniature movable alphabets (in manuscript print, D'Nealian, and cursive). You can use the movable alphabet letters in a number of ways. You could use it with the animal letter sounds page by placing a movable alphabet letter on the matching letter in the letter sounds page.
A cover page is included for the child to make Mi Libro del Alfabeto de Animales (My Animal Alphabet Book). I like to complete the book gradually, adding the date as each page is completed. It's fine for it not to be in alphabetical order.
The Translator for Our Spanish Animal Alphabet Do-a-Dot Pack
The Spanish translations for our Spanish Animal Alphabet Do-a-Dot Pack were by Maria Chavez, M.S. Thank you, Maria! You can find Maria on Instagram. She has Montessori Spanish printables of her own. Her shop is Escuelita Montessori on Etsy and Teachers Pay Teachers.
You can find a good example of Maris's work in her free Land, Air, and Water Mats in Spanish & English at Teachers Pay Teachers.
Maria's Spanish CVC, CVV & VCV Word Building Mats at Etsy are also lovely examples of her work.
Montessori-Inspired Activities Using the Spanish Animal Alphabet Pack
Spanish Animal Alphabet Do-a-Dot Tray
This is the type of tray I'd have on the shelves for a preschooler or kindergartener. My 5-year-old granddaughter, Zoey, still loves Do-a-Dot markers. I just placed the green marker on the tray for the turtle page, although I'd often place all six markers on the tray along with any Spanish do-a-dot pages we'd be focusing on.
I added a Safari Ltd. turtle to the tray for interest along with the font card from our Montessori-inspired turtle pack (subscriber freebie). (Note: You'll find more than one type of turtle at Safari Ltd. You can see many TOOB keys here.)
When Zoey was 2-3 years old, she liked to trace the big letters with her finger, but I didn't have her trace the smaller letters with a crayon or pencil because of her age. Now she not only traces the letters with a pencil (she can write them on her own as well), but she also spells the word with the Montessori movable alphabet.
Note: I have the movable alphabet from Alison's Montessori, which I love. You can also get a movable alphabet from Amazon (recommended for size if you use movable alphabet printables from Every Star Is Different) or make your own.
With do-a-dot markers, Zoey's now focused on getting the marker perfectly on each dot!
The Spanish animal alphabet do-a-dot pages work well with toddlers, too! Here my 18-month-old granddaughter, Sophia (Zoey's sister), and her 15-month-old cousin, Caleb (my daughter, Chrissy's son), are using do-a-dot markers with the delfín (dolphin) page during our ocean unit. I had a Schleich dolphin, and we focused on the English and Spanish words for dolphin.
For young toddlers, the do-a-dot marker work is just a way to practice mark making and work on fine-motor coordination. I typically say /d/ for delfín to help them hear the phonetic sound, although we don't emphasize the letter symbol at their age. It's a fun activity for them, though, and a great way for them to work on a number of skills. Look at how they're developing their concentration skills!
After they worked with the do-a-dot markers, Caleb and Sophia spontaneously started putting the caps back on the do-a-dot markers. I love watching toddlers pick up Montessori rules and routines!
Mi Libro del Alfabeto de Animales (My Animal Alphabet Book)
I think it's great to make a book for your child with the do-a-dot alphabet pages. You could connect the pages with binder rings, but I like to make a book with each page in sheet protectors. I purchase a ½" binder with place to insert the cover page. It's fun to add a date to each page as it's finished as a record for the book. You'll find it interesting to see how your child progresses in fine-motor skills.
You might want to keep the book on your Montessori shelf.
Or you could place the book in a book basket. I did that with Zoey's My Animal Alphabet Book that she started at 2¾ years old. She loved to get the book out and go through the pages.
Do-a-Dot Alphabet Packs and the Living Montessori Now Shop
The first product in the Living Montessori Now shop was the Animal Alphabet Do-a-Dot Pack, which is generally for ages 2-5. We later added an Animal Alphabet Connect-the-Dots Pack and Animal Alphabet Maze Pack. Both of those are generally for ages 4-6. Since Montessori education is individualized, it's fine if a pack is appropriate for your child at a different age than one listed here.
We used a variety of common animals and unusual animals for interest and vocabulary building.
You can read about our Montessori-Inspired Animal Alphabet Packs and My Animal Alphabet Book here. If you'd like to know more about how to pronounce each letter sound, be sure to check out our YouTube video on how to teach letter sounds using Montessori principles.
We also have a Healthy Food Alphabet Do-a-Dot Pack, which reinforces both letter sounds and healthy eating.
Other Ways to Use the Do-a-Dot Alphabet Pages
There's so much more that can be done with the pages than using do-a-dot markers. Check out my free do-a-dot printables for lots of different ideas for using do-a-dot pages.
Montessori-Inspired Packs – Subscriber Freebies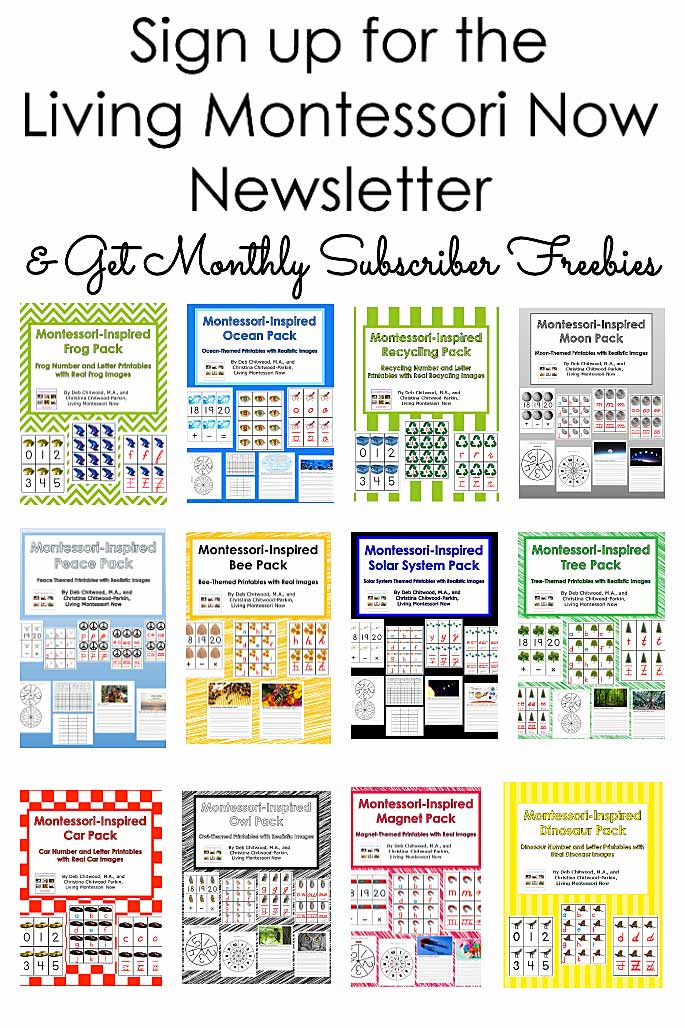 If you subscribe to my mailing list, you'll get the 177-page KHT Montessori geography album free! And you'll get the password each month to a new Montessori-inspired subscriber freebie! All previous months' packs are available in the Living Montessori Now subscriber resource library as well as the current month's pack. Just sign up for my email to get the link and password! See images of the available subscriber freebie packs here.
Thanks for being so awesome! 🙂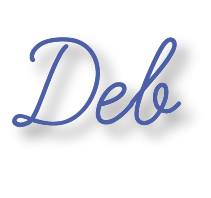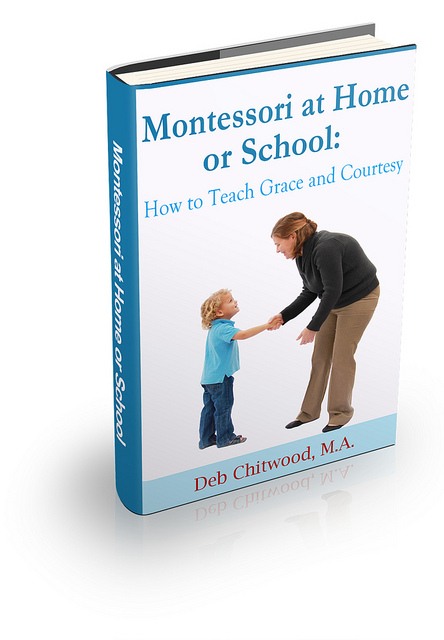 Learn more about my eBook Montessori at Home or School: How to. Teach Grace and Courtesy!
The Montessori at Home! eBook and Montessori at Home! eBook and Materials Bundle are AMAZING resources! You can learn more about them here. Buy them in the Living Montessori Now shop.
If this is your first time visiting Living Montessori Now, welcome! If you haven't already, please join us on our Living Montessori Now Facebook page where you'll find a Free Printable of the Day and lots of inspiration and ideas for parenting and teaching! And please follow me on Pinterest (lots of Montessori-, holiday-, and theme-related boards), Instagram, and YouTube. You can find me on bloglovin' and Twitter, too.
And don't forget one of the best ways to follow me by signing up for my weekly newsletter. You'll receive some awesome freebies in the process!