The three-period lesson is a Montessori method which can help you clearly and easily teach concepts to your preschooler. It could be used to introduce anything from colors to letters to dinosaur names.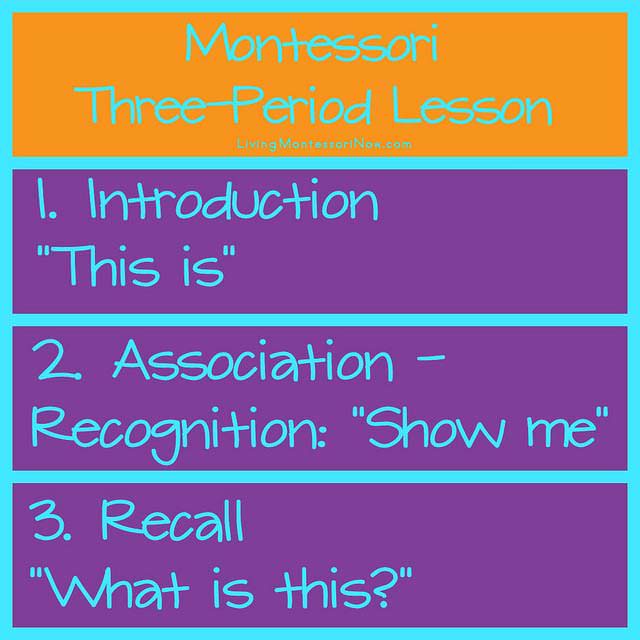 The photo is an inexpensive version of the sandpaper letters I used to introduce phonetic sounds at my school placement during my master's program in England. (I don't believe they're available any longer.) To use the three-period lesson, have two or three objects or pictures you would like to introduce.
I'll introduce the sandpaper letters s, m, t. They're good letters to start with because they're used so often in the English language. Bring the letters to a table or a rug on the floor. Have your child sit beside you.
First Period: Introduction ("This is")
Trace the letter "s" using the index and middle fingers of your right hand while making the /s/ phonetic sound.
Invite your child to trace /s/.
Do the same with the letter "m" and then the letter "t".
It's always good to repeat the word (or sound in the case of sandpaper letters) several times during the first period.
Second Period: Association – Recognition ("Show me")
Say, "Show me /s/;  show me /t/", etc. (Note: Always use the phonetic sound, not the letter name when introducing the sandpaper letters.)
"Trace /s/;  trace /t/", etc.
The second period is the most important and should last the longest. You may use a number of variations, such as "hand me," "point to," "put __ on the tray," "return __ to the shelf." If your child has difficulty, simply return to the first period.
Third Period: Recall ("What is this?")
Only go to the third period when you know your child will be successful.
Put a letter in front of your child and say: "Can you trace this and tell me what it is?" You could also say, "What is this?" Continue with the other letters in the same way.
Here's a video from Montessori Primary Guide using the three-period lesson to introduce sandpaper letters.

Here's a video from Montessori Primary Guide on how to use the three-period lesson to introduce color tablets.
UPDATE: See my post with YouTube video "Using the Montessori 3-Period Lesson to Teach Vocabulary to a Toddler."
Have you used the three-period lesson with your child? Do you have an idea of a concept or vocabulary you'd like to introduce using the three-period lesson?