This is Exercise with Your Child Week! Of course, movement activities should be included in a Montessori program every week. Movement activities, both large- and fine motor, are naturally part of Montessori education.
I found an interesting post on physical development from Montessori Education (UK) Ltd. It compares the English Early Years Foundation Stage (EYFS) guidelines with Montessori education: Physical Development. (EYFS is a statutory framework that sets requirements for early years providers for the education and care of children from birth to five.)
Here are some Montessori-inspired movement activities and printables. They aren't all part of the traditional Montessori curriculum, but these are movement activities that are popular in many Montessori schools. They would generally work well for homeschools, and you can even do some of them along with your child!
Montessori-Inspired Movement Printables
Alerting Activity ABC Cards, Act Like an Elephant Action Cards, and 3-Part Movement Cards (photo) from Training Happy Hearts
Movement Cards (3 different sets) from The Home Teacher
Alphabet Movement Cards (as used by Chasing Cheerios) with cards from The Home Teacher (see link above the photo)
Making Body Shapes (with Printable Body Shape Cards) from Childhood 101
Paper Plate Pushing (Sample lesson) from Montessori Movement Matters
Montessori-Inspired Movement Activities
Movement in the Montessori Infant/Toddler Environment, Montessori Musings: Development of Movement in Children, Independence and Movement: Montessori Preschool, and Independence and Movement: Montessori Elementary from North American Montessori Center
Outdoor Line Hunt and Walking on the Line (my post with links to other walking-on-the-line activities)
Can Montessori Principles Be Used to Teach P.E.? (my post about child-led P.E. in our homeschool)
The Sensitive Period for Movement – Yoga and Montessori at Home: Movement (photo) from Carrots Are Orange
Montessori Movement from Confessions of a Montessori Mom Blog
Calming Movement Activities for Children by Andrea Coventry at Curricula/Lesson Plans @ Suite 101.
Olympic Unit Study Pinterest Board
You'll also find lots of movement activities for kids as well as for families on my Olympic Unit Study Pinterest Board.
Montessori Monday Link-Up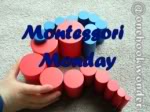 If you have some Montessori activity trays/lessons to share, please link up below. It's fine to link up a post from your archives – and you may link up anytime during the week! Your post may be any Montessori-inspired activity or idea. It doesn't need to be related to my Montessori Monday post.
Link up your exact post URL so that we can find your activity if we return to the linky at a later date (which I often do when I'm looking for activities for a roundup post). I publish the Montessori Monday post and linky at 6:00 a.m. EST each Monday and keep the linky open throughout the week.
Please place the Montessori Monday button (using the code from the right sidebar) in your post or put a link back to this post. Let's use Montessori Monday to gain inspiration/ideas and to encourage each other! If you would leave an encouraging comment on the post linked up ahead of you (along with any other posts you're drawn to), that would be awesome! Thanks for participating!
Note: If you have a giveaway on your blog, please add it to my Family-Friendly Giveaway Linky Page! If you enjoy entering giveaways, you'll always find some great giveaways there!
Also, if you've ever been linked to in one of my roundup posts, please feel free to grab the "Featured on" badge.



Linked to Tuesday Tots, The Mommy Club Resources and Solutions at Milk and Cuddles and Crystal & Co. , The Weekly Kid's Co-op, Living Life Intentionally Linky Party, Preschool Corner, Saturday Show & Tell, Show-and-Share Saturday, The Sunday Showcase, and Link & Learn.