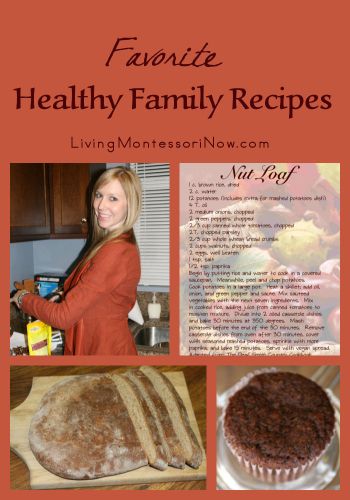 My husband and I have been vegetarians for around 40 years now, and our adult kids are both lifelong vegetarians. So, our favorite family recipes are naturally all vegetarian.
My Family's Diets
Sometimes my husband and I have been vegan (not when our kids were still growing), although most of the time we've been lacto-ovo vegetarian. And we're often a mixture of both. For the past few years, I've typically been vegan (except for eggs) five days a week. I'm not picky about being perfectly vegan, but I do try to eat as healthily as possible (allowing for some chocolate treats, of course! ;))
My extended family has a real mixture of diets. That's never been a problem and we have happy family gatherings with meat eaters and vegetarians together. You'll find my mom's wholegrain flatbread recipe that we have during our extended-family gatherings here: Happy Families Can Have More Than One Diet.
My daughter, Christina, is on a 6-Month Nutrition and Fitness Experiment right now where she eats a gluten-free, dairy-free, sugar-free vegetarian diet. I'm so impressed with her discipline! She has a link in her main post to a free printable vegan recipe that we all enjoy. She'll be adding more recipes over the next few months as well.
Favorite Healthy Family Recipes
I've always loved to cook and bake with my kids, and that's been an important part of our family holidays. One of our favorite holiday meals is our vegetarian Thanksgiving meal, which we also serve on Christmas Day. Vegetarian Thanksgiving Recipes and Family Cookbook has free downloads of two of our favorite dishes from that meal.
My husband and I often like to have healthy gluten-free muffins containing oat bran with a fruit smoothie for a light meal. Here's a post about cooking together that contains a link to my gluten-free chocolate muffin recipe: Creating Healthy Family Recipes.
My kids and their spouses have copies of the same homemade recipe book that I use. Over time, I create new printable recipe pages. If you check my daughter's 6-Month Nutrition and Fitness Experiment post and my recipes category every now and then, you'll find some of the latest healthy recipes we're enjoying.
I hope you have fun preparing healthy recipes with your family, too! 🙂
This post was written for inclusion in the monthly Carnival of Natural Parenting with the theme Family Recipes. This month our participants are sharing their recipes, their stories, their pictures, and their memories.
***
Visit Code Name: Mama and Hobo Mama to find out how you can participate in the next Carnival of Natural Parenting!
Please take time to read the submissions by the other carnival participants:
Three Favorite Family Recipes: To Eat, To Wash, To Play — Kristin at Intrepid Murmurings is back with three family favorites: gluten-free vanilla orange sugar cookies, DIY powdered laundry detergent, and something fun for the kids: homemade "Flubber"!
Black Bean Soup Forever — Mercedes at Project Procrastinot shares a soup recipe that's been around forever.
Do you want to know a secret? — SRB at Little Chicken Nuggets lets go of her mac and cheese recipe, a comfort food favourite for friends and family for years.
Creating Our Own Family Recipes — Emily at S.A.H.M. i AM shares how she's trying to create meals that her girls will want to pass down to their own children some day.
Vranameer Chicken: A Family Recipe — Luschka at Diary of a First Child shares a recipe that reminds her of childhood and more specifically, of her mother. It's a South African take on sweet and sour chicken and what it lacks in healthy it makes up for in tantalising to the taste buds.
One Recipe, Three Uses: Dishwasher Liquid Detergent, Dish Soap, and Hand Soap — If you love saving money and time, you'll love this green recipe from Jennifer at Hybrid Rasta Mama, guest posting at Natural Parents Network.
Our Family's Favorite Pies — Abbie at Farmer's Daughter shares recipes and tutorials for the quintessential American dessert.
Deliciously Easy Crock Pot Chili — Lactating Girl shares her crock pot chili that is not only quick and easy, but awesome.
All-Purpose Crock Pot Pork — Crunchy Con Mommy's simple "recipe" for cooking perfect pork in the crock pot is for whatever mood her family is in!
Family Rules: A Recipe for Harmony — Cooped-up kids + winter weather + frazzled parents can all blend together into a recipe for disaster. Dionna at Code Name: Mama shares what brought back the peace in her house.
Favorite Healthy Family Recipes — Deb Chitwood at Living Montessori Now shares her family's healthy eating experiences along with links to free printable vegetarian recipes that her family has created with love.
Grandma's Banana Bread — Megan at The Boho Mama has early and fond memories of her grandma's banana bread. It's love in a loaf!
Family Comfort Food — Jorje of Momma Jorje shares a recipe handed down that moms have made for their kids, for regular meals as well as to comfort.
If this is your first time visiting Living Montessori Now, welcome! If you haven't already, please join us on our Living Montessori Now Facebook page where you'll find a Free Printable of the Day and lots of inspiration and ideas for parenting and teaching!
Linked to The Mommy Club Resources and Solutions at Milk and Cuddles and Crystal & Co. and Saturday Show & Tell.