I love Montessori-Inspired dinosaur activities, and John Bowman's Montessori at Home eBook (3rd edition) has a whole section on dinosaurs.
(Note: This post contains affiliate links at no cost to you.)
Here's an excerpt of part of the Montessori at Home dinosaur section:
Make Fossils

Fossils are how we get in touch with creatures from long ago, so why not make some? A Safari Ancient Fossils TOOB , an Insect Lore Big Bunch O' Bugs 15 pack, or a pack of plastic bugs from a discount or toy store, plus some Play Doh® will get your child's fossil explorations started.

Hide the insects or play fossils in a bowl of beans for your budding paleontologist to find, as in the photo at left. Later, you can do more elaborate digs outside in a tub full of dirt or sand.

Photo: Chasing Cheerios

Press plastic insects down into Play Doh sheets, cut into separate 'fossils', and let the impressions harden overnight. Try different colors of Play Doh. Make name cards for the insects to add language. You could make a hole in each and make a string of fossils.

Photo: The Education of Ours

Fossil cookies are always a big hit. At Chasing Cheerios (photo), they used a simple cookie recipe and Play Doh stampers. You could also used well washed sea shells, plastic dinosaurs, or plastic insects.

Photo: Chasing Cheerios

More fossil cookies at Homemade Mamas

The Dig it Up Excavation Kit – Tyrannosaurus Rex can be fun for a child who is seriously into dinosaurs. $12.95 on Amazon.

Dig out a virtual fossil online


Montessori style, self-contained dinosaur materials from Counting Coconuts. Free Dinosaur information cards from Montessori Print Shop. [Middle photo]: Punching dinosaur outlines with a pushpin. Your child can cut these with scissors if she is ready. Get free dinosaur, and other, outlines at Enchanted Learning. [Bottom photo] Cleaning a dinosaur.

These are great examples of creating language, fine motor, and Practical Life materials around a theme. You can do the same with many themes – holidays, other animals, plants, family trips, almost any subject your child is interested in.
Excerpt used with permission of John Bowman.
More Excerpts from Montessori at Home!
Activities with Marbles and Golf Tees from Montessori at Home!
Building a Flashlight and Pipe Building from Montessori at Home!
1000-10,000 Activity from Montessori at Home!
Cutting with a Knife from Montessori at Home!
Free Play Tubs (Sensory Bins) from Montessori at Home!
Create an Attractive Home Environment from Montessori at Home!
Montessori at Home! eBook Available Exclusively at Living Montessori Now!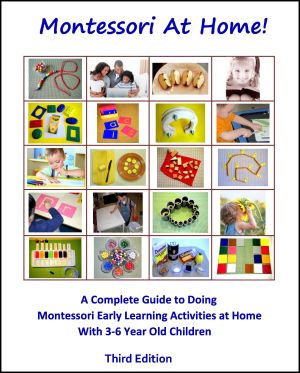 The 3rd edition of Montessori at Home! eBook is only $8.95 (formerly $10.95) for 512 pages with over 300 early-learning activities!

In the eBook, you'll also find a quick start guide, 225 educational digital tablet app recommendations, hundreds of links to sites, blogs, and videos, and 76 pages of printable materials!
You can get a free download of 51 sample pages from Montessori at Home eBook by clicking here! (This includes information on John's simplified Montessori reading sequence.) 
Here's the direct link to the purchase page for Montessori at Home! eBook. Here's the direct link to the purchase page for the Montessori at Home! Materials Bundle,which includes the Montessori at Home eBook AND over $60 worth of Montessori Print Shop materials to go with the book (now only $17.95)!
The Montessori at Home! eBook and Materials Bundle Available at Living Montessori Now!
Here's the list of 21 printable Montessori materials included in the bundle:
Phases of the Moon (3-part cards & chart)
Animals of the Continents
Continents 3-Part Cards
Land & Water Form Photo Book
World – Control Maps, Masters and Labels
Moveable Alphabet – Print – (includes full instructions)
Sentence Cards – Step 1 – Set 1
Word and Picture Cards – Step 1 – Read Pictures
1-100 Math Series
Geometric Matching Cards
Geometric Solids 3-Part Cards – Blue
Skeleton Nomenclature Cards
Tree Nomenclature Cards
Phonics Sound and Picture Sorting
Association of Objects
What Does Not Belong
The Five Senses
Plant or Animal?
Animals and Their Names
Color Grading Cards
Metal Insets – Shape Outlines
Montessori Monday Link-Up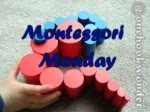 If you have some Montessori activity trays/lessons to share, please link up below. It's fine to link up a post from your archives – and you may link up anytime during the week! Your post may be any Montessori-inspired activity or idea. It doesn't need to be related to my Montessori Monday post.
Link up your exact post URL so that we can find your activity if we return to the linky at a later date (which I often do when I'm looking for activities for a roundup post). I publish the Montessori Monday post and linky at 6:00 a.m. EST each Monday and keep the linky open throughout the week.
Please place the Montessori Monday button (using the code from the right sidebar) in your post or put a link back to this post. Let's use Montessori Monday to gain inspiration/ideas and to encourage each other! If you would leave an encouraging comment on the post linked up ahead of you (along with any other posts you're drawn to), that would be awesome! Thanks for participating!
Notes:
Sadly, BlogFrog is closing the communities, including the Living Montessori Now Community, on May 31. For community discussions, please join us at the Living Montessori Now Facebook page, We Teach Montessori Group, and/or Google+ Montessori Community.
If you have a giveaway on your blog, please add it to my Family-Friendly Giveaway Linky Page! If you enjoy entering giveaways, you'll always find some great giveaways there.
Also, if you've ever been linked to in one of my roundup posts, please feel free to grab the "Featured on" badge.

Have you added the Montessori Monday button or a text link? Please be sure you've done one or the other so that others can find the link-up, too! Thank you!
If this is your first time visiting Living Montessori Now, welcome! If you haven't already, please join us on our Living Montessori Now Facebook page where you'll find a Free Printable of the Day and lots of inspiration and ideas for parenting and teaching!
Linked to Tuesday Tots, Tactile Tuesday, The Mommy Club Resources and Solutions at Milk and Cuddles and Crystal & Co., The Weekly Kid's Co-op, Hearts for Home Blog Hop, Learn & Link, TGIF Linky Party, Preschool Corner, Sharing Saturday, Saturday Show & Tell, Share It Saturday, Show-and-Share Saturday, The Sunday Showcase, Link & Learn, Afterschool Express, Discover and Explore: Dinosaurs, Best of 2013 Saturday Science.