St. Patrick's Day is a fun holiday for preschoolers. It's easy to use the holiday to add interest to learning activities. I'm sharing details today for five different Montessori-inspired St. Patrick's Day math trays created using free printables.
Free Printables + Materials Used in the Pictured St. Patrick's Day Activities for Preschoolers-First Graders
Disclosure: This post contains affiliate links (at no cost to you).
St. Patrick's Day Numbers and Counters
This activity uses the printable March Match, Number Names Game by Carolyn Wilhelm from Wise Owl Factory. (It's in the free eMember area.) This is a very versatile printable. You'll notice that you can use the printable for a game. I use it for a number names matching activity later in this post. Here, I used the rainbow number cards for the numbers and St. Patrick's Day gold coins from the craft store (Michaels). You'll need 55 gold coins for the numbers 1-10. Of course, you may use "lucky pennies" instead of gold coins if you wish.

I like to lay out my numbers and counters in the traditional Montessori way of rows of two counters with a left-over counter centered below the bottom row. This gives a visual impression of odd and even. For more about creating DIY numbers and counters and a link on how to present the lesson, check out my post DIY Cards and Counters.
Counting Leprechaun Gold Activity
This is very similar to the St. Patrick's Day Numbers and Counters, so you'll probably want to choose one or the other (or rotate them) for a child who is working on quantity and symbol. Again, this uses 55 gold coins for the numbers 1-10. The printable is Counting Leprechaun Gold from Story Window.
For this one, you obviously won't have room to lay out all the coins in an odd-and-even layout pattern. Since it's gold coins, I'd just count the coins into the pots in any order. For ideas for presenting this activity, check out the directions for 1 Fish, 2 Fish Counting Tray in my last month's PreK + K Sharing post.
St. Patrick's Day Number Names Activity
This activity again uses the March Match, Number Names Game printable by Carolyn Wilhelm from Wise Owl Factory. There are six different variations of each number 1-10. You can easily adapt this for the level of your child if you have a homeschool or the level of many of the children in your classroom. I'd just recommend removing whichever cards would be confusing for a younger child.
You can adapt the presentation for Montessori-Inspired Snowman Letter Activities in my January PreK + K Sharing post.
St. Patrick's Day Addition Activity
The St. Patrick's Day Addition Activity uses the Sums to 10 Clovers printable from Kindergarten Lifestyle. This activity can be used with children who are just starting addition work with concrete manipulatives or with children who are learning addition facts. The printable is designed to be used as a game, which you could prepare as well.
For a simple addition layout, there are many printable pages available in this pack. I'd recommend choosing the addition facts appropriate for your child's or classroom's addition work. In the example, I used the addition equations for 5, 6, 7, and 8. This is similar to what I did with the Montessori-Inspired One Fish, Two Fish Addition Tray. You should be able to easily adapt the presentation there for this activity.
St. Patrick's Day Place Value Activity
I LOVE the Montessori golden beads for helping children understand the decimal system! For this activity, I used the St. Patrick's Day Place Value printable by Sarah Hopf at Teachers Pay Teachers along with Montessori golden beads for tens and units and a small felt mat from the craft store (Michaels).
It's fine to use ten bars and bead bars for the units instead of individual golden bead units. Check out my DIY Bead Bars post for links to lots of ideas for making your own bead bars and a links for presentations for teens and tens that can be adapted. If you have another manipulative for place value, you could use that in place of the Montessori beads.
Links to some more wonderful St. Patrick's Day math printables that could be used to create Montessori-inspired activities:
All of my St. Patrick's Day activities and resources (updated for 2022):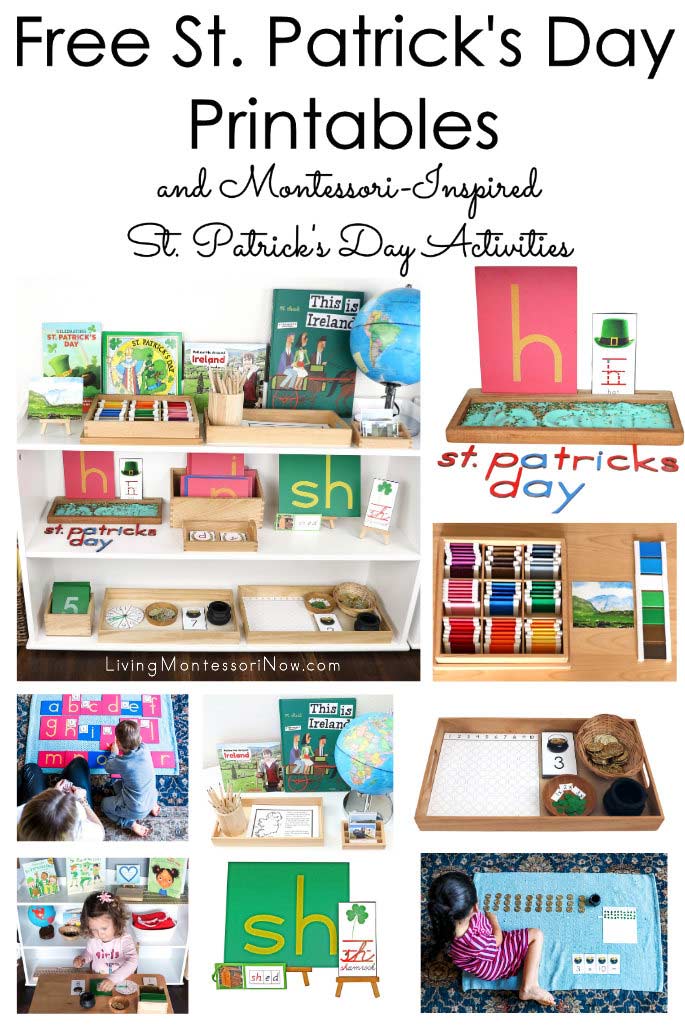 Learn more about my eBook Montessori at Home or School: How to. Teach Grace and Courtesy!
If this is your first time visiting Living Montessori Now, welcome! If you haven't already, please join us on our Living Montessori Now Facebook page where you'll find a Free Printable of the Day and lots of inspiration and ideas for parenting and teaching! And please follow me on Instagram, Pinterest (lots of Montessori-, holiday-, and theme-related boards), and YouTube. While you're here, please check out the Living Montessori Now shop.
And don't forget one of the best ways to follow me by signing up for my weekly newsletter. You'll receive some awesome freebies in the process!