If you homeschool or are considering homeschooling, I'm sure you understand the concept of homeschooling fears. We all have them … those questions about whether or not we're adequate for the task, whether or not our children will suffer in some way by being homeschooled.
I homeschooled both my children through high school. They're 23 and 28 now, so I've gotten the answers to my homeschooling questions.
Interview with My Now-Adult Children
This was one of my biggest homeschooling questions: Will my children regret being homeschooled?
I could tell that my children were happy they were homeschooled, and they had told me before that they liked being homeschooled. But I decided to interview them for this post to get an exact answer to my question: "Did you ever regret being homeschooled?" Following are their answers.
Will, 28, said he liked homeschooling and didn't regret being homeschooled. He said:
"Homeschooling made me a more independent thinker. Homeschooling was also more interesting. I studied a better variety of topics.
"Because I was involved in skating, I still had a social presence. I do think homeschoolers need to be involved in some sort of social activity for their kids."
Christina, 23, also said she liked homeschooling and didn't regret being homeschooled. She said:
"I really liked that I was able to graduate two years early. That meant that I was able to graduate from college at age 19, which is extremely rare.
"I loved the freedom of being able to do my schoolwork at different times of the day so that I could keep up my busy schedule of ballet, skating, workouts, and karate.
"Being homeschooled also meant that I didn't have to spend lots of extra time on homework and inessentials. Instead, I was able to focus and spend more time on what was important for me to learn.
"I enjoyed being taught by my mom. She's an excellent teacher, and it was always nice to be around her more.
"Homeschooling also helped me be more independent as I grew older and was able to take more responsibility for my studies."
Homeschool Resources
If you'd like to know more about our homeschooling experience (and more about my inadequacies as a homeschooler), here are some posts you might enjoy:
For a list of many of my homeschooling posts and resources, check out my Homeschooling Resources post.
Following My Children's Interests to Adulthood
Because I used Montessori principles in homeschooling, following my children's interests was a major focus of our homeschool. If you'd like to see some examples of how my children followed their interests, here's a video of Will and his pair partner, Aaryn Smith, performing their "Phantom of the Opera" long program at their first Junior Grand Prix in 2004.: "Aaryn Smith & Will Chitwood Junior Grand Prix 2004 Long Program."
Here's a video of Christina and her ice-dance partner, Mark Hanretty, performing their Scottish Folkdance OD at the 2010 World Figure Skating Championships in Turin, Italy: "Christina Chitwood & Mark Hanretty Worlds 2010 Torino, Italy."
Here's a video of Christina and Mark performing a show program to Michael Jackson's "Earth Song": "Christina Chitwood & Mark Hanretty – Michael Jackson – Earth Song."
In addition to being successful skating coaches, Christina and Will have followed their interests in other areas. Will's B.A. is in Communications with his minor in Music Industry Studies. He uses both his communication skills and music knowledge in his successful DJ business, Dancing DJ Productions. He loves his work!
Christina's B.A. from Sheffield Hallam University in England is in Performance and Professional Practice. Christina always enjoyed writing and is a book author. Also, Christina continues to use her dance and fitness training in videos and on her blog.
So, I learned that I didn't have to be perfect. Everything turned out fine … better than fine! Based on my experience, my number-one advice to homeschooling parents is simple … realize you don't need to be perfect.
***
This post was written for inclusion in the monthly Carnival of Natural Parenting hosted by Code Name: Mama and Hobo Mama. This month our participants have shared stories and wisdom about parenting fears.
Please take time to read the submissions by the other carnival participants: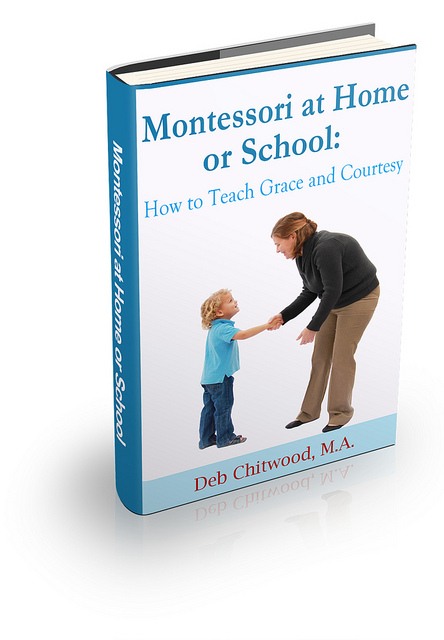 Photo at the top of the post by
maridav
Learn more about Montessori at Home or School: How to Teach Grace and Courtesy!
If this is your first time visiting Living Montessori Now, welcome! If you haven't already, please join us on our Living Montessori Now Facebook page where you'll find a Free Printable of the Day and lots of inspiration and ideas for parenting and teaching! And please follow me on Pinterest (lots of Montessori-, holiday-, and theme-related boards), Twitter (blog posts by me and others along with the Parent/Teacher Daily and other interesting information), and Google+ (post updates and Montessori Community). You can find me on bloglovin' now, too. I'm also a Parenting Expert on Sulia. Thank you for following me there. And don't forget one of the best ways to follow me by signing up for my weekly newsletter in the right sidebar. You'll get two awesome freebies in the process!
May be linked to Afterschool Express, Thoughtful Spot, Tuesday Tots, The Mommy Club Resources and Solutions at Milk and Cuddles and Crystal & Co., Mom's Library, Craft & Activity Share, The Weekly Kid's Co-op, Homeschool Link-up, Hearts for Home Blog Hop, Learn & Link, TGIF Linky Party, Preschool Corner, Ultimate Homeschool Pinterest Party, Sharing Saturday, Saturday Show & Tell, Share It Saturday, Show-and-Share Saturday, The Sunday Showcase, Link & Learn.