I love activities that bring interest to the study of geography, and I had a lot of fun putting together a post of continent activities using the North America continent materials from Montessori Print Shop. Although I prepared materials for a study of North America, the ideas could easily be applied to other continents.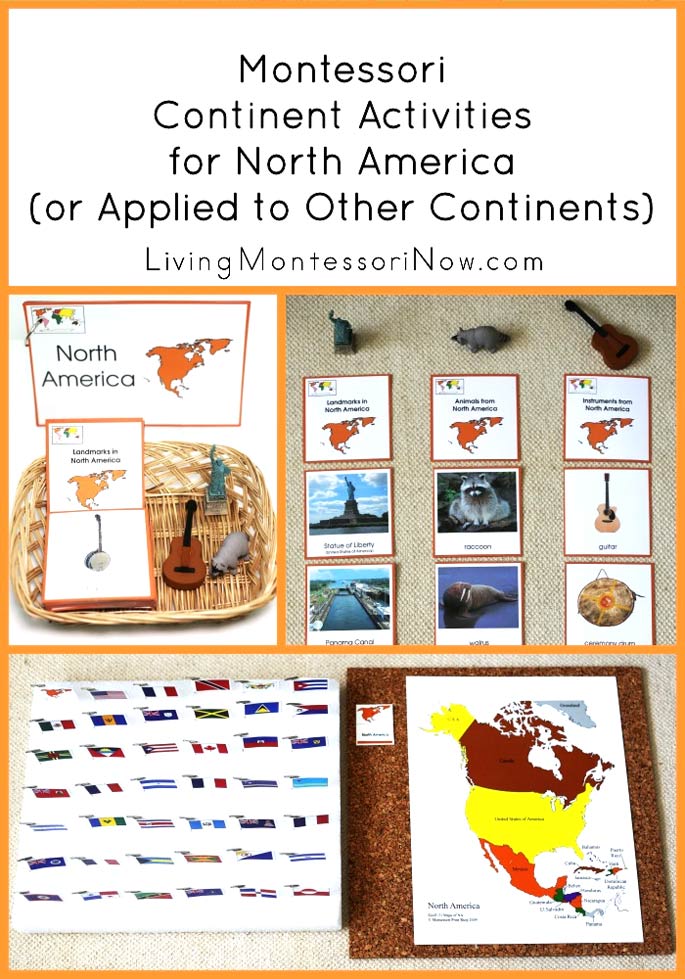 Disclosure: I was given the Geography Bundles from Montessori Print Shop to facilitate my review. My opinions are honest and my own. This post also contains affiliate links.
Montessori Print Shop Geography Bundles
(Six Continent Bundles + Antarctica Geography Folder and Antarctic Animals, World Pin Maps Bundle, Pin Map Flags Bundle)
Sample of the North America Geography Bundle
All 3-Part Cards come with

pictures with labels, pictures without labels, and labels.
The North America Bundle includes:
North America Geography Folder (20 images)
North American Animals 3-Part Cards (17 images)
North American Flags 3-Part Cards (41)
North American Foods 3-Part Cards (26 images)
North American Landmarks 3-Part Cards (17 images)
North American Musical Instruments 3-Part Cards (23 images)
To view each of the individual bundles included in the geography bundles, use the following links: South America Africa Asia Asia Australasia/Oceania Antarctica (These materials are gorgeous with high quality, realistic photographs that give a good overview of each continent. You can just order materials for one continent (or for one aspect of a continent study), although all the continent materials are wonderful. I love that there are a number of ways they can be used. I'll share a few ideas here today using North America as an example.
North America Geography Booklet (Folder) and Cards for Landmarks, Animals, and Musical Instruments
I didn't prepare these in the usual way most would for continent boxes, but I think both ways are great. It just depends on your children and school or home environment.
If you're a homeschooler, don't be afraid to personalize the materials for your family. Don't feel that you need to create classroom-ready materials. You just need to prepare materials that will add to your unique children's learning experience.
I was planning WAY ahead with these activities. I prepared materials for afterschooling my baby granddaughter and unborn grandchildren (when they're preschoolers). I don't have a classroom or a lot of space for materials, so I wanted easy storage and simple set-ups. I think I came up with the perfect solution for my family and home environment. Typically, you would prepare a folder for the 20 images in the geography folder printables ($4.29 for each continent geography folder). My kids always loved books, especially homemade books. So I thought that the simplest, most interesting option for me was to create a booklet by printing the pages, cutting apart the images, and using a ring to attach the images. You could laminate the cards, although I didn't. I taught my children to take good care of books (and I plan to do the same with my grandchildren). I would expect this to be treated like a book.
I like to add 3-dimensional objects to continent activities wherever possible. I loved the way Seemi from Trillium Montessori set up her activity for sorting landmarks, foods, and instruments of Asia. I decided to use a similar setup for landmarks, animals, and musical instruments from North America. I used the combined image with text for each of the 3-part North America landmarks, animals, and musical instruments. I added a 3-dimensional object to go with each set of cards. I used the Statue of Liberty from the Safari Ltd. Around the World TOOB, raccoon from the North American Wildlife TOOB (same post as the Around the World TOOB), and guitar from the Musical Instruments TOOB. (The links go to posts that show other uses for the TOOBS. There are also posts with free printable keys for many of the TOOBS.)
I appreciate that the activities don't take up much space on the shelf, and I can easily store them in sheet protectors in a standing file box along with my other activities. You could do a similar sorting activity for North America foods and North America flags. You could use any 3-dimensional objects that work for each of the activities. Maybe even have your child make a craft, such as a North American animal or musical instrument, which could be placed above the cards for the appropriate column.
For the layout, I used a large hemmed work rug from Montessori Services. Of course, you could always use the traditional layouts of 3-part cards with folders for any of the card materials, similar to my Montessori-Inspired Music Appreciation: Peter and the Wolf post.
North America Map Punching (and/or Coloring) Activity
Map tracing and pin punching was always a popular activity in classrooms where I was a Montessori teacher. If you're a homeschooler, you might not have the Montessori world or continent maps or might have a DIY Montessori world map and need continent maps. For this activity, I used the Montessori Print Shop North America Control Maps, Masters, and Labels. These are great for a coloring and/or labeling activity as well. For homeschooling or afterschooling, I would probably use the Montessori Print Shop Control Maps, Masters, and Labels to make map activities for each continent rather than buying the wooden continent puzzles.
For a punching activity, you could draw an outline of where you want your child to punch around islands if you wish. Your child could even make his or her own North America puzzle if you print the page on cardstock. You can buy punching materials from Montessori Services. Or you can use a 1/4″ thick felt pad, an old mouse pad, a carpet piece, or corkboard underneath the pin punching. For safety (compared with push pins), I especially like Montessori Services' wood handled puncher.
North America Pin Map
Pin maps are a traditional part of the Montessori curriculum. I had prepared a Europe pin map for the London Olympics. I loved how that turned out and was eager to make a North America pin map. This is a great activity for older preschoolers through early elementary.
I prepared the DIY North America pin map by using the Montessori Print Shop North America map from the North America Control Maps, Masters and Labels ($2.99). I used the 41 North American Flags ($2.89). Montessori Print Shop has clear preparation directions: Learn to Prepare Printable Geography Pin Maps and Flags.
I used glossy photo paper and didn't laminate the flags. That made the preparation much easier, and I think it would work well for most homeschools. For schools, I'd still recommend laminating the flags. I taped the T pin to the flag before gluing the two sides of the flag together. I pressed the flags underneath books for a couple of hours. Like before, I love how the flags turned out … they look like a professional product. They also look much more difficult to prepare than they really are. You don't need to be a crafty person to put these together.
They're also sturdier than you might think. My husband and I recently moved from Colorado Springs to San Diego. My Europe pin map made the move in perfect condition. I store the Europe and North America pin maps stacked on a shelf, so all I need is a 12×12″ square storage space for my pin maps.
I found sets of 4 12×12″ cork tiles at a craft store and at WalMart. I added the North America pin map label and the North America control map to the cork. I used a Styrofoam block to store the flags. Again, I used a large hemmed work rug from Montessori Services for the layout.
As I said before, you could easily apply all of these activities to the materials for the other continents (except Antarctica, which obviously has fewer card sets). What a great way to reinforce any study of continents! 🙂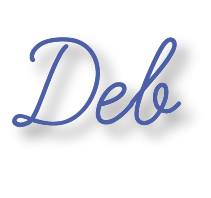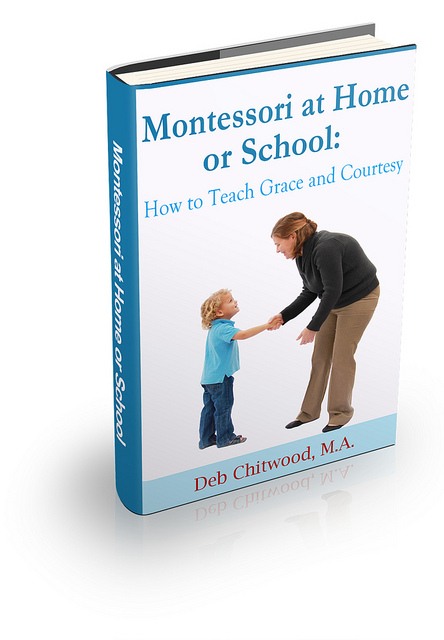 Learn more about my eBook Montessori at Home or School: How to. Teach Grace and Courtesy!
The Montessori at Home! eBook and Montessori at Home! eBook and Materials Bundle are AMAZING resources! You can learn more about them here. Buy them in the Living Montessori Now shop.
If this is your first time visiting Living Montessori Now, welcome! If you haven't already, please join us on our Living Montessori Now Facebook page where you'll find a Free Printable of the Day and lots of inspiration and ideas for parenting and teaching! And please follow me on Pinterest (lots of Montessori-, holiday-, and theme-related boards), Instagram, and YouTube. You can find me on bloglovin' and Twitter, too.
And don't forget one of the best ways to follow me by signing up for my weekly newsletter. You'll receive some awesome freebies in the process!