Although this isn't a traditional Montessori activity, I love the idea of Montessori-inspired food art for fun, creativity, and encouraging healthy eating. Montessori-inspired food art can be as simple or as complex as you and your child or students wish. It can be used as a creative activity in some form at any age.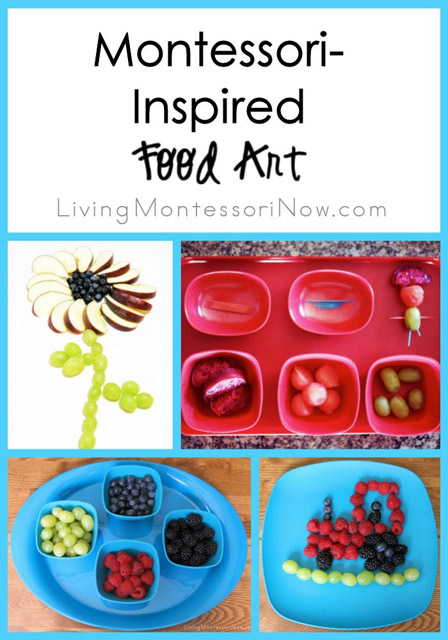 Montessori-Inspired Food-Art Ideas
I'm art challenged, so I asked for help with this project. I simply provided healthy foods – fruits in this case – and asked my daughter and son-in-love to create designs. They're adults, so their examples aren't representative of preschoolers' food art. But the concept is the same.
If you like, you can provide examples of food-art designs such as these in cards or photos according to your child's ability to copy patterns. If you'd enjoy the process, you could make food-art design cards similar to the recipe cards in this post: Favorite Recipes for Preschoolers are Often the Easiest.
With counting and pattern matching, it could also be a math activity for preschoolers. If you're wondering about having children copy food-art designs, read this post by Carolyn at Inspired Montessori and Arts at Dundee Montessori: Copying Makes Artists? YES!
You can vary the foods you provide on a tray for your child's designs according to your child's skills in food preparation. An activity such as the fruit flower would be for a child who could slice fruits unless you slice the fruits yourself. Here are lots of ideas to help your child develop food-preparation skills: Montessori-Inspired Food Preparation for Preschoolers.
After your children have created their food-art designs, I recommend leaving the finished creations in their snack area or on a low shelf of your refrigerator for them to eat as snacks. I definitely encourage the use of healthy foods for food art whenever possible. Food art increases interest in the food, and it's always best when that food is healthy!
Have fun! 🙂
UPDATES: For more healthy-eating inspiration, I have a Montessori-inspired fruit unit and Montessori-inspired vegetable unit.
I set up a Montessori-inspired fruit pirate-making tray for a Fruit Pirate Ship (from Fit Body Full Life).

If this is your first time visiting Living Montessori Now, welcome! If you haven't already, please join us on our Living Montessori Now Facebook page where you'll find a Free Printable of the Day and lots of inspiration and ideas for parenting and teaching!
Share your favorite kids' activities! Link up Montessori-inspired lessons and activities here at Montessori Monday! Link up kids' activities of all types at the Weekly Kid's Co-op!
Linked to The Mommy Club Resources and Solutions at Milk and Cuddles and Crystal & Co. , The Weekly Kid's Co-op, Living Life Intentionally Linky Party, Preschool Corner, Saturday Show & Tell, Show-and-Share Saturday, The Sunday Showcase, Link & Learn, Discover and Explore: Summer Fun, Discover and Explore: Cooking with Kids