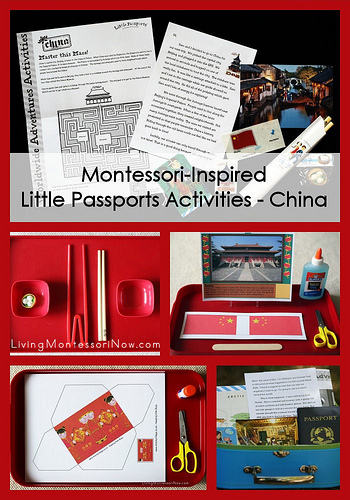 There are so many activities that can be done for a study of China! Not only is there a country study, but Chinese New Year activities are a natural part of a China unit study. Today, I'm going to share some Montessori-inspired activities that work well with the Little Passports China package.
Disclosure: I'm an affiliate for Little Passports and, as an ambassador, I received a year's subscription to the World Edition of Little Passports. Once a month, I'm sharing some Montessori-inspired activities featuring Little Passports. This post contains affiliate links at no cost to you. Of course, all opinions are my own.
Here are my previous Montessori-inspired Little Passports posts:
Montessori-Inspired Little Passports Global Adventure (which contained the Little Passports suitcase, passport, and world map used each month along with a letter from Sam and Sofia, activity sheet, stickers, and a boarding pass with access to online games and activities)
The Little Passports materials could work especially well for afterschooling, in a Montessori homeschool with children of multiple ages, or for summer learning. The World Edition is a monthly subscription recommended for ages 5-10. A total of 24 different adventures are available in the series. I'm sharing activities that would allow multiple ages to join in the adventures.
Contents of the Little Passports China Package:
Each monthly kit includes:
A letter from Sam and Sophia, your child's travel companions. This adds interest to a world study for a wide range of ages.
Souvenirs themed around the chosen country. This month's souvenirs are a Chinese bun "baozi" eraser and chopsticks.
An activity sheet for the country. This will generally be best for 5-10 year olds.
A picture from the country. This month's picture is of Sam and Sophia in China.

Picture of a Uakari Monkey

Picture of a Uakari Monkey

Picture of a Uakari Monkey

A passport stamp.
A map marker.
A sticker for the suitcase.
A "boarding pass" for access to online content about the country. This month's boarding pass has a map activity with a tour of China (which includes a printable photo album), a ping pong game, and puzzles with easy or difficult levels for the Great Wall, the Bund, and Giant Pandas (information about each topic is included). The online activities are recommended for ages 5-10, although a younger child could easily be included in the China online activities. I would definitely print out the pages for each Little Passports country as a way to reinforce what's learned about each country.

This month's boarding pass to Brazil had fun trivia questions about Brazil as well as an interactive soccer game. – See more at: http://www.peaceloveorganicmom.com/2013/05/traveling-to-brazil-with-little.html#sthash.NohmOxUG.dpuf
Following are some suggestions on how you can make Little Passports Montessori-inspired and have it work for multiple ages at home.
If you sign up for a subscription, you could do activities related to the month's package and then focus on the continent box for the continent of the next package's country. I recommend focusing on the continent for the next country you'll be receiving when your children are finished with the focus of their present package (maybe two weeks with the package's country and then start focusing on the continent for the next country.)
Map Work

The first package had a global focus, so you could have done any sort of continent map work in connection with the first package. After that, it's best if your children have a chance to work with related Montessori continent box materials before the country package arrives. For the China package, I'd recommend reviewing the Asia continent box before and after working with the China package. (See Montessori-Inspired Continent Activities with Animal Figures and Landmarks – Asia)
Map Unfolding and Folding and Country Matching Activity
I have examples of this activity for a number of Little Passports posts, so I'm not showing the latest variation for China. Here's an example you can use to set up a similar activity: Montessori-Inspired Little Passports Activities – Mexico.
Transferring "Baozi" with Chopsticks Activity

This activity is similar to the chopsticks activity used in the Japan Little Passports study. I used a Montessori Services large plastic tray and quick sticks along with the baozi eraser and chopsticks from the Little Passports China package. The two small red bowls were from a grocery store. I put both types of chopstick tools on the same tray so that it could be used for multiple ages/skill levels in a homeschool.
Lucky Money Envelope Cut-and-Paste Craft for Chinese New Year

This activity isn't included in the Little Passports package, but the Little Passports package includes information about the Chinese New Year on one side of the activity sheet. This activity would add to the Chinese New Year information. It uses a free lucky money envelope printable from Activity Village. (Note: Activity Village now requires a membership to download the printable, but there's a free instant download of a lucky money envelope from Southern Mom Loves that could be used in the same way. The craft is a great way for young children to work on cutting, folding, and pasting skills while learning about Chinese culture. I also added a print-out of the free Chinese currency PDF from Homeschool Creations. A child could cut out the currency and place it in the lucky money envelope. It could also be used for a math activity.
China's Capital City and Flag Tray

This activity uses one of the printable pictures with information about Beijing from the online boarding zone's map activity and tour of China. I added a flag-making activity that uses a free printable small two-sided flag of China from Printer Projects. It would probably be easiest for most children if they cut out both parts of the flag and glue them to a jumbo craft stick.
Other China Activities from Living Montessori Now

You could include the Pandas and Ten Frames Counting Activity or Safari Ltd. Great Wall of China and Buddha of Lantau landmarks as shown in my Montessori-Inspired Continent Activities with Animal Figures and Landmarks – Asia.
You could also add more Montessori-inspired Chinese New Year activities.
Have fun! 🙂
Montessori-Inspired Global Adventure Pinterest Board
On the Montessori-Inspired Global Adventure Pinterest Board, I pin lots of Montessori-inspired continent activities in general along with Montessori-inspired continent and country activities that work well with Little Passports packages. You'll also find pins with links to facts and resources you can use to create Montessori-inspired continent and country activities. And you'll find links to free continent and country printables as well. Each month, I'll add new continent and country activities to the board.
More about Little Passports
You can sign up for 3 months ($13.95/month with a one-time payment of $41.85), 6 months ($13.95/month with a one-time payment of $83.70), 12 months ($10.95/month with a one-time payment of $131.40), or monthly ($11.95/month, billed monthly and can be cancelled any time).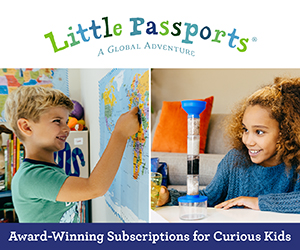 The USA Edition for 7-12 year olds has the same payment plans and prices as the World Edition. For the first month, the USA Edition subscription starts with the Discovery Kit which comes in a custom Sam and Sofia USA Portfolio and includes:
An introductory letter from Sam and Sofia
USA Field Guide
USA Scratch Book
USA Wall Map
Disposable Camera and Photo Scavenger Hunt
Every month after the first month, your child will visit 2 new states and receive:
A 32-page activity-packed journal covering 2 states
Stickers
Pop-out Models
Postcards
Access to more information and activities online
You can find out more and subscribe at Little Passports
.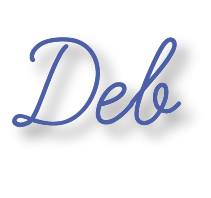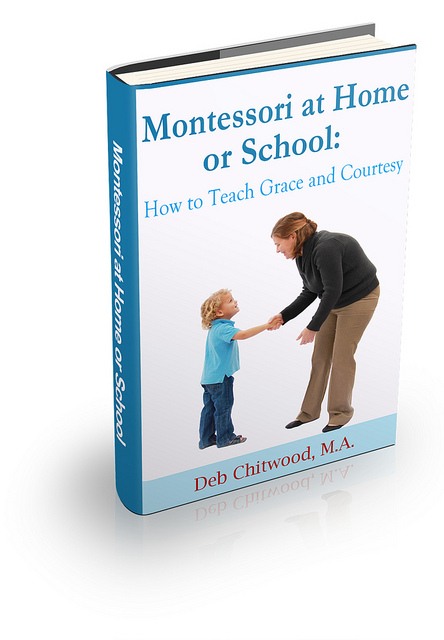 Learn more about my eBook Montessori at Home or School: How to. Teach Grace and Courtesy!
If this is your first time visiting Living Montessori Now, welcome! If you haven't already, please join us on our Living Montessori Now Facebook page where you'll find a Free Printable of the Day and lots of inspiration and ideas for parenting and teaching! And please follow me on Pinterest (lots of Montessori-, holiday-, and theme-related boards), Instagram, and YouTube. You can find me on bloglovin' and Twitter, too.
And don't forget one of the best ways to follow me by signing up for my weekly newsletter. You'll receive some awesome freebies in the process!