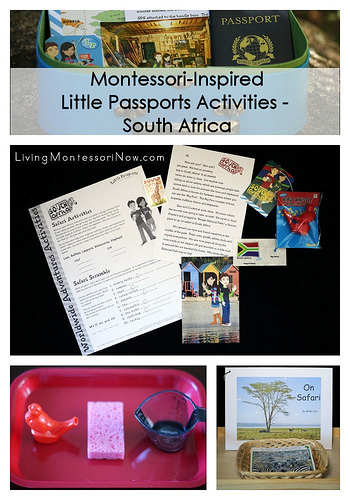 Today, I'm sharing some fun Montessori-inspired activities about South Africa! These are all designed to work well with the Little Passports South Africa package.
Disclosure: I'm an affiliate for Little Passports and, as an ambassador, I received a year's subscription to the World Edition of Little Passports. Once a month, I'm sharing some Montessori-inspired activities featuring Little Passports. This post contains affiliate links at no cost to you. Of course, all opinions are my own.
Here are my previous Montessori-inspired Little Passports posts:
The Little Passports materials could work especially well for afterschooling, in a Montessori homeschool with children of multiple ages, or for summer learning. The World Edition is a monthly subscription recommended for ages 5-10. A total of 24 different adventures are available in the series. I'm sharing activities that would allow preschoolers to join in the adventures as well.
Contents of the Little Passports South Africa Package:
Each monthly kit includes:
A letter from Sam and Sophia, your child's travel companions. This adds interest to a world study for a wide range of ages.
Souvenirs themed around the chosen country. This month's souvenir is a bird whistle that warbles and sings.
An activity sheet for the country. This will generally be best for 5-10 year olds.
A picture from the country. This month's picture is of Sam and Sophia in South Africa.

Picture of a Uakari Monkey

Picture of a Uakari Monkey

Picture of a Uakari Monkey

A passport stamp.
A map marker.
A sticker for the suitcase.
A "boarding pass" for access to online content about the country. This month's boarding pass has a map activity with a tour of South Africa (which includes a printable photo album), Safari Snaps (an online game where you become an African safari photographer to see how many great photos you can take), and Rugby Union (rugby game) recommended for ages 5-10. Younger children could easily be included in the tour of South Africa and printable photo album.

This month's boarding pass to Brazil had fun trivia questions about Brazil as well as an interactive soccer game. – See more at: http://www.peaceloveorganicmom.com/2013/05/traveling-to-brazil-with-little.html#sthash.NohmOxUG.dpuf
Following are some suggestions on how you can make Little Passports Montessori-inspired and have it work for multiple ages at home.
Map Work

The first package had a global focus, so you could have done any sort of continent map work in connection with the first package. After that, it's best if your children have a chance to work with related Montessori continent box materials before the country package arrives (possibly for the two weeks preceding your work with the specific country). For the South Africa package, I'd recommend working with the Africa continent box before and after working with the South Africa package. (See Montessori-Inspired Continent Activities Using Replicas – Africa.)
Map Unfolding and Folding and Country Matching Activity
I have examples of this activity for each of the previous Little Passports posts, so I'm not showing the latest variation for South Africa. Here's an example you can use to set up a similar activity: Montessori-Inspired Little Passports Activities – Mexico.
Bird Whistle Pouring Activity

This month's souvenir is a bird whistle that warbles and sings when you fill the base with water and blow into the whistle. I created a pouring tray with the bird whistle, but it is a very advanced pouring activity. The bird whistle has to be held while you pour the water, so it wouldn't be recommended except for a child with advanced pouring skills. A younger child could be shown how to hold the bird whistle under a water faucet to fill up the bird whistle.
Animal Safari and Camouflage Tray

These activities don't come with the Little Passports South Africa package, but they work well with it and are very easy to prepare. I always like to have an area on a shelf or table with related continent or country activities. This month's Little Passports package emphasizes a safari, so I printed out the free On Safari booklet from PreKinders and the free African Animals Camouflage Card Set from The Helpful Garden. The On Safari booklet is a variation of Brown Bear, Brown Bear, What Do You See? and would work well even for toddlers. The camouflage cards would be fun for a number of ages and include a key for a self check. I also recommend printing out the South Africa photo pages from the Little Passports South Africa online boarding zone.
If you didn't want to print out materials, you could just check out a book or two on South Africa from the library for your South Africa/Africa area.
Extensions using Safari Ltd. Replicas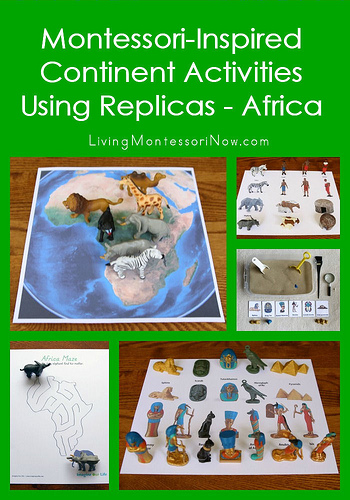 My post with Montessori-Inspired Continent Activities Using Replicas – Africa has ideas for continent activities using Safari Ltd. TOOBS. Except for the Egypt activities, they could be used to go along with the Little Passports South Africa package.
More Montessori-Inspired Africa Activities
Montessori-inspired Africa activities in general would work well as extensions for the Little Passports South Africa package. I have a Montessori-Inspired Study of Africa roundup post with more ideas.
Have you done a study of Africa in general or South Africa in particular?
Montessori-Inspired Global Adventure Pinterest Board
On the Montessori-Inspired Global Adventure  Pinterest Board, I pin lots of Montessori-inspired continent activities in general along with Montessori-inspired continent and country activities that work well with Little Passports packages. You'll also find pins with links to facts and resources you can use to create Montessori-inspired continent and country activities. And you'll find links to free continent and country printables as well. Each month, I'll add new continent and country activities to the board.
More about Little Passports

You can sign up for 3 months ($13.95/month with a one-time payment of $41.85), 6 months ($13.95/month with a one-time payment of $83.70), 12 months ($10.95/month with a one-time payment of $131.40), or monthly ($11.95/month, billed monthly and can be cancelled any time).
The USA Edition for 7-12 year olds has the same payment plans and prices as the World Edition. For the first month, the USA Edition subscription starts with the Discovery Kit which comes in a custom Sam and Sofia USA Portfolio and includes:
An introductory letter from Sam and Sofia
USA Field Guide
USA Scratch Book
USA Wall Map
Disposable Camera and Photo Scavenger Hunt
Every month after the first month, your child will visit 2 new states and receive:
A 32-page activity-packed journal covering 2 states
Stickers
Pop-out Models
Postcards
Access to more information and activities online
You can find out more and subscribe at Little Passports.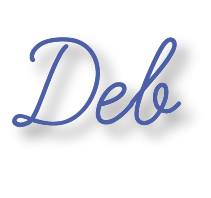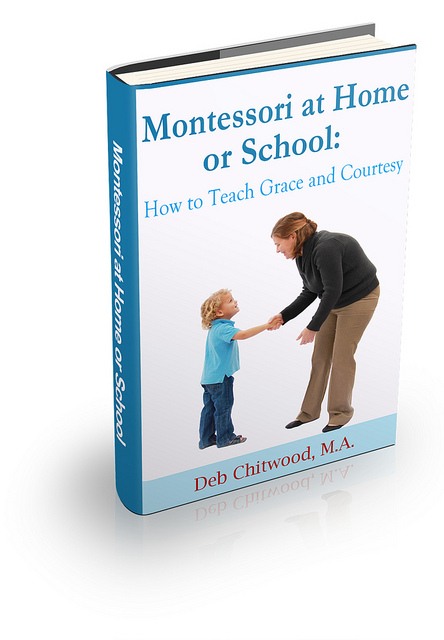 Learn more about Montessori at Home or School: How to Teach Grace and Courtesy!
If this is your first time visiting Living Montessori Now, welcome! If you haven't already, please join us on our Living Montessori Now Facebook page where you'll find a Free Printable of the Day and lots of inspiration and ideas for parenting and teaching! And please follow me on Pinterest (lots of Montessori-, holiday-, and theme-related boards), Twitter (blog posts by me and others along with the Parent/Teacher Daily and other interesting information), and Google+ (post updates and Montessori Community). You can find me on bloglovin' now, too. I'm also a Parenting Expert on Sulia. Thank you for following me there. And don't forget one of the best ways to follow me by signing up for my weekly newsletter in the right sidebar. You'll get two awesome freebies in the process!
May be linked to Afterschool Express, Thoughtful Spot, Tuesday Tots, The Mommy Club Resources and Solutions at Milk and Cuddles and Crystal & Co., Mom's Library, It's Playtime, The Weekly Kid's Co-op, Homeschool Link-up, Hearts for Home Blog Hop, Learn & Link, TGIF Linky Party, Preschool Corner, Ultimate Homeschool Pinterest Party, Sharing Saturday, Saturday Show & Tell, Share It Saturday, Show-and-Share Saturday, The Sunday Showcase, Link & Learn.