Studying individual continents is an activity that even preschoolers can enjoy. In Montessori education, children begin their study of continents with the continent globe and continent map before studying individual continents through specific continent maps and continent boxes. For posts with lots of DIY continent ideas, see DIY Montessori Globes, Continent Map Work, and Montessori Continent Boxes.
You can begin a specific continent study at any time during the year, although February would be an especially appropriate month for a study of Africa because of Black History Month. Following are some ideas for a Montessori-inspired study of Africa, including ideas for Black History Month.
Montessori-Inspired Printables – Africa
Free Continent Cards – Africa by Jojoebi at Flickr
Free African 3 Part Cards from Montessori Tidbits
Printables about Africa available for purchase from Montessori Print Shop (Image from Africa – Bundle). See also Adventure to Africa Blog Post at Montessori Print Shop
Africa Continent Kit available for purchase from Montessori for Everyone
Montessori Continent Box and Montessori-Inspired Activities and Resources on Africa
Posts about Africa (Photo from Continent box: Africa (flags, art and links) and Continent Box: Africa Pinterest Board from My Little Princess World
Posts about Africa from Worldwide Culture Swap
In the Continent Box – Africa and Continent Box: Africa Pinterest Board from Montessori Tidbits
Geography Boxes from Sweetness and Light
Africa from Little Acorns
Revisiting Africa from The Adventures of Bear
Continent Boxes: Africa from What DID We Do All Day?
Africa Continent Box from Noor Janaan Homeschool
Geography – Africa and Geography – Africa (2) from Just Montessori
Africa Continent Box (photo) and Inside our Africa Continent Box from A Bohemian Education
Continent Box – Africa from Our Little Homeschool in the Hills
Africa Continent Box (photo) and Africa Studies from Discovery Days and Montessori Moments
A is for Africa and African Continent Tray (photo) from The Work Plan
Our Africa Continent Box (photo) and Continent Work from We Don't Need No Education
Africa Continent Blog Hop from Mondorfment
Studying Africa from Counting Coconuts
Virtual Tour of South Africa from Momma of 4 Cutiez
Pin Poking Map of Africa from Geist Montessori Academy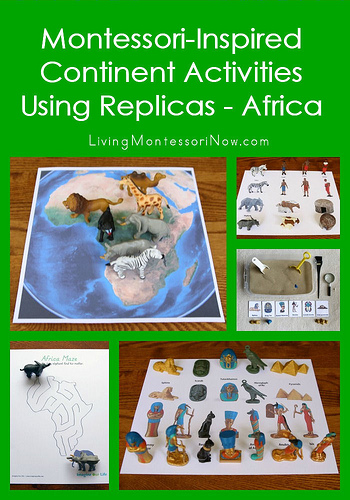 Montessori-Inspired Continent Activities Using Replicas – Africa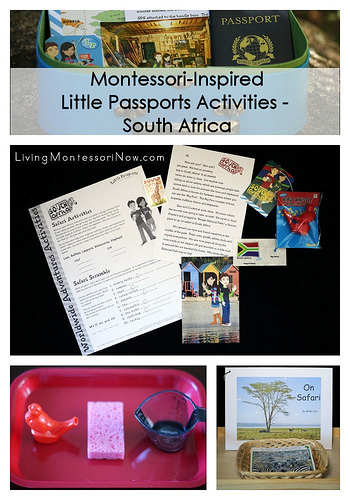 Montessori-Inspired Little Passports Activities – South Africa
Montessori-Inspired Zoo Animal Unit (which includes lots of animals of Africa)
Montessori-Inspired Ideas for Black History Month
African American History Month: Honoring Diversity in the Montessori Classroom, African American History Month: Activities and Current Events in the Montessori Classroom, Montessori Elementary Studies: Civil Rights, and February is Black History Month – Celebrate in the Montessori Classroom
New Lesson Planning Ideas for Presidents' Day and Black History Month from Montessori 21st Century's Weblog
Montessori Inspiration for Martin Luther King Day (my post)
Follow Deb @ Living Montessori Now's board Africa Educational Resources on Pinterest.
Have you prepared a continent box or study of Africa?
Montessori Monday Link-Up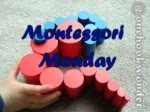 If you have some Montessori activity trays/lessons to share, please link up below. It's fine to link up a post from your archives – and you may link up anytime during the week! Your post may be any Montessori-inspired activity or idea. It doesn't need to be related to my Montessori Monday post.
Link up your exact post URL so that we can find your activity if we return to the linky at a later date (which I often do when I'm looking for activities for a roundup post). I publish the Montessori Monday post and linky at 6:00 a.m. EST each Monday and keep the linky open throughout the week. Please place the Montessori Monday button (using the code from the right sidebar) in your post or put a link back to this post. Let's use Montessori Monday to gain inspiration/ideas and to encourage each other! If you would leave an encouraging comment on the post linked up ahead of you (along with any other posts you're drawn to), that would be awesome! Thanks for participating! Notes: You'll find a Pinterest Pinning Party in our Living Montessori Now Community (featured on the welcome page). That's for any kid-related posts whether they're Montessori-inspired or not. Please feel free to add posts there as well! (If you join our Living Montessori Now Community, your blog feed (post excerpts) will show up on the Living Montessori Now Community Welcome Page if you add your blog link when you sign up. It's an easy way to get extra attention for your blog posts.)
If you have a giveaway on your blog, please add it to my Family-Friendly Giveaway Linky Page! There are even some great Montessori giveaways there right now! If you enjoy entering giveaways, you'll always find some great giveaways there. Also, if you've ever been linked to in one of my roundup posts, please feel free to grab the "Featured on" badge.
Please check that you've added the Montessori Monday button or linked back so that others can find the link-up, too! Thank you!
If this is your first time visiting Living Montessori Now, welcome! If you haven't already, please join us on our Living Montessori Now Facebook page where you'll find a Free Printable of the Day and lots of inspiration and ideas for parenting and teaching!
Linked to Tuesday Tots, Tactile Tuesday, The Mommy Club Resources and Solutions at Milk and Cuddles and Crystal & Co., The Weekly Kid's Co-op, Hearts for Home Blog Hop, Learn & Link, Living Life Intentionally Linky Party, Preschool Corner, Sharing Saturday, Saturday Show & Tell, Share It Saturday, Show-and-Share Saturday, The Sunday Showcase, Link & Learn, and Afterschool Express.