My 15-month-old granddaughter, Zoey, has been in love with beluga whales for a number of months. Because of her interest in beluga whales, I prepared some Montessori-inspired whale activities for her. We've had LOTS of fun with toddler geography activities based on baby beluga.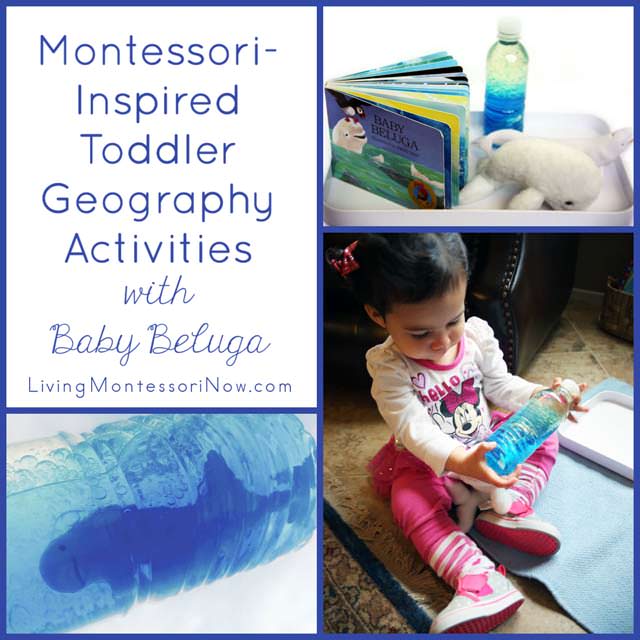 Disclosure: This post contains affiliate links (at no cost to you).
Montessori-Inspired Toddler Activities with Baby Beluga
Zoey's love of beluga whales started with Raffi's Baby Beluga CD. That was the favorite CD of my son, Will, (Zoey's dad) when he was a toddler, too! Then, Zoey was given the Baby Beluga (Raffi Songs to Read) Board Book for Christmas. She loved it so much (and would often want to have it read to her 10 times in a row) that I got an extra one for when she spends afternoons at my house.
Beluga Whale Tray
I just placed the Baby Beluga book along with a beluga stuffed animal on a Montessori Services tray. The stuffed baby beluga I had isn't available any longer, but this baby beluga looks adorable and has great reviews. When Zoey walked into my living room, she immediately went to the beluga tray and squealed with joy. Her Baby Beluga book is still a favorite, and Zoey finds it very comforting to have her mom or I sing the book to her.
Ocean Sensory Bottle with Beluga Whales
Zoey and I have had lots of fun with an ocean sensory bottle that was then added to the beluga whale tray. Go to Happy Hooligans to see how to make an ocean in a bottle. I used a small recycled water bottle and added a beluga whale from the Whale and Dolphin Safari Ltd. TOOB and a baby beluga from the Safari Ltd. Baby Sea Life TOOB. (Note: The beluga whale is also available in the Safari Ltd. Arctic TOOB.) The baby and adult beluga whales aren't proportionate in size to each other, but most toddlers won't mind.
Montessori-Inspired Whale Tray
Because Zoey was so interested in her beluga whale tray, I recently added a second tray with a free whale poem from Montessori Print Shop and types of whale cards from Trillium Montessori. (Normally, I would have just used the baby beluga tray, but Zoey was so interested that I added a tray that would typically be best for preschoolers. For preschoolers, I would add a beluga whale from one of the Safari Ltd. TOOBs, but they're too small for a young toddler. That's why I only have them in the ocean sensory bottle.)
The types of whale cards are available on the page of free printables for Trillium Montessori subscribers. There are twelve 3-part cards in the set, but I usually just use the image with identifying word for 4 of the cards until Zoey's a bit older.
Zoey loves animal cards, so I gave Zoey the whale cards to look at.
She was so excited to find the beluga whale card that she hugged and kissed it.
The final part of our beluga whale geography was to add a beach ball globe. I'm using one that I had from a National Geographic World subscription when my kids were little. At Zoey's age, we don't go into a lot of geography other than saying that beluga whales live in the ocean. I've also said that beluga whales live in the Arctic where it's very cold and snowy. We've talked about the Arctic pictures in her Baby Beluga book, too.
Animals and geography are the main learning focus on Zoey's shelves right now. Why? Because she loves animals and hearing where they come from. This is what Zoey's geography/animals shelves look like now.
If you read my post yesterday (Montessori Monday – Land, Water, Air Activities from Montessori By Mom), you saw that Living Montessori Now has a YouTube channel! Here's a video of my daughter, Christina, telling about our whale activities. Zoey's in the video, too! We'd love it if you'd "like" the video and subscribe to our YouTube channel!



This post is part of the 12 Months of Montessori Learning series!
Amazing blogs involved in the 12 Months of Montessori Learning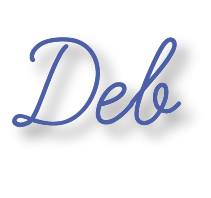 Learn more about my eBook Montessori at Home or School: How to. Teach Grace and Courtesy!
If this is your first time visiting Living Montessori Now, welcome! If you haven't already, please join us on our Living Montessori Now Facebook page where you'll find a Free Printable of the Day and lots of inspiration and ideas for parenting and teaching! And please follow me on Instagram, Pinterest (lots of Montessori-, holiday-, and theme-related boards), and YouTube. While you're here, please check out the Living Montessori Now shop.
And don't forget one of the best ways to follow me by signing up for my weekly newsletter. You'll receive some awesome freebies in the process!