In 2011, I was interviewed about Montessori at home by two bloggers who no longer blog (at least where the interviews originally appeared). Today, I'll share those two interviews for Montessori Monday.
This post contains a For Small Hands affiliate link at no cost to you.
Michelle from Franklin Goose interviewed me about Montessori teaching at home.
Montessori Teaching at Home Interview at Franklin Goose
What exactly is Montessori?
Montessori education was started by Maria Montessori in Italy in the early 1900s. It emphasizes individualized learning and following the child. You'll find more information on my "About Montessori" page.
What drew you to Montessori teaching?
My first teaching experience was at a daycare center in 1974. In 1975, an Association Montessori International (AMI) certified Montessori teacher whose daughter was in my classroom inspired me to read Montessori books and gave me guidance on using Montessori in my daycare classroom. I was amazed at the changes in the children just from a makeshift Montessori classroom. The classroom was much calmer. The children chose work independently, became more self-disciplined, and greatly increased their knowledge and skills.
Later on, I became a certified Montessori teacher, taught at Montessori schools, directed and taught at my own Montessori school, and used Montessori education at home. My assignments for both my bachelor's and master's degrees emphasized Montessori education. I'm truly hooked on Montessori!
How are you able to incorporate Montessori learning at home?
Parents can do a lot by using Montessori principles at home or setting up a Montessori space. For parents who would like to have a Montessori homeschool classroom, I have a whole series of posts: Montessori Homeschool Classroom and Materials.
What ages do you suggest it for?
I have posts with Montessori ideas for infants and toddlers! Children normally attend Montessori preschools at age 2½ or 3. That's probably a good age to set up a Montessori homeschool classroom. Montessori schools can go through high school, although the preschool years are the most common time for children to attend a Montessori school.
Montessori education gives an awesome foundation for life! Often, homeschoolers have a Montessori homeschool classroom during the preschool years and gradually move toward just following Montessori principles as their children get older.
What did you learn by homeschooling your two children?
For one thing, I learned that I didn't have to be perfect. Here's a post I wrote about the most important lessons I learned: Top 5 Homeschool Lessons My Children Taught Me.
What was the most satisfying thing you took from the experience? What about theirs?
I homeschooled my two children through high school, and they're now adults with B.A. degrees. Thanks to Montessori and homeschooling, they received straight A's in college and still love learning! I don't think I can list just one most satisfying thing, but I absolutely loved spending so much time with my kids and ending up with successful, nice adults who still love to learn.
Both my kids really enjoyed the flexibility of homeschooling (we were relaxed homeschoolers). When I asked them what they liked best about homeschooling, my 21-year-old daughter's first thought was about the flexibility of the schedule – that we could "set our own schedule." My 26-year-old son's first thought was about the flexibility of curriculum – that it "wasn't just the standard boring stuff."
What advice would you give parents who are thinking about homeschooling?
Read blogs about homeschooling, join a local homeschool organization, and join the online homeschooling organizations you're interested in. There's so much that can be learned by asking questions and listening to parents who homeschool or homeschooled their children. Then (and most important), fit your homeschool to your own unique family.
What advice would you give to parents who are thinking about enrolling their child into a Montessori school?
I think it's very important for parents to visit the school and see how they feel about the school and teachers. Each Montessori school is different, and there needs to be a good fit. I have a post with a helpful video:
How to Choose a Montessori Preschool for Your Child
.
Interview at Best Toys for Toddlers: Meet Deb from Living Montessori Now
I was also interviewed in 2011 at Best Toys for Toddlers about Montessori for young children. I answered questions about my background and gave ideas from Montessori education for parents to use at home with young children. The questions and answers are focused on 3-4 year olds, but the answers apply to preschoolers in general (and some apply to children of any age). Here's that interview by another Michelle.
Introduce Deb in a few words. Who are you online and offline?
I think that I'm pretty much the same online and offline. I'm a former Montessori teacher, former Montessori preschool owner and director, and former homeschooler. I homeschooled my children through high school, so I ended up with experience teaching early childhood through high school! Now I'm a Montessori writer and mom of two adult children (ages 21 and 26). You can find out more about me on my blog's "About Me" page.
Why you decided to specialize in early education (toddlers and preschoolers)?
In college, I started as a special education major because I had worked with children and adults with developmental disabilities for two summers and absolutely loved it.
My next job (after my freshman year of college) was at a daycare center. I think it was when I started using Montessori principles in my daycare classroom in 1975 that I really fell in love with early childhood education.
After that, I trained to be a Montessori teacher, specialized in Montessori Early Childhood and Elementary Education for my B.A. degree, and (more recently) completed my M.A. degree in Early Childhood Studies. Even though I've enjoyed teaching at all levels, early childhood is still my favorite.
What are 5 Montessori principles that we (parents) can use to ease our worries about our toddlers (3-4 year olds)?
There are a few Montessori principles I find especially helpful for addressing common worries:
1) Follow your child. That's an essential Montessori principle and helps ease worries about whether you're doing enough educationally. If you're following your child's interests and responding to his or her needs, you'll be helping your child at any age.
2) Give your child real, child-sized tools whenever possible. Parents often worry that their children will get hurt if they let them use tools that aren't child-safe toys. Maria Montessori felt it was important for young children to work with real, child-sized tools. Obviously, you wouldn't give a real hammer to a 1-year-old, but with a demonstration and supervision, 3-4 year olds can learn to use a real, child-sized hammer. 3-4 year olds can also do a lot with food preparation, including peeling and slicing foods.
For Small Hands/Montessori Services is a great source for child-sized tools. If your child doesn't handle a tool carefully, though, I'd recommend saying that you'll need to put the tool away until he or she is ready to use it carefully. Once you feel your child is ready to handle the tool properly, demonstrate how to use the tool again before allowing your child to use it.
3) Allow your child to complete a work cycle and repeat an activity. Many parents have worried that there's a problem if their child keeps repeating an activity. But it's actually a very good thing.
If you don't interrupt your child but allow him or her to repeat an activity as many times as he or she wants, your child will develop a longer attention span and will meet the needs of a particular sensitive period. Repetition is a very good sign that your child is working to meet an inner need – and is nothing to worry about! It's wonderful, in fact!
4) Give your child freedom to explore indoors and outdoors. Maria Montessori emphasized the young child's need to explore both indoors and outdoors. Even infants and young toddlers can be given opportunities for exploration. I have a number of posts about infants and young toddlers that give lots of ideas for Montessori-inspired exploration while still keeping your child safe.
5) Emphasize practical life and sensorial activities during the early years. Parents often worry about what sorts of activities to provide young children. Should you emphasize early academics or free play? While your toddler needs lots of time to just play and explore, the most important structured activities to provide are simply practical life and sensorial activities.
Let your child help you in the house or yard whenever possible, give plenty of opportunities for your child to develop eye-hand coordination, and try to give hands-on experience with concepts such as colors, shapes, textures, sizes, sounds, smells, and tastes. At Living Montessori Now, I share lots of activities that are helpful for preschoolers, often including toddlers. Many of those posts are practical life or sensorial activities.
For someone totally new to Montessori principles, can you share a startup point? Where to go, what to read or watch, to get the "feel" what this kind of learning is all about?
I wrote a post titled "How to Set Up a Montessori Space at Home" to give ideas any parent or grandparent can use. In the post are links to my favorite introductory books about Montessori. I also wrote a post called "Top 10 Montessori Principles for Natural Learning" which gives ideas for using Montessori principles at home whether or not you have Montessori materials.
Share with us 5 objects every parent can repurpose (found in their own homes) that fit with Montessori teaching principles.
1)
Lower shelves in kitchen cabinets
can be reserved for your child's practical life activities (such as food preparation, spooning grains, or any activities for care of self, care of the environment, control of movement, and grace and courtesy).
2)
Put educational materials and activities to help with eye-hand coordination on
trays and/or baskets
on shelves so your child can choose work independently.
3)
Tweezers
can be placed on a tray with small objects to be transferred from one container to another.
4)
Kitchen tongs
can be used to transfer cotton balls or ping pong balls from one container to another.
5)
Grains
or beans
can be poured from one small pitcher to another small pitcher or from cup to cup.
UPDATE: For my recent interviews/guest posts, check out my Montessori and Homeschooling post. You'll also find links to my main Montessori posts on my Montessori Resources page and my main homeschooling posts on my Homeschool Resources post.
Montessori Monday Link-Up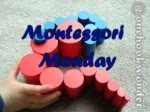 If you have some Montessori activity trays/lessons to share, please link up below. It's fine to link up a post from your archives – and you may link up anytime during the week! Your post may be any Montessori-inspired activity or idea. It doesn't need to be related to my Montessori Monday post.
Link up your exact post URL so that we can find your activity if we return to the linky at a later date (which I often do when I'm looking for activities for a roundup post). I publish the Montessori Monday post and linky at 6:00 a.m. EST each Monday and keep the linky open throughout the week.
Please place the Montessori Monday button (using the code from the right sidebar) in your post or put a link back to this post. Let's use Montessori Monday to gain inspiration/ideas and to encourage each other! If you would leave an encouraging comment on the post linked up ahead of you (along with any other posts you're drawn to), that would be awesome! Thanks for participating!
Notes:
For community discussions, please join us at the Living Montessori Now Facebook page, We Teach Montessori Group, and/or Google+ Montessori Community. The We Teach Montessori group has a Member Resources Sharing (for resources such as freebies and series) as well as a Linky Party for We Teach Montessori. We Teach Montessori has a linky just like the one here except that it's continuous where you may add your Montessori-inspired activities and ideas to the same linky. New links will go to the top of the linky. I'd love to see us build up a great collection of Montessori-inspired ideas there, too. After you link up here, why not hop over to the We Teach Montessori Group and link up there?! And don't forget the Saturday/Sunday Parent/Teacher Preparation Days share where you may share a kid-related activity of any kind at the Living Montessori Now Facebook page!
It's also Motivational Monday on Mondays now! I invite you to share something positive on the Bits of Positivity Facebook page (Bits of Positivity is my other blog) to help us all get a good start on the work/school week. You might share an inspirational or motivational quote, positive graphic, or post about finding balance or simplifying your life. Or you might share a post on organizing, an encouraging post, a post about making a difference in the world, or a positive parenting post. Just go ahead and share on the Bits of Positivity wall any time today! (Please "like" the Bits of Positivity Facebook page if you haven't already.) I'll be pinning a number of ideas to my regular Pinterest boards.
If you have a giveaway on your blog, please add it to my Family-Friendly Giveaway Linky Page! If you enjoy entering giveaways, you'll always find some great giveaways there.
Also, if you've ever been linked to in one of my roundup posts, please feel free to grab the "Featured on" badge.
');
// ]]>
Have you added the Montessori Monday button or a text link? Please be sure you've done one or the other so that others can find the link-up, too! Thank you!If this is your first time visiting Living Montessori Now, welcome! If you haven't already, please join us on our
Living Montessori Now Facebook page
where you'll find a Free Printable of the Day and lots of inspiration and ideas for parenting and teaching! And please follow me on
Pinterest
(lots of Montessori-, holiday-, and theme-related boards), 
Twitter
(blog posts by me and others along with the Parent/Teacher Daily and other interesting information), and  Google+ (post updates and Montessori Community). You can find me on
bloglovin'
now, too. I'm also a Parenting Expert on Sulia. Thank you for following me there. And don't forget one of the best ways to follow me by signing up for my weekly newsletter in the right sidebar. You'll get two awesome freebies in the process!
May be linked to Afterschool Express, Thoughtful Spot, Tuesday Tots, The Mommy Club Resources and Solutions at Milk and Cuddles and Crystal & Co., The Weekly Kid's Co-op, Hearts for Home Blog Hop, Learn & Link, TGIF Linky Party, Preschool Corner, Ultimate Homeschool Pinterest Party, Sharing Saturday, Saturday Show & Tell, Share It Saturday, Show-and-Share Saturday, The Sunday Showcase, Link & Learn