Setting up a Montessori space at home is something any parent can do – because it can be designed to fit any home and any family. A Montessori space is especially helpful for toddlers and preschoolers, but it's helpful at the elementary level as well.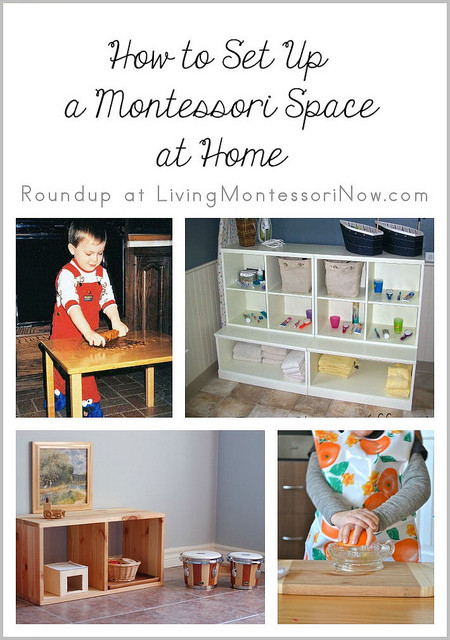 If you want to set up an entire homeschool classroom, be sure to follow the links in "How to Set Up a Montessori Homeschool Classroom." But maybe you don't have room for an entire classroom yet still want to provide some educational activities using Montessori principles at home.
Setting Up a Small Montessori Space
For many families and grandparents, a small Montessori space will be ideal. I know that's my plan for when I have grandkids. The two essentials for me would be a child-sized table and chair(s) and a low shelving unit for materials. I would also save a low kitchen cupboard for a child's food-preparation utensils and dishes. (Update: You can see my Montessori space for grandkids in my links at the bottom of this post!)
If you rotate materials, you can get by with one low shelving unit. If you have room for two or more shelving units, that's great but not essential. Place your materials on trays whenever possible (similar to the trays you'll see in my themed monthly posts). Organize any educational materials you have by subject or by theme. Try to put out materials that meet your child's needs and interests at the time.
(Photo from How We Homeschool)
For preschoolers, emphasize practical life activities so your child or grandchild will develop order, concentration, coordination, and independence. You could have a space for sensorial activities (such as color matching or matching objects by touch, weight, sound, taste, or smell), language activities, math activities, and cultural activities (such as a globe and one or two trays with science activities).
If you have a toddler or preschooler, I recommend a child-sized work table in your kitchen or dining room. Your child can work at the table while you're working in the kitchen. The table can also be placed next to the dining room table to be used instead of a high chair. My children had a Montessori toddler table ("weaning table") which they used throughout much of their early years for work and instead of a high chair.
Every Star Is Different shares photos of their Montessori-friendly kitchen and bathroom.
Three Oaks has a series of posts showing a Montessori-friendly home environment. (Photo from Evolution of a Room.)
About a Girl has a series showing a Montessori-friendly home environment for a preschooler. The educational activities are organized on a couple of shelving units but don't require a home classroom. A space is reserved in the kitchen for the child's activities.
Buttercup's Babies prepared a Montessori-friendly home environment for both a preschooler and toddler.
Montessori-Friendly Home Pinterest Board
UPDATE: I now have a Montessori-Friendly Home Pinterest board with lots of great examples of Montessori spaces and Montessori-friendly homes.
The post "How to Start Using Montessori at Home" has many more links and ideas.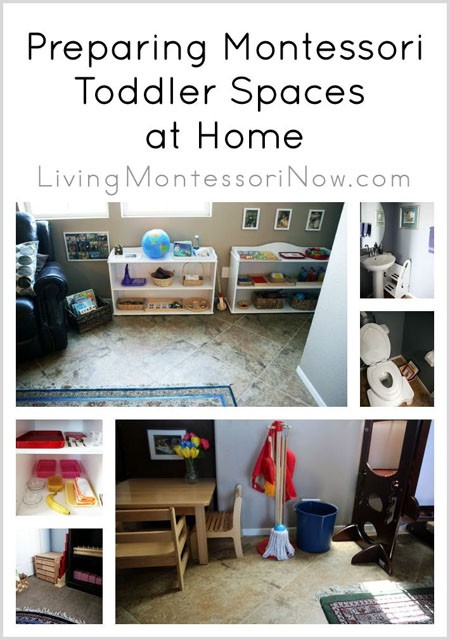 My post "Preparing Montessori Toddler Spaces at Home" has links to my posts on preparing a baby space and preparing a baby/toddler space at home (plus links to other Montessori spaces at home).
PREPARING MONTESSORI SPACES IN YOUR HOME
See "How to Create a Montessori-Friendly Home" for ideas for a number of levels. Here are some of my main home environment posts here:
Jo Ebisujima and I have a free Montessori at home webinar and introduction to our Montessori Crash Course.
You can make your Montessori space as simple or as elaborate as you wish. Try to keep it as organized and attractive as possible; emphasize Montessori principles for natural learning; and have fun following your child or grandchild! 🙂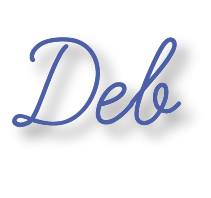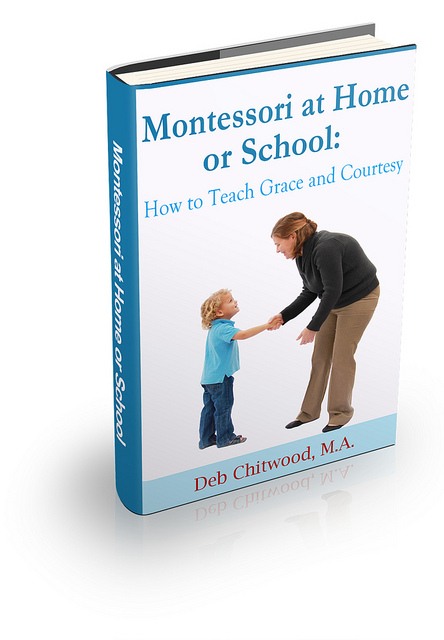 Learn more about my eBook Montessori at Home or School: How to. Teach Grace and Courtesy!
The Montessori at Home! eBook and Montessori at Home! eBook and Materials Bundle are AMAZING resources! You can learn more about them here. Buy them in the Living Montessori Now shop.
If this is your first time visiting Living Montessori Now, welcome! If you haven't already, please join us on our Living Montessori Now Facebook page where you'll find a Free Printable of the Day and lots of inspiration and ideas for parenting and teaching! And please follow me on Pinterest (lots of Montessori-, holiday-, and theme-related boards), Instagram, and YouTube. You can find me on bloglovin' and Twitter, too.
And don't forget one of the best ways to follow me by signing up for my weekly newsletter. You'll receive some awesome freebies in the process!