Children LOVE Christmas – and now's the perfect time to start creating special Montessori-inspired activities to celebrate the season. Of course, if you don't celebrate Christmas, many of these activities can be adapted to fit your own special December celebration.
I'll be focusing on some wonderful Montessori-inspired resources I found online, mainly linking to 2011 posts. I'll add my posts from last year with links to Montessori-inspired activities from previous years.
Most of the activities will be divided between Christian and secular activities to make it easier for families who might celebrate secular Christmas only or Hanukkah and secular Christmas. I'll be adding to this post throughout December, so be sure to check back throughout the month.
Montessori-Inspired Printables
Our Worldwide Classroom has free 3-Part Christmas Nomenclature Cards.
Montessori Print Shop has a number of inexpensive Christmas printables.
Our Country Home has Montessori Christmas Tree and Presents Cards and Counters (free printable).
My post Free Preschool Printables for Activity Trays has links to lots of sites with free Christmas printables that can be made into Montessori-inspired activity trays with hands-on activities.
Montessori-Inspired Christian Christmas Activities
From last year, I have a post on How to Use Godly Play at Home during Advent. (Godly Play is a Montessori-based religious education program.)
Along with other Montessori-inspired Christmas activities, Barefoot in Suburbia has a Montessori-inspired activity using "hay" transferred to the manger with a tweezers.
Montessori-Inspired Secular- or Mixture of Christian and Secular Christmas Activities
From last year, I have posts on Activity of the Week – December Poetry Basket and Montessori-Inspired Christmas Activities, Activity of the Week – Montessori-Inspired Decorating the Christmas Tree Activity, and Activity of the Week – Gift Wrapping Work (photo).
I also had a post about creating Montessori-oriented activity trays from craft ideas: Turning Christmas Crafts into Montessori-Oriented Activities.
Peaceful Parenting has an Interactive Montessori-Inspired Christmas Display (photo at the top of this post).
Andrea Coventry at Associated Content has Montessori Practical Life: Spooning Activities for Christmas and Montessori Practical Life: Tonging Activities for Christmas.
Our Montessori Home has Christmas Montessori Toddler Activities and Montessori Christmas: In & Out and Transferring (photo).
H is for Homeschooling has a Christmas Sensory Bin and Christmas Tot Trays.
Mama to 4 Blessings has a Nativity sensory box.
The Activity Mom has Christmas Lights Color Matching.
Vibrant Wanderings has holiday themed toddler activities
Kingdom of the Pink Princesses has Toddler Holiday Trays, Poinsettia, Free Downloads and More Holiday Works, and Poetry and Christmas Tree.
To the Lesson has lots of Montessori-inspired Christmas activities, including a jingle bell necklace tray (photo).
Taming the Goblin has a post with Christmas activities and a number matching Christmas tree.
Homeschool Escapade has Winter Tot Trays.
Leptir has lots of posts with Montessori-inspired Christmas activities, including numbers and Santa Claus counters (photo).
Parenting in the Moment has a number of Montessori-inspired Christmas Activities.
We Can Do All Things has Christmas Learning, including Christmas fabric matching, and Christmas Fine Motor.
Raising Little Rhodies has a number of Christmas-themed activity trays.
Discovery Days and Montessori Moments has Christmas Season Fun (photo), Advent Week 2, Christmas Metal Inset Ideas, and Advent Week 3 ~ DIY Ornaments.
Montessori MOMents started 12 Days of Christmas Montessori Trays with Tracing Cookie Cutters as Pre-Writing Development.
Playing with Words 365 has some fine-motor Christmas activities.
The Adventures of Bear has lots of Montessori-inspired Christmas posts.
Sunrise Learning Lab has Stamping Fun for the Holidays.
The Education of Ours has December Montessori Fun and a gingerbread playdough activity (which included grinding the spices for the playdough).
Jessie from The Education of Ours has Winter Sets Basket, a Counting Activity at Mommy Moment.
Learning Adventures has a number of Christmas activities, including pouring silver balls.
Work And Play, Day By Day has Kids Making Sugar Cookies.
Joyfully Weary has Preschool Syllabus: Christmas.
Montessori with a Twist of Life has Montessori-inspired Christmas activities including lacing bells.
The Iowa Farmer's Wife has pouring jingle bells and Nativity and gingerbread activities.
Raising Genius Fish has Christmas Word Matching and Christmas Vowel Sound Sorting.
The Work Plan has Christmas-Inspired Works and Works the Children are Loving (with more fun gingerbread activities), and Gingerbread Playdoh.
We Don't Need No Education has elementary-level math story problems with a Christmas theme using a free printable by Shelley Gray and Christmas-Inspired Works for elementary level.
Mi Escuelita Montessori has a Christmas tree sensorial extension.
American Montessori Consulting has Christmas in Australia – Links for Unit Study, Christmas Around the World Part I, Christmas Around the World Part II, and Furoshiki – Ancient Japanese Art of Wrapping Presents and Christmas Flower Arranging.
Kids' Christmas Activities Pinterest Board
I have a new Kids' Christmas Activities Pinterest board that already has a lot of Christmas activities for many ages and with all types of Christmas activities. I'll be adding to it throughout December.
Are you preparing any Montessori-inspired Christmas activities?
Montessori Monday Link-Up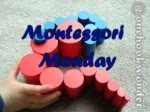 If you have some Montessori activity trays/lessons to share, please link up below. Please also place the Montessori Monday button (using the code from the right sidebar) in your post or put a link back to this post.
And don't forget to visit my co-host, Nicole, at One Hook Wonder! Nicole is the one who started Montessori Monday!
Thanks for participating! (Note: If you have a giveaway on your blog, please add it to my Family-Friendly Giveaway Linky Page – and check out all the great Christmas gift giveaways! If you're looking for Cyber Monday specials, I'm an affiliate for some awesome family-friendly companies with links on my Products page.)



Linked to AfterSchool Linky Party, Living Life Intentionally Linky Party, Pinterest Tuesday, The Mommy Club Resources and Solutions at Milk and Cuddles and Crystal & Co. , Thrifty Thursday, Preschool Corner, Show-and-Share Saturday, Link & Learn, The Sunday Showcase at Mom to 2 Posh Lil Divas and Classified: Mom, and Show-n-Tell Linky at Rainbows Within Reach.