It can be confusing to know the best way to help your child get the most out of his or her toys. Toddlers especially can get frustrated easily when they first try to use a new toy. Montessori principles can help! I want to share our experiences with a Russian matryoshka nesting doll to show how you can use toys to help teach your child.
Disclosure: This post contains affiliate links (at no cost to you).
How We Use a Russian Matryoshka Nesting Doll

I had a wooden Russian nesting doll from when I owned a Montessori school. I kept that for my own children and now use it with my 2-year old granddaughter, Zoey. My nesting doll has a large doll with 5 smaller dolls in it. While this particular nesting doll probably isn't still available, there are many lovely and creative nesting dolls available today.
I brought out the nesting doll before Zoey was 2 years old and simply placed it on her shelf. First I wanted to observe her response to it. Zoey immediately fell in love with the nesting doll, although she also found it frustrating.
So I used Montessori principles to help her organize her thoughts on how to put it together. (Note: The photos here are from a day Zoey was using the nesting doll just after her 2nd birthday. She had mastered putting the doll together before that time.)
To help Zoey when she first used the nesting doll, I helped her break the process down into simple steps. I had Zoey sort the pieces into tops and bottoms.
Then (when I first showed her how to use the nesting doll), I used a technique similar to the pink tower presentation used in some Montessori training programs. ("Can you find the biggest cube? Can you find the biggest cube left?") I asked, "Can you find the smallest doll?" After she found that, I asked, "Can you find the smallest top left? Can you find the smallest bottom left?" After she put that doll together, I asked the same questions until she had completed the doll.
Soon Zoey could easily put the nesting doll together without any difficulty or frustration.
The nesting doll has been on Zoey's shelf for about 6 months now, and she still loves it. I keep it on her shelf with educational toys, sensorial, and math materials. (Note: For a toddler who still mouths objects, you might want to remove the smallest doll for safety reasons.)
Nesting dolls are also popular with preschoolers who can continue to benefit from the fine-motor coordination, concentration, and sense of order developed through work with nesting dolls. Of course, Russian matryoshka nesting dolls also wonderful as part of a cultural study of Russia. (See links to free printables and activity ideas in my "Montessori-Inspired Little Passports Activities – Russia.")
More Toy Tips Using Montessori Principles
We don't use a toy box. Instead, you'll notice that our toys are organized neatly on shelves. That's especially important because it helps children create order in their own minds and meets the needs of their sensitive period for order. 
We also work on developing positive Montessori routines such as getting out a rug, unrolling the rug, carrying a basket or tray of work from the shelf, placing work on the rug, completing the work, putting the work back on the shelf, and rolling up and putting away the rug. These sorts of routines can work well with many toys, not just with Montessori-style materials.
I've been blessed to be able to watch Zoey grow and progress, Zoey has lots of fun, and we both benefit from the magic of Montessori principles. I hope you're enjoying the magic of using Montessori principles with your child or the child/children you care for.
Montessori Monday Link-Up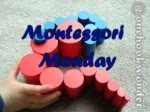 If you have some Montessori activity trays/lessons to share, please link up below. It's fine to link up a post from your archives – and you may link up anytime during the week! Your post may be any Montessori-inspired activity or idea. It doesn't need to be related to my Montessori Monday post.
If you're wondering what's considered "Montessori inspired" and what to link up (or not link up), check out my "What Is Montessori Inspired?" post. Link up your exact post URL so that we can find your activity if we return to the linky at a later date (which I often do when I'm looking for activities for a roundup post). Don't link to giveaway posts (unless the giveaway is only part of a Montessori-inspired post). Giveaways in general should go on my giveaway linky. Also, don't link directly to products. You can link up a review of a Montessori product or activity post related to a Montessori product.
I publish the Montessori Monday post and linky each Monday morning and keep the linky open throughout the week. Please place the Montessori Monday button (using the code from the right sidebar) in your post or put a link back to this post. I do a lot of sharing on the Living Montessori Now Facebook page from the Montessori Monday link-up. Thanks for participating!
Notes: For community discussions, please join us at the Living Montessori Now Facebook page. And don't forget the Saturday/Sunday weekend sharing days where you may share a kid-related activity of any kind at the Living Montessori Now Facebook page!
It's also Motivational Monday on Mondays! I invite you to share something positive on the Bits of Positivity Facebook page (Bits of Positivity is my other blog) to help us all get a good start on the work/school week. You might share an inspirational or motivational quote, positive graphic, or post about finding balance or simplifying your life. Or you might share a post on organizing, an encouraging post, a post about making a difference in the world, or a positive parenting post. Just go ahead and share on the Bits of Positivity wall any time today! (Please "like" the Bits of Positivity Facebook page if you haven't already.) I'll be pinning a number of ideas to my regular Pinterest boards.
If you have a giveaway on your blog, please add it to my Family-Friendly Giveaway Linky Page! If you enjoy entering giveaways, you'll always find lots of great giveaways there.
Learn more about my eBook Montessori at Home or School: How to. Teach Grace and Courtesy! I'm also one of the coauthors of the book Learn with Play – 150+ Activities for Year-round Fun & Learning!
Also, if you've ever been linked to in one of my roundup posts, please feel free to grab the 
"Featured on" badge
.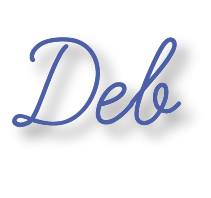 If this is your first time visiting Living Montessori Now, welcome! If you haven't already, please join us on our Living Montessori Now Facebook page where you'll find a Free Printable of the Day and lots of inspiration and ideas for parenting and teaching! And please follow me on Pinterest (lots of Montessori-, holiday-, and theme-related boards), Twitter (blog posts by me and others along with the Parent/Teacher Daily and other interesting information), and Google+ (post updates and Montessori Community). You can find me on bloglovin', Instagram, and YouTube now, too. And don't forget one of the best ways to follow me by signing up for my weekly newsletter in the right sidebar. You'll get two awesome freebies in the process!
May be linked to Practical Mondays Link Up, Afterschool Express, Thoughtful Spot, Hip Homeschool Hop, The Mommy Club Resources and Solutions, Mom's Library, A Little Bird Told Me Linky Party,Learn and Play, Link-ups at Squishable Baby, Preschool Corner, Sharing Saturday, Tot School Gathering Place.