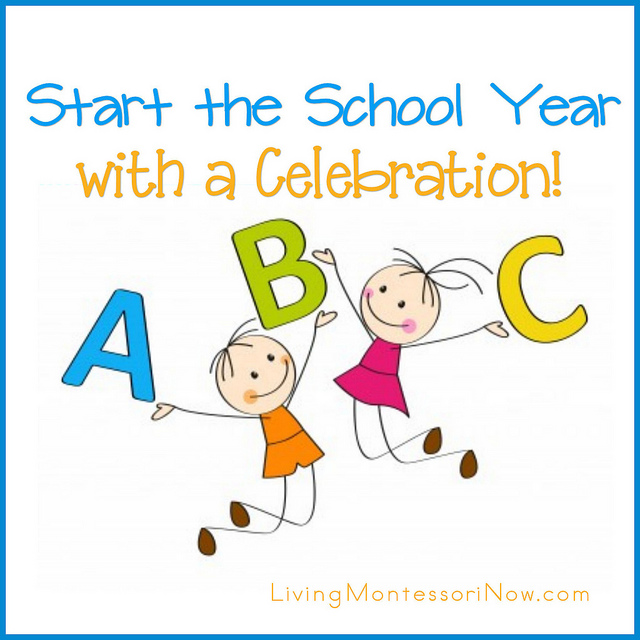 In our homeschool, we made a big deal out of the start of each school year. I didn't want my children to miss out on the fun of new school supplies and the excitement of new beginnings. So, we started each school year with a celebration.
We always set an official start-of-the-school-year date and made a point of shopping for whatever school supplies we needed beforehand. Will and Christina even got new clothes to wear the first day of school. Then, the first day of every school year, all the way through high school, followed a family tradition.
1. I put the new school year's books and materials (not the Montessori materials but anything that could be easily looked through) on the table for Will and Christina.Even with unit studies, I let Will and Christina look at books related to the first unit we were studying for the year.
We always had some subjects that had traditional textbooks, such as math using Saxon Math books (after Montessori math in the early years). By tradition, I photographed Will and Christina looking through their materials every year as well.
2. We started our school year with some light schoolwork. The indoor part of the first day of school was shorter than normal.
3. We went on a field trip. In our first years of homeschooling, we often went on a hike near the Missouri River (not too far from where we lived). When we lived in the Black Hills for two years, we went on a field trip to a fun but educational area locally. Later on, when we lived in Colorado, we often went to the zoo. More photos, of course!
4. We had a party! This wasn't a big party, but it was a celebration. We always had cake or whatever treat Will and Christina chose for the day. Photos again!
Some years, we took three months off during the summer before starting the school year. In later years, we homeschooled year round and started the new school year after a two-week break. A celebration was in order either way.
Even if you don't homeschool your children, you can still make the beginning of each school year a celebration. I love new beginnings – and our children grow up too fast not to treasure each one.
Check out all these ideas: 100+ Back-to-School Celebration Ideas.
Do you have a tradition for the start of the school year?
A few more homeschooling posts:
If this is your first time visiting Living Montessori Now, welcome! If you haven't already, please join us on our Living Montessori Now Facebook page where you'll find a Free Printable of the Day and lots of inspiration and ideas for parenting and teaching!
Linked to Tuesday Tots, The Mommy Club Resources and Solutions at Milk and Cuddles and Crystal & Co., The Weekly Kid's Co-op, Ultimate Mom Resources, Hearts for Home Blog Hop, Learn & Link, TGIF Linky Party, Preschool Corner, Sharing Saturday, Saturday Show & Tell, Share It Saturday, Show-and-Share Saturday, The Sunday Showcase, Link & Learn, Afterschool Express