From my Google Analytics report for October 2011 
Thank you to all my referrers!
Top 10 Referring Sites (Not counting sites like Facebook, Networked Blogs, Pinterest, Google, Twitter, Blogger, and Stumble Upon)
2. 1+1+1=1
4. Early Education with Antek and Kuba
Thank you to all my readers!
Top 10 Visited Posts
1. Montessori-Inspired Pumpkin Unit
2. How to Start Using Montessori at Home
3. Free Montessori Materials Online
4. Montessori at Home Book/Montessori Print Shop Bundle Giveaway
5. Montessori Practical Life Activities
6. Montessori Monday – Paper Cutting Activities
7. Don't Be Afraid to Start Using Montessori at Home
8. How to Homeschool without Spending a Fortune
9. Montessori Monday – Montessori-Inspired Halloween Activities
10. Montessori-Inspired Autumn Leaf Unit
Thank you for photo permissions!
Thank you to the wonderful bloggers who have given me permission to use your photos in my posts (with credit to you, a link to your post, and a comment letting you know I'm using your photo, of course)! If you haven't seen my request for permissions, here's a link to my post: Request for Montessori Photo Permissions.
If I may have permission to use photos from your blog, please let me know! Although I use Montessori photos most often, I also link to posts with crafts, art projects, and educational activities (especially unit studies). If you have posts with similar activities, I'd really appreciate photo permissions for them. I love that the photos add to the post content and also bring attention to your link.
Thank you to link-up participants!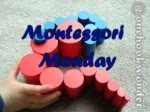 Thank you so much to Nicole at One Hook Wonder, founder and co-host of Montessori Monday! And thank you to everyone who links up and to everyone who reads and comments on the Montessori Monday posts!

Thank you to everyone who links up and/or visits the participants in my Family-Friendly Giveaway Linky (which you can link up with at any time but is refreshed and has outdated links removed each Sunday)!
Thank you to my sponsors!
My sponsors all have products I wish would have been around when I had a Montessori preschool and when I homeschooled my children!
Thank you to Montessori Print Shop, who co-sponsored an awesome giveaway in October! Montessori Print Shop has free printables (including a new free Montessori material released each month), beautiful yet inexpensive printables, a wonderful blog, and lots of great information and resources (see all the drop-down menus at the top of the page)! For more information, read my Sponsor Spotlight – Montessori Print Shop. And be sure to check out the Montessori Print Shop bundle that goes along with the Montessori at Home e-book. Montessori Print Shop is offering $60.49 worth of Montessori materials for $19.95 to everyone who purchases the Montessori at Home! Materials Bundle!
Thank you to MontessoriBuddy, who is sponsoring a giveaway right now of 3 copies of Trevor Eissler's new 4,962,571 children's Book! MontessoriBuddy is a software application to help Montessori teachers and schools (preschool-grade 5) keep records and communicate with parents easily and efficiently. It gives parents a personalized connection with the Montessori classroom. MontessoriBuddy is offering an extended free trial for my readers! 60 days is the standard free trial for MontessoriBuddy, but when you use the promo code LivingMontessoriNow, you will get an extra free month, bringing it up to 90 days! For more information about MontessoriBuddy, read the MontessoriBuddy Sponsor Spotlight.
Thank you to Total Yearbooks, who has competitive pricing (including bulk pricing) for yearbooks for homeschools, sports teams, preschools, and other schools as well as books for sports memories, graduations, weddings, baby memories, and more. The yearbooks can easily be put together online through templates ready to go. You also have the option to upload a PDF or jpgs created with digital scrapbooking software and print books through Total Yearbooks! For more information, read my Total Yearbooks Sponsor Spotlight.

Thank you to John Bowman and Montessori at Home, with the newly revised eBook Montessori at Home: The Complete Guide to Doing Montessori Early Learning Activities at Home, and the condensed version in paperback Help Your Preschooler Build a Better Brain: Early Learning Activities for 2-6 Year Old Children. Montessori at Home co-sponsored an awesome giveaway in October! And John Bowman is offering $2 off his Montessori at Home e-book until November 9 to all my readers! Normally Montessori at Home is $8.95, which is already an amazing price. Here's the link: Montessori At Home! $6.95 Limited Time Offer. In the e-book, you get over 250 Montessori early-learning activities for use at home with 3-7 yr. olds. Read my review of Montessori at Home for more information.
Thank you to my affiliates!
Please check out my products page for my affiliates, who have wonderful products! I only become an affiliate for companies with products I believe in. I really appreciate if you go through my affiliate links when you're ordering because I'll receive a small commission. It won't affect your order or prices in any way (unless you go through a discount link of mine and receive a better price than normal!)
I'm an affiliate for My Memories Digital Scrapbooking Software, iTunes, App Store, Hearth Song, Magic Beans, Melissa & Doug, Christian Book, Inspire 4 Less, and Barnes and Noble.
Thank you to my affiliate My Memories, who sponsored the giveaway in August of My Memories Suite 2.0 digital scrapbooking software and continues to offer a special My Memories coupon code for all my readers (and your friends and family). If you use the coupon code STMMMS48784 at My Memories upon checkout, you'll receive a $10 discount off the purchase of the My Memories Suite Scrapbook software and a $10 coupon for the MyMemories.com store – a $20 value!