With preschoolers, I always liked to have Montessori-inspired Halloween activity trays available on the shelves for a couple of weeks before Halloween. Both as a Montessori teacher and homeschool mom, I made sure the activities were fun, non-scary, and included activities in a number of curriculum areas.
A lot of bloggers today have the same idea. There are some wonderful resources around the blogosphere!
Montessori-Inspired Halloween Activities
Halloween posts from Living Montessori Now and other blogs:
Montessori-Inspired Pumpkin Activities
Montessori-Inspired Pumpkin Unit
Montessori-Inspired Friendly Ghost Activities
Montessori-Inspired Halloween Activities
Montessori-Inspired Skeleton Activities
Free Spider Printables and Montessori-Inspired Spider Activities
Free Halloween Songs and Rhymes for Circle Time
Halloween Activities for Montessori-Inspired Themes and Parties
Montessori-Inspired Pumpkin Hammering for Toddlers
20+ Pumpkin Hammering Activities for Preschoolers
Free Skeleton Printables and Montessori-Inspired Skeleton Activities
Free Spider Printables and Montessori-inspired Spider Math Activities
Free Tarantula and Spider Do-a-Dot Printables (Montessori-Inspired Instant Downloads)
Free Spiderweb Cutting Strips (Montessori-Inspired Instant Download)
Counting Coconuts has a number of Halloween posts and many Halloween activities (photo from On Our Shelves – Halloween)
Pink and Green Mama has a Halloween sensory box and post with sensory box tips and inspiration.
Jada Roo Can Do has a number of Halloween posts and activities, including Halloween Colored Noodle Lacing
Growing a Godly Girl blog is no longer available.
Leptir has Halloween activities in many curriculum areas from 2009 (photo) and 2010.
The Adventures of Bear has another variation on tweezing spiders.
Barefoot in Suburbia has a number of pumpkin and spider activities, including putting spider rings on a pipe cleaner web.
Lesson Plans to Pots and Pans also has a number of pumpkin and spider activities, including a jack-o'-lantern buttoning activity and making pumpkin life cycle bracelets.
Montessori MOMents has skull threading.
North American Montessori Center has a post on Montessori-Style Halloween.
My Montessori Journey has New Activities for October,  Halloween Bead Activities, Halloween Practical Life, Halloween Water Transfer, Spider Sifting, Spider Web Paintings, and Halloween Wreath.
Sunrise Learning Lab has a number of Halloween posts, including a post with Halloween math fun for ages 6-9.
Carrots Are Orange has Montessori-inspired Halloween posts.
Chasing Cheerios has Candy Corn Math Work (photo) and Halloween Spooning Work using white bean ghosts.
Kingdom of the Pink Princesses has Halloween activity trays, including a skeleton puzzle tray to go with vertebrate work and counting by 5's using pumpkin picks.
If you'd like to see more about how we celebrated Halloween at our home, I have a post on Homeschool Halloween.
Halloween Activities on Pinterest
Follow Deb @ Living Montessori Now's board Kids' Halloween Activities on Pinterest.
I also have a
Kids' Halloween Activities Pinterest board
with Halloween activities of all kinds.
Amazon Affiliate:
Montessori Monday Link-Up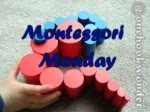 If you have some Montessori ideas/lessons to share, please link up below. Please also place the Montessori Monday button (using the code from the right sidebar) in your post or put a link back to this post. My co-host (and founder of Montessori Monday), Nicole from One Hook Wonder, is taking a few more days off but should be back to blogging later in the week. Thanks for participating! (Note: If you have a giveaway on your blog, please add it to my Family-Friendly Giveaway Linky Page.)
Linked to AfterSchool Linky Party, Living Life Intentionally Linky Party, The Mommy Club Resources and Solutions at Milk and Cuddles and Crystal & Co. , Pinterest Tuesday, Show-and-Share Saturday, Link & Learn, The Sunday Showcase at Mom to 2 Posh Lil Divas and Classified: Mom, Halloween Traditions Link-Up at JDaniel4's Mom, All Year Round Blog Carnival: Autumn, and Autumn Blog Hop.