It's Leap Year – and that's a great excuse for a February 29 celebration and some frog learning activities! I've written posts before about having some calendar fun. While there aren't a lot of Montessori posts specifically about Leap Year, there are some great Montessori-inspired activities that work perfectly for Leap Year.
I've seen Leap Year themes with frogs, leapin' lizards, leaping movements, and leaping bunnies. The most common seems to be a frog theme, so I'm sharing some Montessori-inspired frog activities.
Montessori-Inspired Frog Materials
Montessori Print Shop has free frog printables along with a post on frogs and frog materials available for purchase.
Montessori 123 has free Life Cycle of a Frog Printables in English and Spanish.
Montessori Mom has free Frog Life Cycle Cards along with links to other frog activities.
Montessori Helper has Types of Frogs Nomenclature Cards  Age 3-6, Frog Nomenclature Cards Age 3-6 and Frog Nomenclature Cards Age 6-9 (available for purchase). Note: Types of Frogs and Frog Nomenclature 6-9 are available free (25 zoology printables worth about $100) simply by registering during Montessori Helper's Free in February promotion.
Montessori for Everyone has frog materials available for purchase.
Montessori Services has pre-printed frog materials and other frog materials available for purchase.
Montessori-Inspired Frog Activities
My post on a Montessori-Inspired Pond Unit has a number of links to frog activities (including a Frog Unit from The Adventures of Bear– photo) and Tot School: Ponds from The Preschool Experiment (photo at the top of this post).
A Bohemian Education has a Frog Match.
Montessori MOMents has Frog Anatomy using free materials from Montessori Print Shop.
2 Little Seeds has a Froggy Family Birthday.
Just Montessori has a Frog Lesson.
The Pinay Homeschooler has lots of posts with a frog theme.
Following his Lead Today has an In the Pond Unit with a number of frog activities.
How We Montessori has Life-Cycle Frogs using a printable from Montessori Print Shop and Australian Animal Dice Fun (including moving like a frog) using a free Wildlife Movement Dice printable from Wildlife Fun 4 Kids.
Kids' Leap Year Pinterest Board
I have a Kids' Frog and Leap Year Activities Pinterest board with lots of Leap Year information and activities for all levels. There are many frog activities, including frog crafts, games, and party ideas.
Are you celebrating Leap Year this week?
Montessori Monday Link-Up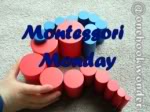 If you have some Montessori activity trays/lessons to share, please link up below. It's fine to link up a post from your archives – and you may link up anytime during the week! Please place the Montessori Monday button (using the code from the right sidebar) in your post or put a link back to this post.
Let's use Montessori Monday to gain inspiration/ideas and to encourage each other! If you would leave an encouraging comment on the post linked up ahead of you (along with any other posts you're drawn to), that would be awesome!
Thanks for participating! (Note: If you have a giveaway on your blog, please add it to my Family-Friendly Giveaway Linky Page! If you enjoy entering giveaways, you'll always find some great giveaways there!)

Linked to AfterSchool Linky Party, The Mommy Club Resources and Solutions at Milk and Cuddles and Crystal & Co. , What's on the Tray Wednesday, Thrifty Thursday, Living Life Intentionally Linky Party, Preschool Corner, Fun Stuff Fridays, Show-and-Share Saturday, Link & Learn, and The Sunday Showcase at Mom to 2 Posh Lil Divas and Classified: Mom.