My 2½-year-old granddaughter, Zoey, has had lots of fun with Montessori-inspired frog activities this spring. So I wanted to make her a frog sensory bin that would cover a number of concepts and could easily be changed throughout the month.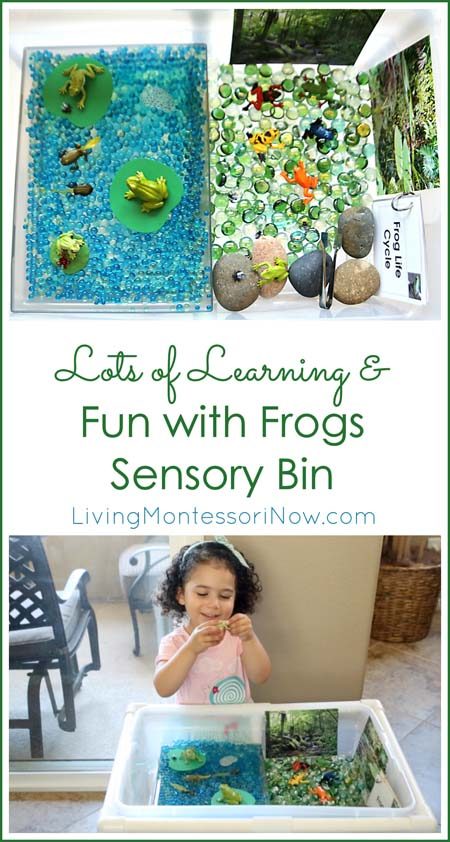 Disclosure: This post contains affiliate links (at no cost to you).
Lots of Learning and Fun with Frogs Sensory Bin –

YouTube Video
Zoey has always loved her sensory bins, but I think this one is her favorite!

Frog Sensory Bin (and DIY Sensory Table)
I already had my DIY sensory table, so it was easy to make a frog sensory bin once I had the materials.
Materials Used for Frog Sensory Bin
Feel free to adapt your sensory bin for your family. These are just the materials I used. Water beads can be very messy and easily mix with the glass gems in the dry area. With young preschoolers, you might want to have a water bead container with high edges or make the whole sensory bin a water bead pond. If you add rocks (and maybe logs), you can have dry areas for the frogs. It's a good idea to have all printed materials laminated with a laminate edge of about 1/4 inch to keep the cardstock or photo paper dry.
Important: If you use this with a toddler, be aware that glass gems and water beads (and some of the other small objects in this sensory bin) are very dangerous for children who mouth objects. Even with children who don't typically mouth objects, I prefer being extra careful with water beads. I put this sensory bin up out of reach whenever I'm not closely supervising Zoey's work.
Frog Life Cycle Activities

I like to add at least one special hands-on learning activity using a printable to each sensory bin I prepare. Zoey LOVES handmade books. For the life cycle activity, I used the Toddler Frog Life Cycle Book from Montessori Print Shop to make a handmade Frog Life Cycle book. I just printed it, cut the pages apart, and laminated and hole punched each page before binding the book with a binder ring.
Zoey had enjoyed her Montessori frog life cycle work using the Montessori Print Shop frog life cycle materials when she was 19 months old. Zoey loves knowing about the stages of development of a frog and enjoyed revisiting the frog life cycle.
Rainforest Photos and Identifying Colors of Rainforest Frogs

I liked using the free Lowland rainforest, Masoala National Park, Madagascar photo and Rainforest Biome Pond, The Eden Project photo to give the impression that some frogs live in the rainforest. I didn't want to just mix common frogs with rainforest frogs. I didn't worry about the exactness of photos and presentation. Zoey liked identifying the frog colors and having the rainforest photos as part of the sensory bin.
Fine-Motor Activity – Using Sugar Tongs to Feed Flies to Frogs

Zoey has been working on activities to develop her pincer grasp, so she was able to use sugar tongs to pick up flies for the frogs. She's worked quite a bit initially using toast tongs to gain the fine-motor coordination to use the more difficult sugar tongs.
Other Ideas for the Frog Sensory Bin
I typically leave out a sensory bin for a month or so before changing it to a different theme. During the month, I might switch some of the activities in the bin to add new learning activities and keep it fresh. Here are a couple of ideas I'll be using with Zoey's frog sensory bin:
I'll make the entire bin a pond with various rock areas and more lily pads for the frogs to use when the adult frogs aren't in the water.
I'll print at 50%, cut out, and laminate leaving a laminate edge (to seal the cardstock against water) frog number cards from my subscriber freebie. Then I can stand the frogs up in a thick pool of water beads. This works well for a scavenger hunt to find and order the numbers from 1-10. You could use the movable alphabet letters for a letter sound scavenger hunt as long as you don't mind the fact that blue poison dart frogs aren't good swimmers (so they don't live in water).
I have the little suitcase of stretch frogs, lizards, and snakes, so I'll be adding the frogs for a fun sensory experience. They're great for emphasizing colors for children who are still working on color names.
Zoey always works with her sensory bins for long periods of time, and this looks like it will get even more use than the others!
More Frog Resources and Blog Posts
Have you been doing any frog activities with your child or students?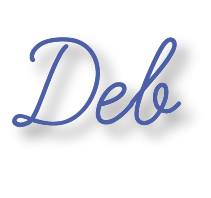 Learn more about my eBook Montessori at Home or School: How to. Teach Grace and Courtesy!
If this is your first time visiting Living Montessori Now, welcome! If you haven't already, please join us on our Living Montessori Now Facebook page where you'll find a Free Printable of the Day and lots of inspiration and ideas for parenting and teaching! And please follow me on Instagram, Pinterest (lots of Montessori-, holiday-, and theme-related boards), and YouTube. While you're here, please check out the Living Montessori Now shop.
And don't forget one of the best ways to follow me by signing up for my weekly newsletter. You'll receive some awesome freebies in the process!