Gingerbread activities are so much fun during the holidays! In time for the holiday season, I'm sharing some free and fun gingerbread printables and activities here today.
As usual with our new theme, you'll find a new printable pack for our newsletter subscribers' resource library (this time a Montessori-inspired gingerbread pack)!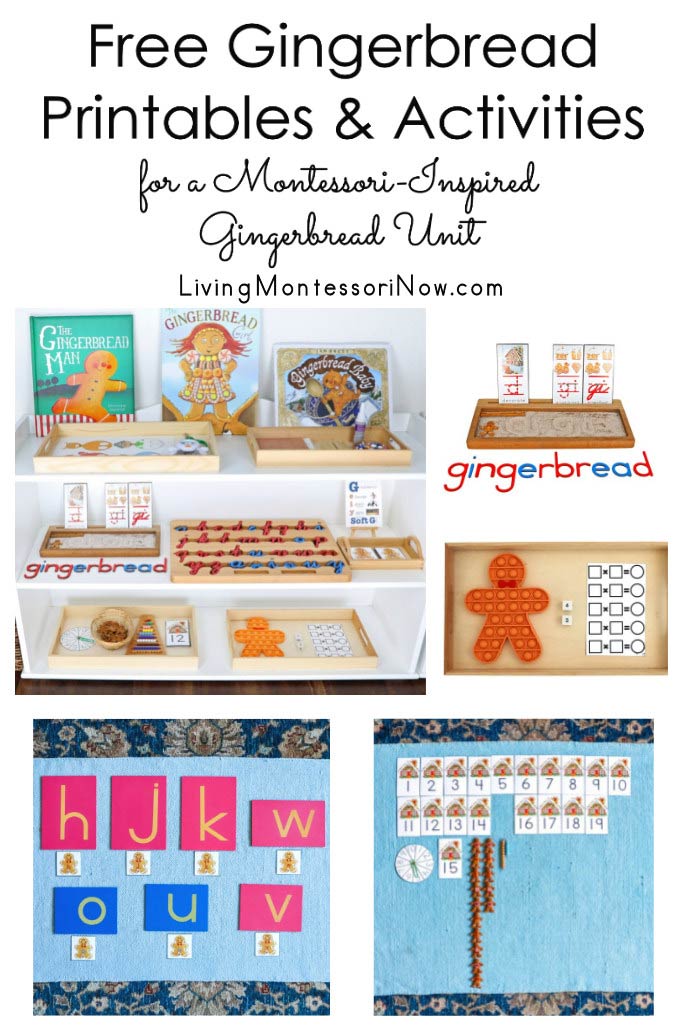 Disclosure: This post contains affiliate links (at no cost to you).
Montessori Shelves with Gingerbread-Themed Activities
You'll find Montessori-inspired gingerbread numbers, letters, and and more (part of my subscriber freebie pack, so just sign up for my email to get the link and password … or check the bottom of your latest newsletter if you're already a subscriber).
Note: The Montessori-inspired gingerbread pack isn't designed as a complete gingerbread unit but as supplemental materials. I design the packs using realistic images that I've often looked for when preparing a unit study (such as font cards and phonogram cards featuring the letter and phonogram related to the theme and math cards with realistic images that fit the theme and can be adapted for math activities at a variety of levels.)
You could mix your gingerbread-themed activities among your shelves according to curriculum area. Or you could have a special gingerbread-themed area something like the one pictured. My shelves at the beginning of our unit have a mixture of skill levels. Many of the activities can be adapted for a variety of levels. Many of these are designed for early elementary as well as preschoolers. If you're a homeschooler, just choose the activities that work for your child's interests and ability levels. If you don't have room for all the activities you'd like to do, simply rotate them.
Even though I have books on shelves, I keep many books for our current theme in a book basket by the themed shelf. You'll find the books I've used here. For toddlers and preschoolers, at least ¾ of the books I use are Montessori friendly (focusing on reality without smiling or talking animals or smiling or talking vehicles). Of course, a gingerbread theme will have fewer Montessori-style books.
Notice the framed copy of Hot Spice Gingerbread, Smoking Hot (1796) by Giovanni Vendramini. It's a free download from Wikimedia Commons.
For our monthly featured art print, I purchased a Li'l DAVINCI art frame that opens in the front for easily changing a free art masterpiece printable or vintage illustration to fit with the month's theme. The frame can be switched from horizontal to vertical without changing the hanger, which is perfect!
If you're wondering about the rugs and rug box I use, both the rugs and wooden rug holder are from Montessori Services. I love the Montessori Services rugs and rug holder! I used to use an umbrella stand something like these. I loved that for 1-3 rugs, but I needed something different when I had more grandchildren and some projects that needed more than one rug.
Favorite Shelves, Trays, Baskets, and More for Montessori Homeschoolers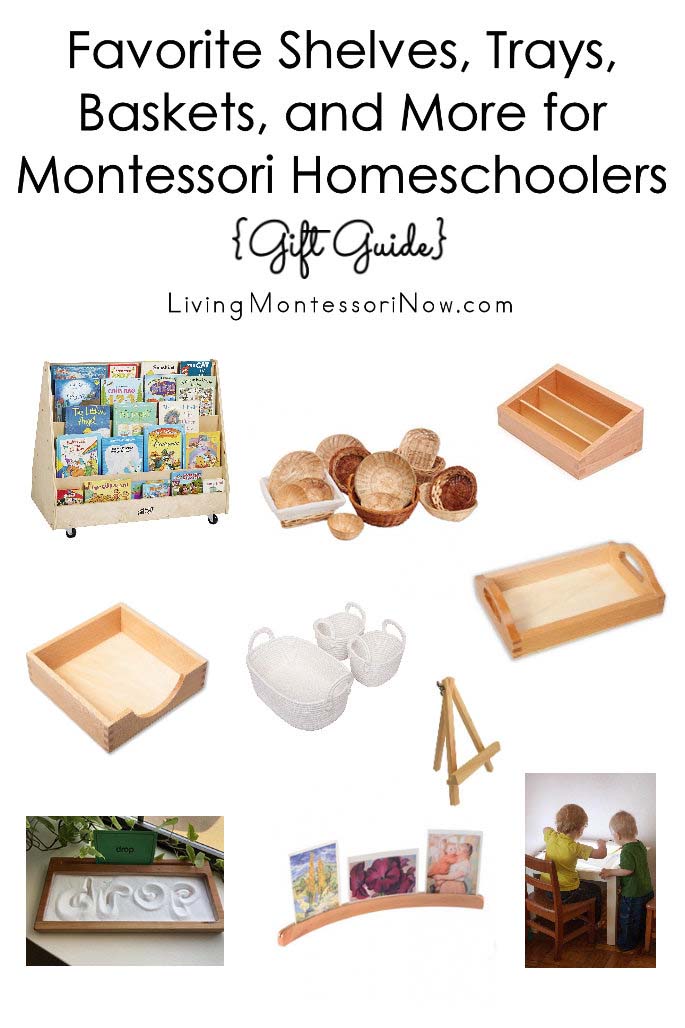 I often get asked about the trays, baskets, etc., that I use, so I published a post with many of the items. You can find lots of helpful resources here. They're not all essential, so don't feel you need to have everything. Just choose what's best for your budget and your unique family's needs. You'll find more ideas in the Living Montessori Now Amazon shop
The Gingerbread Man and The Gingerbread Girl Books with Gingerbread Man Finger Puppets
The Gingerbread Man and The Gingerbread Girl aren't Montessori-style books, but they're fun!
Free Printable: Gingerbread Man Story Finger Puppets from JDaniel 4's Mom
The printable is designed for The Gingerbread Man retold by Jim Aylesworth. You can do the puppet play using the YouTube video or use only some of the finger puppets with another version.
Gingerbread Baby Book with Gingerbread Person Pin Poking and Decorating
Free Printable: Gingerbread People Shapes from First Palette
Gingerbread Baby by Jan Brett is a fun variation of the traditional Gingerbread Boy story. I've prepared a pin poking and gingerbread person decorating activity to go with any gingerbread people themes.
Note: For pin poking, I use the Wood-Handled Puncher from Montessori Services (Read the push pin warning and why I recommend using the wood-handled puncher.)
Gingerbread Sand Writing Tray with Cinnamon and Clove Scents
Free Printables: decorate letter "d" and phonogram "gi" in gingerbread (part of my subscriber freebie pack, so just sign up for my email to get the link and password … or check the bottom of your latest newsletter if you're already a subscriber)
You'll see a variety of simple letter writing trays in my previous unit study posts. I often used the wooden tray from the Melissa & Doug Lace and Trace Shapes. You can use whatever tray or container work best for you, though.
I typically now use this lovely spelling/alphabet tray from FamilyTreeWW on Etsy. I like it for writing more than one letter or spelling words. For a Christmassy scent, I added cinnamon and cloves to our white play sand. Notice the cinnamon stick that can be used as a writing tool! The gingerbread man is from the pack I used for a math activity below.
If you would like help with introducing phonetic sounds, introducing objects with sounds, or beginning phonics in general, check out my DIY Beginning Montessori Phonics with Preschoolers.
Free Printable: Soft G Poster (reduced in size) from Hard & Soft G & C Sorts and Mini Posters by Mrs Brownie at Teachers Pay Teachers
To focus on the "gi" phonogram (soft g), you could use a variety of free printables, such as the ones I used for our gymnast work earlier during our summer sports unit.
Matching Sandpaper Letters with Gingerbread Men Alphabet Cards
Free Printable: Gingerbread man alphabet in print and cursive (part of my subscriber freebie pack, so just sign up for my email to get the link and password … or check the bottom of your latest newsletter if you're already a subscriber)
This is just one way the alphabet cards can be used. It's an example of using one of the groupings of sandpaper letters that I (and many other Montessorians) use when teaching the phonetic sounds.
Gingerbread House Numbers with Gingerbread Men Counters and Bead Bars for Numbers 1-19
Free Printable: Gingerbread house number cards 1-19 (part of my subscriber freebie pack, so just sign up for my email to get the link and password … or check the bottom of your latest newsletter if you're already a subscriber)
I recommend this activity for children who've already worked with the teen boards. Younger children can use the numerals and bead bars to prepare gingerbread men and bead bars for 1-10.
This activity uses bead bars from the decanomial box in a Multicraft tray. (My bead bars, which I love, are from Alison's Montessori. You can get bead bars on Amazon, although I haven't personally used materials from those companies.) I love the little, vinyl gingerbread men I found! There are 48 in a package, and they can be used for a variety of activities.
You could make a game using one of the spinners from our subscriber freebie or you could play it like a card game. I sometimes like to mix the cards up, turn them over, and have the child draw a card. The mini bears are laid out and then the bead bars to represent the number drawn.
Gingerbread Man Pop It with Math Facts Activity
Free Printable: Pop It Dice Math Games by Learning4Miles at Teachers Pay Teachers
My 8-year-old granddaughter, Zoey, is in love with Pop Its! I found gingerbread Pop Its and ordered one for this activity. The activity uses two dice along with free addition, subtraction, or multiplication cards designed to use with a Pop It. Directions are included in the printable. For Zoey, we'll use the activity for memorizing multiplication facts.
I hope you find these printables and activities helpful!
Free Gingerbread Printables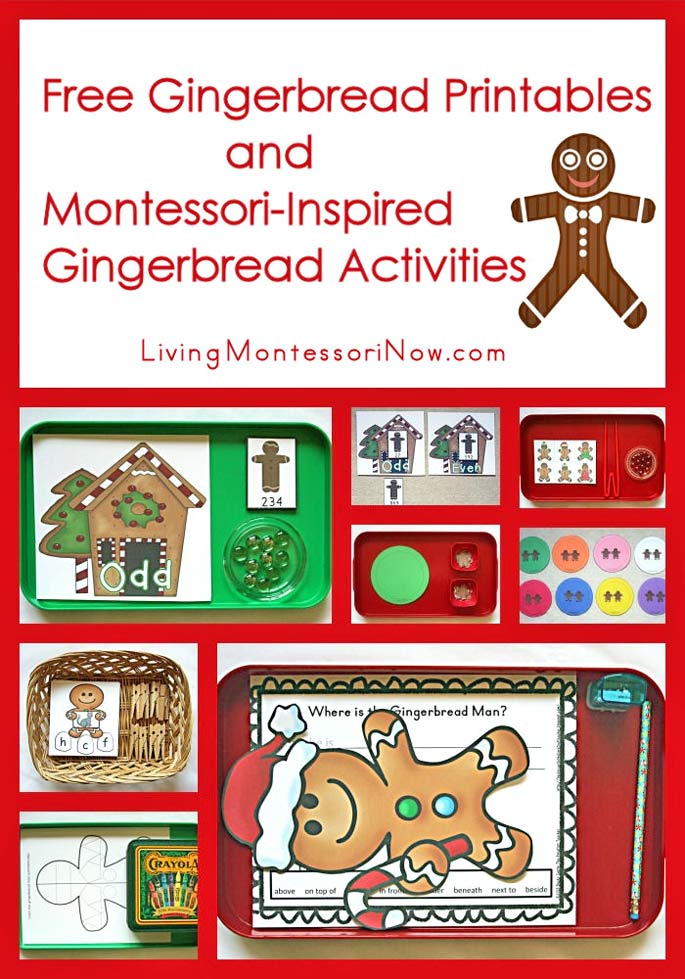 You'll find lots of free gingerbread printables and activities in my Free Gingerbread Printables and Montessori-Inspired Gingerbread Activities
There are a number of free gingerbread printables and activities in my Montessori-Inspired Christmas Language Activities and Free Christmas Printables.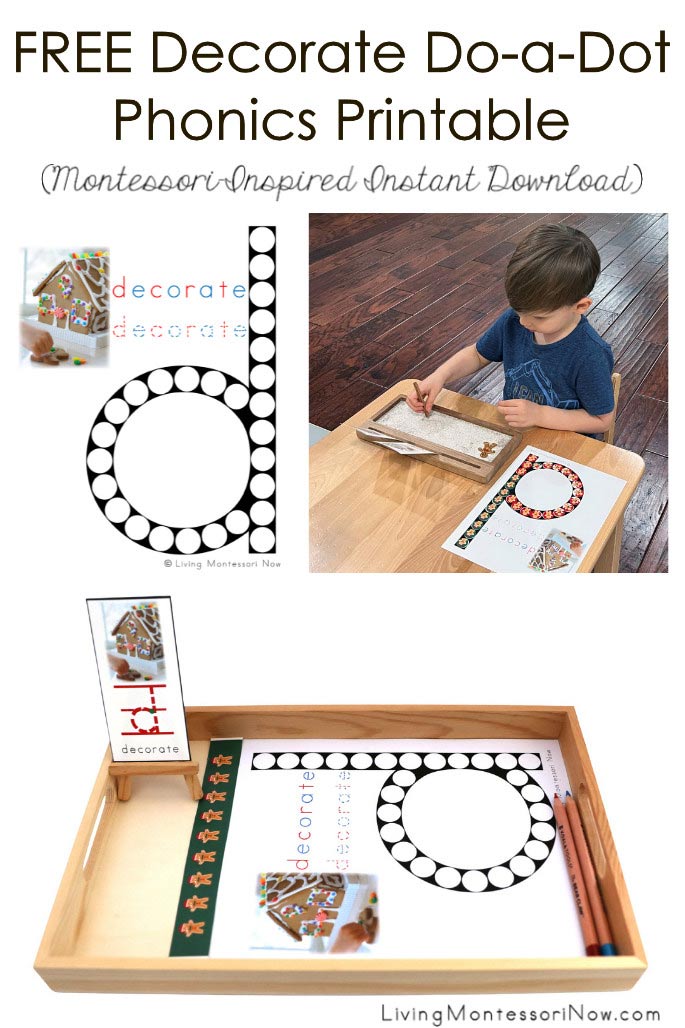 Free Decorate Do-a-Dot Phonics Printable (Montessori-Inspired Instant Download)
Free Gingerbread Cutting Strips (Montessori-Inspired Instant Download)
Montessori-Inspired Gingerbread Pack for DIY Cards and Counters, Number or Letter Matching, Number or Letter Basket, Bead Bar Work, Hands-on Math Operations, Number or Letter Salt/Sand Writing Tray, Letter Tracing, DIY Movable Alphabet, and Creative Writing (subscriber freebie, so just sign up for my newsletter to get the link and password – or check your inbox if you're already a subscriber).
More Gingerbread Resources
A Montessori-inspired gingerbread activity that's simple to prepare but doesn't use a printable: Montessori-Inspired Christmas Gingerbread Man Fine-Motor Activity or Craft.
Free Gingerbread Songs and Rhymes for Circle Time
You'll find lots and lots of Christmas activities of all kinds in my post with hundreds of December holiday activities for kids.
If you'd like ideas for calendar-based themes throughout November and December, see my November Themed Activities for Kids and December Themed Activities for Kids.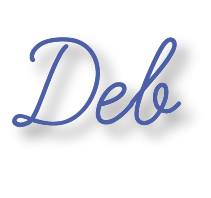 Learn more about my eBook Montessori at Home or School: How to. Teach Grace and Courtesy!
If this is your first time visiting Living Montessori Now, welcome! If you haven't already, please join us on our Living Montessori Now Facebook page where you'll find a Free Printable of the Day and lots of inspiration and ideas for parenting and teaching! And please follow me on Instagram, Pinterest (lots of Montessori-, holiday-, and theme-related boards), and YouTube. While you're here, please check out the Living Montessori Now shop.
And don't forget one of the best ways to follow me by signing up for my weekly newsletter. You'll receive some awesome freebies in the process!