I love children's books and love adding to my best books for kids series. For our backyard bird unit, we've enjoyed looking at a variety of beautifully illustrated bird books as well as bird books with beautiful photographs. Today, I'll share some of my favorite bird books for kids.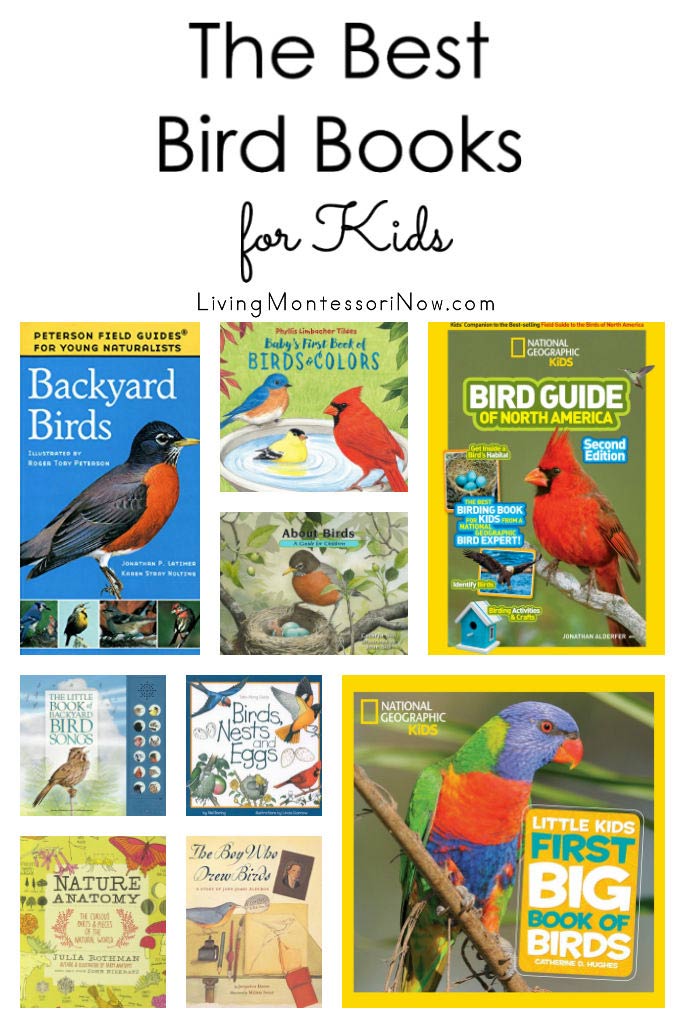 Disclosure: This post contains affiliate links (at no cost to you).
Just choose books based on your child's age and what you think will engage your child's interest. I recommend checking out the "Look Inside the Book" feature on Amazon and reading reviews there. Another place to learn about a book is on YouTube. You can typically see the entire book there. If you live outside the U.S., be sure to check out Book Depository for great prices and free worldwide delivery.
Montessori-friendly books use photos or realistic illustrations. They don't have talking animals or a lot of fantasy. But many books that have fantasy and talking animals are wonderful books, and I love sharing them with children who understand the difference between fantasy and reality. I typically have a majority of Montessori-friendly books for a theme, but I include a variety of books that might not be Montessori-style books but that are simply lots of fun or are classic books that I consider an important part of cultural literacy.
Favorite Non-fiction Bird Books for Kids
Note: be sure to check out my posts with the best nest books for kids and the best duck and duckling books for kids, too.
Favorite Bird Book for Babies and Toddlers
Baby's First Book of Birds and Colors is fabulous! While it isn't necessary to have a themed book for babies and toddlers, a good-quality book will help engage their interest and add to your library. This book has two-page spreads with birds of the same color on each spread. The only words are the color of each spread, the type of birds shown and whether each bird is male or female (a concept that will be interesting to adults as well as children)!
I keep my themed books in a few different places in the room.
On my top shelf, I have About Birds (a beautifully illustrated beginner's guide to birds for ages 3-8) and The Random House Children's Encyclopedia (wooden cookbook holder). The children's encyclopedia is one we had from when I homeschooled my now-adult children. It's available used very inexpensively, although not everything will obviously be current.
On the middle shelf, I have Backyard Birds (Peterson's Field Guides for Young Naturalists). This is a detailed field guide for kids that's recommended for ages 8-12. Younger children could enjoy the drawings and photographs and learn a variety of details, too.
I have a book basket beside the shelf with more Montessori-friendly nonfiction books.
The Little Book of Backyard Bird Songs is one of the very few items with a battery that I
like for young children. It's an inviting way for children to learn to identify a variety of bird songs. Not only is there a clear image and description of each bird but the book includes each bird's scientific name, where found, what it feeds on, its nest, its eggs, adult characteristics, and length. Of course, the best part is the set of buttons with a bird-head button that plays each bird's unique song. Recommended for ages 5-9, although I love it for toddlers on up!
My 5-year-old granddaughter, Zoey, loves to teach. Here, she's sharing The Little Book of Backyard Bird Songs with her 15-month-old sister, Sophia, and 12-month-old cousin, Caleb. Too sweet!
Of course, don't forget that Instagram is often called a "highlight reel." I'll share this photo on Instagram, but it's important to realize that there were a number of moments that didn't look at all like this. There are two young toddlers here, and silly chaos ensues during much of any "group activity" with them! It's all good and part of the process!
That said, Sophia loves this book and gets it from the shelf each day she comes to my house. She laughs as she presses the buttons to hear the bird songs. The book is very cool!
Update: My grandkids all loved The Little Book of Backyard Bird Songs so much that I ordered The Little Book of Woodland Bird Songs. This has been even more popular with them! Sophia plays the common loon and the wild turkey over and over. She just laughs at their sounds. I have to admit that the common loon makes me laugh, too!
I shared this in my post with favorite nest books. I don't think any study of birds would be complete without reading about John James Audubon. The Boy Who Drew Birds: A Story of John James Audubon
is wonderful. This Montessori-friendly book is recommended for ages 4-7.
National Geographic Little Kids First Big Book of Birds is from one of my favorite kids' book series. I absolutely love the photographs in National Geographic kids' books, and the information is inviting and easy to understand. (Recommended for ages 4-8.)
Birds, Nests and Eggs has lots of information about 15 common birds along with a few bird-themed activities. The illustrations are clear and inviting, and the information is easy to understand. Recommended for ages 5-10, although I think many preschoolers would enjoy it as well.
National Geographic Kids Bird Guide of North America has beautiful photographs of over 150 species of birds. (Recommended for ages 8-12, but younger children will enjoy the photos and learning some details about a variety of birds.)
Nature Anatomy: The Curious Parts & Pieces of the Natural World by Julia Rothman can be purchased individually or as part of the Julia Rothman Collection. The collection includes Farm Anatomy: The Curious Parts and Pieces of Country Life and Food Anatomy: The Curious Parts & Pieces of Our Edible World. I really recommend the entire collection. It's how I purchased my books. The collection is in a slipcase with 10 framable prints. Zoey loves these books even though they're not children's books. The bird chapter is perfect for any bird unit with its beautiful illustrations. I include one (or more) of these books whenever it fits our current unit.
Animalium is another of Zoey's favorite books. I love this for any study of animals. It's a beautiful book that's recommended for ages 8-12 but that can appeal to many ages from preschoolers through adults.
Favorite Fiction Bird Books for Kids
My fiction books about birds (in this book basket) are a variety of Montessori-friendly books and books that aren't Montessori-style books but are simply fun.
Love is by Diane Adams is
a sweet Montessori-friendly story of a girl who rescues and nurtures a duckling. Parents will enjoy this touching book, too, which describes the difficulties and joys of parenthood. (Recommended for ages 3-6.)
There Is a Bird on Your Head! by Mo Willems wasn't around when my children were little. But it's one of Zoey's favorites. She thinks it's hilarious. She loves to read Mo Willems books with an adult. She reads Piggie's part and the adult reads Gerald's part. Such a fun way to reinforce early reading! (Recommended for ages 4-8.)
The Best Nest by P.D. Eastman is not a Montessori-style book, but it's a classic. My children loved it, and now so does Zoey. (Recommended for ages 3-7.)
Are You My Mother? by P.D. Eastman is another classic that's not a Montessori-style book. My children loved this one, too, as does Zoey. (Recommended for ages 3-7.)
And don't forget Make Way for Ducklings! Yes, this has talking ducks, so it isn't a Montessori-style book. It is a Caldecott Medal book with a lovely story and one of my favorite children's books. We still have our copy from when my now-adult children were little. (Recommended for ages 3-7.) Be sure to check out my free Make Way for Ducklings do-a-dot printable and Make Way for Ducklings movable alphabet.
MORE BIRD RESOURCES AND ACTIVITIES
Happy reading!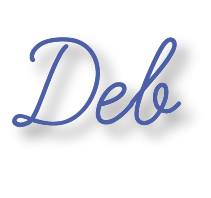 Learn more about my eBook Montessori at Home or School: How to. Teach Grace and Courtesy!
If this is your first time visiting Living Montessori Now, welcome! If you haven't already, please join us on our Living Montessori Now Facebook page where you'll find a Free Printable of the Day and lots of inspiration and ideas for parenting and teaching! And please follow me on Instagram, Pinterest (lots of Montessori-, holiday-, and theme-related boards), and YouTube. While you're here, please check out the Living Montessori Now shop.
And don't forget one of the best ways to follow me by signing up for my weekly newsletter. You'll receive some awesome freebies in the process!